The DJIA index is made up of 30 stocks which are weighted based on their price
[and,] therefore, stocks with higher share prices have a higher weighting, while those with lower share prices have a lower weighting…[As such], regardless of how large a company is in terms of revenues, earnings, or market cap, if it has a high relative share price, it gets a larger weighting in the DJIA. With that explanation out of the way…
The comments above and below are excerpts from an article from Bespoke Investment Group (bespokepremium.com) which may have been enhanced – edited ([ ]) and abridged (…) – by 
munKNEE.com (Your Key to Making Money!)
 to provide you with a faster & easier read.  Register to receive our bi-weekly Market Intelligence Report newsletter (see sample here , sign up in top right hand corner.)
The table below lists the 30 Dow components and their individual weightings in the index: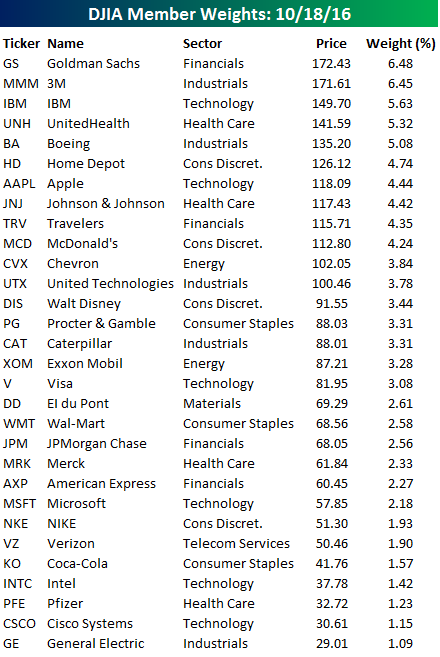 Whatever the shortcomings are for the way the DJIA is constructed, the index has withstood the test of time, and whenever someone from Main Street wonders how Wall Street is doing, they ask, "Where's the Dow?" Yes, there are some years where the awkward construction of the DJIA creates wide divergences between its return and broader measures of the US equity market like the S&P 500, but more often than not, the DJIA tracks the S&P 500 pretty closely. This year, for example, the YTD returns of the two indices are within 50 bps of each other, as the S&P 500 is up 4.7%, while the DJIA is up 4.2% [as the chart below so illustrates].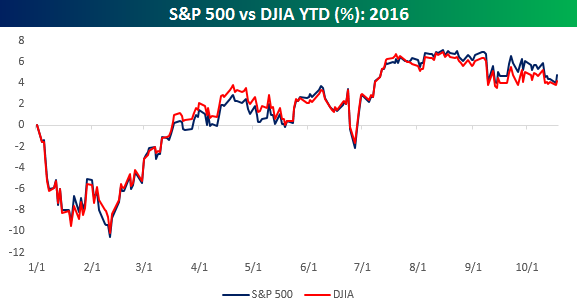 …[As] we note [above], despite the quirky manner in which the Dow Jones Industrial Average (DJIA) is constructed, it tends to track the broader S&P 500 pretty well over time, including so far in 2016.  The fact that the two have tracked each other so closely is even more impressive given the way different sectors are weighted in each index.  The chart below compares the percentage weighting of each sector in the S&P 500 versus the Dow.  Then, in the bottom chart, we show the spread between the weighting of each sector in the S&P 500 minus its weight in the Dow.
[As you see in the charts above,] while the weighting for many sectors is roughly similar in both instances, some have large variances:
The largest disparity is in the Industrials sector where its weight in the Dow is about double its weight in the S&P 500.  While this disparity is large, when you consider the fact that it is called the Dow Jones Industrial Average, it makes sense that the index would be weighted towards Industrials.
Similarly, the DJIA has no stocks from the Utilities sector, but that's because Dow Jones has a Utilities index as well.
Besides these two rather wide divergences, relative to the S&P 500, the DJIA is underweighted in Technology, Real Estate, and Consumer Staples,
while it's over weighted in Financials and Consumer Discretionary.
Follow the munKNEE – Your Key to Making Money!
"Like" this article

on Facebook

Have your say

on Twitter

Register to receive our

bi-weekly

Market Intelligence Report newsletter

(see sample

here

,

sign up in top right hand corner

)

 Share your thoughts

with us

in the comments section below

. We'd like to hear from you!