…Our argument is not that gold makes a bad investment or that no one should own gold but, rather…[that] gold does not work well as inflation protection.
Data from Investors Chronicle shows a correlation between gold and inflation of 0.28 from 1971 to 2020 and, according to Nancy Tengler…the correlation between gold and inflation over the last 50 years has been 0.16.
[In addition] between 1980 and 2000, the price of gold lost over 40% of its value while the CPI rose nearly 120% [while]…during particular periods of higher inflation gold sometimes underperforms and sometimes outperforms, there's no real correlation to speak of.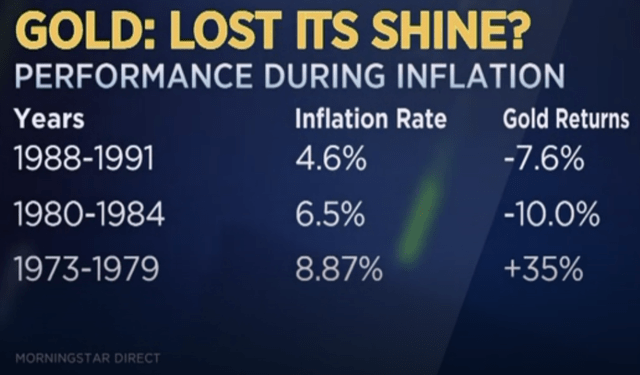 Again, this does not necessarily mean that gold makes a bad investment or that no investor should hold it in their portfolio…[but, rather, that] the price of gold moves based on investor sentiment.
Gold In The COVID Era
From January 2020 to mid-February 2022 (the COVID-19 pandemic period), the price of gold has risen 21.4% – a respectable return – but it still does not make a good inflation hedge as illustrated below… which shows that there was no correlation.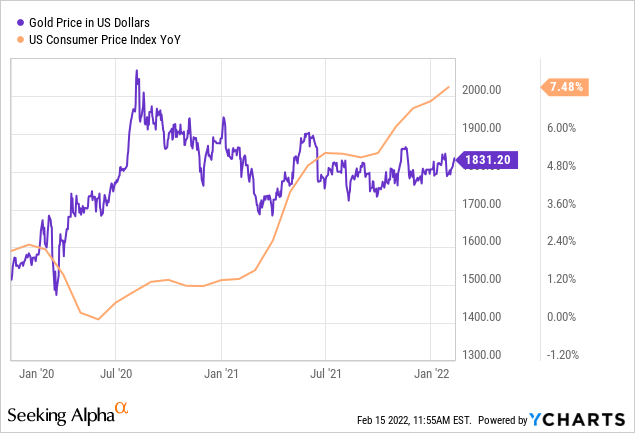 …Proponents of gold might point to the huge rise in the price of gold at the beginning of the pandemic but, as we explained in our first article on gold, bullish sentiment correlated with a sudden spike in (announced) government spending and, yet, during 2020, inflation remained muted all year.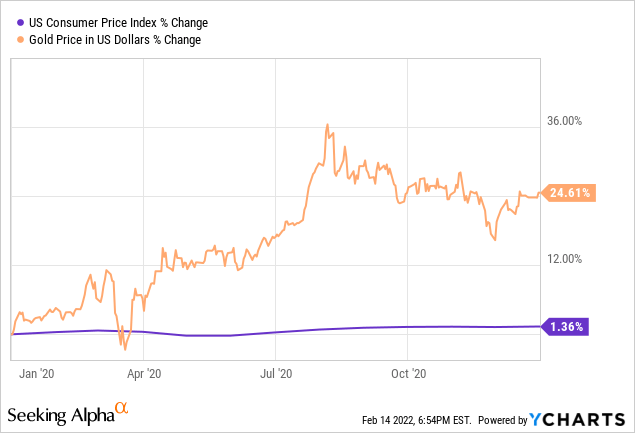 It wasn't until 2021 that inflation began to rise, but during the 12 months of 2021 the price of gold actually dropped in value.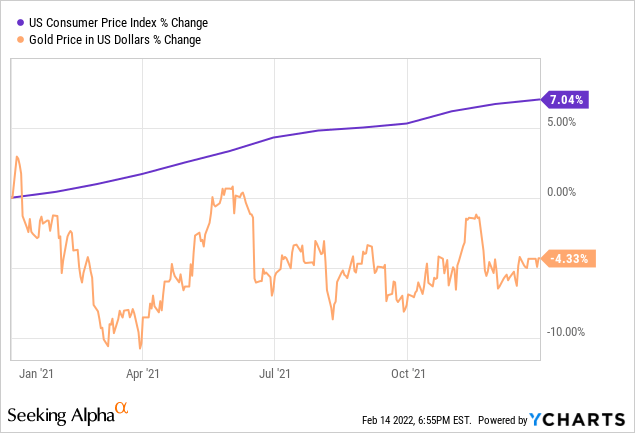 Why didn't the price of gold follow the CPI higher? Our argument would be that investor sentiment surrounding gold does not really follow inflation. It follows sudden changes in government spending.
As we can see below, the price of gold soared at the beginning of the pandemic when Congress passed a major stimulus bill that massively increased the growth in the money supply.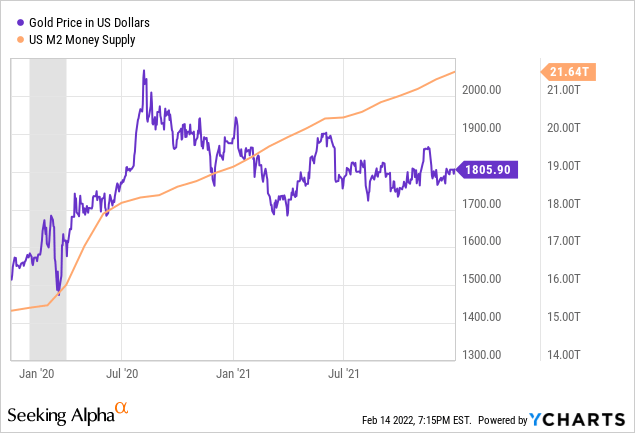 Thereafter, however, the money supply grew at a fairly steady pace, and thus gold did not capture another bout of bullish investor sentiment for the rest of the pandemic.
Conclusion
…There's nothing intrinsic to gold that ties price movements to inflation. The vast majority of the gold price is determined by investors, rather than the jewelry or industrial end-users or gold mining output. If investors are bullish, then the price of gold will rise. If investors are bearish or see better opportunities elsewhere, the price of gold will fall… Continue reading
The above version of the

original

 article by

Jussi Askola

(seekingalpha.com)
was edited [ ] and abridged (…) to provide you with a faster and easier read.
Also 

note that 

this complete paragraph must be included in any re-posting to avoid copyright infringement.
Related Articles From the munKNEE Vault:
1. News Flash: There Is NO Correlation Between the National Debt & the Gold Price!
If you believe that a higher gold price is inevitable because of the size of the debt or its rapid rate of increase, then here are some words of caution…
2. It Is Pure Fantasy & Delusion To Think Of Gold As An Investment Or a Hedge Against Inflation!
After reading recent articles by others and listening to what continues to pass as 'fundamentals for gold', I think it might be helpful to restate, and elaborate on, two specific things which gold is not: (1) Gold is not an investment and (2) Gold is not a hedge against inflation.