…The role that China plays in commodity prices is so big that the future
of metal prices is totally dependent on China…In this article we analyze some key Chinese indicators…[all of which give] us no reason to expect higher metal prices in 2016.
By Raul de Frutos (agmetalminer.com)

1. Imports to China Continue to Slump

Imports to China dropped 8.7% in November from a year earlier, extending a slump in imports to a record 13 months, suggesting that government stimulus measures are failing to boost growth.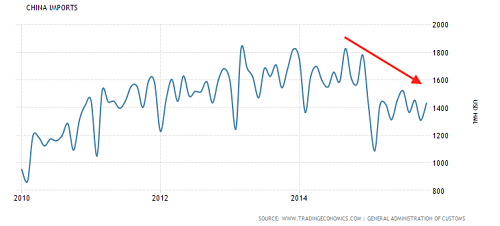 China Imports (millions $) Source: trading economics.com. Source: TradingEconomics.com from Customs Administration Data.
2. Exports from China Continue to Decline
Meanwhile, Chinese exports declined 6.8% in November from a year earlier, marking the fifth straight falling month. The fact that China is struggling to increase its exports demonstrates that global demand is weak and that China will have to find a more painful solution to balance its surplus.
3. Trade Surplus Continues to Narrow
The trade surplus and the inability to find a home for the excess of materials flow will continue to keep a lid in China's growth, depressing commodity prices.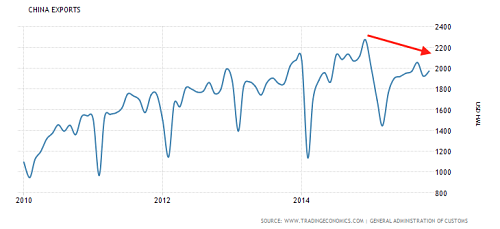 China Exports (millions of dollars). Source: TradingEconomics.com
4. Yuan Falls To Four-Year Low Against The Dollar
China's authorities want to see a smooth depreciation of the yuan/renminbi as China faces external pressure not to devaluate its currency too quickly. A sharp depreciation would probably hurt the country's credibility at the same time China wants to attract more foreign capital. In addition, it would raise criticisms that China is keeping its currency artificially low to encourage more exports.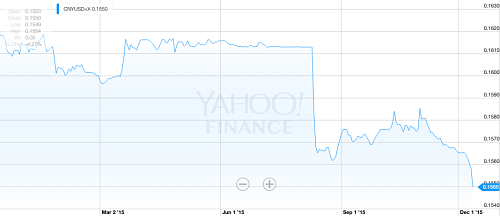 Yuan versus dollar. Source: Yahoo Finance.
Recently, China's central bank cut its reference rate to the lowest level since 2011. The yuan fell against the dollar to the lowest level since 2011. Although China has said that it has not allowed the yuan to slide to boost the economy or increase exports, it seems that the market is taking these developments as desperate actions from China's government to help the economy, raising concerns among investors that the country's slowdown might worsen.
5. China's Equity Markets Continue to Slump

We believe that equity markets are [the] best benchmark for the performance of China's economy, or at least investors' sentiment about China. We've analyzed before this link between China's stock market and commodity prices. Currently, this link is even more noticeable.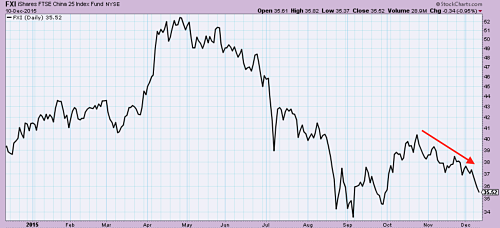 China FXI shares continue to fall. Source: @StockCharts.com.
After the huge slump this summer, equity prices recovered slightly, but since October we see that equities are heading south again. The poor performance of Chinese stocks demonstrates that investors are still worried about the future of the country and not lured by its government actions.
…We suspect that the slump in China's stock market could continue, resulting in more fears and more sell-offs in commodities/metals markets.
The original article was written by Raul de Frutos (agmetalminer.com) and is presented here by the editorial team of munKNEE.com (Your Key to Making Money!) and the FREE Market Intelligence Report newsletter (see sample here – register in top right corner) in a slightly edited ([ ]) and abridged (…) format to provide a fast and easy read.]
Want more such articles?
Just

"follow the munKNEE" on

Twitter;

visit our

Facebook

page

and "like" an article; or subscribe to our free newsletter – see sample here.
Related Article from the munKNEE Vault:
1.Noonan: Like It Or Not, Here's What the Gold & Silver Charts Are Saying
The following comments may not be what one wants to hear, but charts tell what the reality is behind any market, and we are just the messenger delivering the chart-driven message so let's take a look at the most recent charts for gold and silver are conveying.
2. The CRB Index Is Foreboding – A Clear Message Of the Dangers Ahead
For those who think the CRB Index says nothing about global growth invest accordingly at your own peril because this commodity index is screaming loudly that the rate of global growth is plummeting – just as it was at the height of the Great Recession. The CRB index is foreboding – a clear message of the danger that lies ahead.
3. The Problems With Copper Seem Insurmountable – Here's Why
Copper is among the three most used metals in the world, and high quantities of the red metal must be mined every year but the problem is that copper is not being discovered fast enough to meet upcoming demand. There are several reasons as this infographic illustrates.