The gold price has surged over 25% year-to-date, providing big gains in
the gold sector as a whole. Companies that have generated strong earnings growth relative to total shareholders' equity should continue to outperform the sector and entire market. To measure this, we took a look at return on equity (ROE) values and found the top 5 gold stocks with the highest ROE.
The comments above and below are excerpts from an article from SmallCapPower.com which has been edited ([ ]) and abridged (…) to provide a faster and easier read.
1. Atacama Pacific Gold Corp. (CVE:ATM) – $0.405 – Gold
Atacama Pacific Gold Corporation (Atacama) is a Canada-based company that is engaged in the acquisition, exploration and development of precious metals resource properties in Chile. The Company operates through its subsidiary, Minera Atacama Pacific Gold Chile Limitada (Atacama Chile). Atacama's principal mineral property is the Cerro Maricunga oxide gold project (Cerro Maricunga Gold project), which is located around 700 kilometers north of Santiago and around 140 kilometers by road northeast of the city of Copiapo.
Market Cap: 28,545,174

Revenues: 0

Operating Income: -1,024,150

Return on Equity: 14%
2. Abitibi Royalties Inc. (CVE:RZZ) – $8.24 – Gold
Abitibi Royalties Inc., together with its various subsidiaries, is involved in initial grassroots exploration projects. The Company operates through exploration and evaluation of mineral resources segment. The Company's properties include Canadian Malartic property, and Luc Bourdon and Bourdon West prospects.
Market Cap: 92,750,649

Revenues: 518,340

Operating Income: -1,451,020

Return on Equity: 13%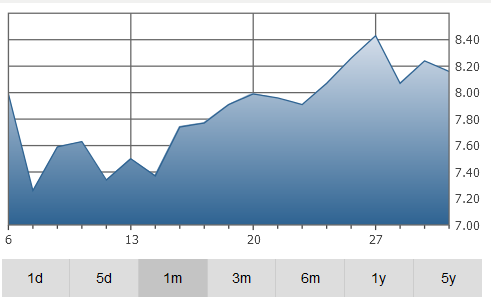 3. Klondex Mines Ltd. (TSE:KDX) – $4.53 – Gold
Klondex Mines Ltd. is a Canada-based gold and silver mining company focused on exploration, development and production of its approximately two gold and silver projects in north central Nevada, such as the Fire Creek mine located in Lander County, Nevada (the Fire Creek Mine or the Fire Creek Project), and the Midas mine (the Midas Mine) and ore milling facility located in Nevada (together with the Midas Mine, the Midas Project or Midas).
Market Cap: 215,285,203.21

Revenues: 200,520,010

Operating Income: 33,162,425

Return on Equity: 7%
4. Richmont Mines Inc. (TSE:RIC) – $12.04 – Gold
Richmont Mines Inc. is a mining company engaged in activities related to the acquisition, exploration, development and operation of mineral properties. Its Island Gold Mine is located approximately 80 kilometers northeast of Wawa, Ontario. The Island Gold property is divided into approximately nine parts, which consists of over 220 patented, leased and staked claims. Its Beaufor Mine property along with other adjacent properties, such as Pascalis, Perron, Colombiere, Courvan and Perron Blocks 2 and 3, are located approximately 20 kilometers northeast of the town of Val-d'Or, in the Abitibi-East county, in the Province of Quebec.
Market Cap: 114,570,744.63

Revenues: 159,157,000

Operating Income: 13,641,000

Return on Equity: 7%
5. Dynacor Gold Mines Inc. (TSE:DNG) – $2.10 – Gold
Dynacor Gold Mines Inc. is a Canada-based ore processing and exploration company. Its activities consist of the production of gold and silver from the processing of purchased ore and the exploration of its mining properties located in Peru. The Company also owns rights on over three mining properties, which are in the exploration-stage, including its exploration gold, copper and silver prospect, the Tumipampa property, and the Anta property, which is a silver exploration prospect with approximately five concessions covering an area of over 3,800 hectares.
Market Cap: 78,041,189

Revenues: 106,064,712

Operating Income: 8,791,565

Return on Equity: 6%
Disclosure: The above article has been edited ([ ]) and abridged (…) by the editorial team at munKNEE.com (Your Key to Making Money!) to provide a fast and easy read.
"Follow the munKNEE" on Facebook, on Twitter or via our FREE bi-weekly Market Intelligence Report newsletter (see sample here , sign up in top right hand corner)