High dividends and the potential for capital gains are two of the biggest
drivers of the ultimate retirement portfolio. Here's are five stocks yielding between 8.2% and 9.8% that analysts also believe will deliver profit growth in the years to come.
The comments above & below are edited ([ ]) and abridged (…) excerpts from the original article by Brett Owens (ContrarianOutlook.com)
1. TCP Capital Corp. (Nasdaq:TCPC)
Dividend Yield: 8.2%
TCP Capital is a business development company that targets midsized firms, typically between $100 million and $1.5 billion in enterprise value – some of which the company admits include "complex situations requiring specialized industry knowledge." In other words, not every investment TCP makes is a no-doubt, low-maintenance winner. That's OK, though, because while TCP will on occasion provide deals that include equity or mezzanine debt, 95% of TCP's portfolio is senior secured debt.
Check out this Facebook wall. There's a lot to "Like"!
TCP Capital's portfolio is also extremely diversified, with the company offering a meticulous breakdown of its industry, including "Utility System Construction," "Building Equipment Contractors" and "Lessors of Non-financial Licenses."
TCPC, like most BDCs, took its lumps from 2014 through the start of 2016, but operationally speaking, there's a lot to like. Total investment income has grown uninterrupted for years; 2016's $148 million was nearly triple 2012's figure. Better yet, that figure is expected to increase roughly 10% annually for the next couple of years, and Wall Street projects roughly 4% annual earnings growth for the next half-decade.
That in turn should help power TCPC back to 2014 highs and beyond, complementing the stock's 8%-plus yield.
TCP Capital (TCPC) Is Back on Track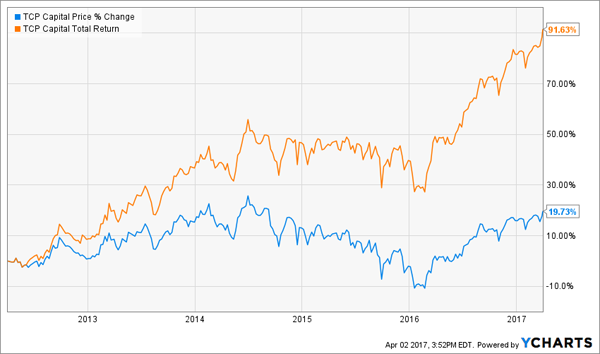 2. Hercules Capital Inc. (NYSE:HTGC)
Dividend Yield: 8.2%
Hercules Capital Inc. shows once again why interest rate hikes aren't always bad news for BDCs and other high-yield investments. In fact, management just explained to investors that a 25-cent increase to the prime rate will add 2 cents per share to annual net investment income.
Hercules boasts that it's the "largest non-bank lender to venture capital-backed companies at all stages of development," and its portfolio includes hundreds of companies across industries such as clean technology, surgical devices and enterprise software.
The company recorded record net investment income of $100.3 million in 2016, and analysts expect the good times should at a roughly 5% annual growth clip over the next few years. Plus, you don't have to sweat the Fed.
Hercules Capital (HTGC) Runs With the Fed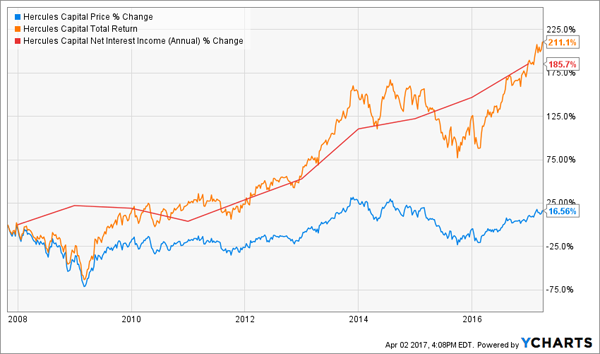 3. Compass Diversified Holdings (NYSE:CODI)
Dividend Yield: 8.7%
Compass Diversified Holdings isn't a business development company, but it gets that a lot – so much so that it actually dedicates space in its Investors FAQ area to dispelling that notion! Instead, CODI simply gobbles up controlling interests in companies, typically targeting companies in North America that range between $75 million and $500 million in EV and offer stable operating cash flows of at least $10 million annually.
Its holding companies are all over the map – from Clean Earth, a provider of environmental services for contaminated materials, to Arnold Magnetic Technologies, which manufactures engineered magnetic solutions for the aerospace and energy sectors, among others. CODI has been wheeling and dealing lately, too, with its Clean Earth subsidiary acquiring AERC Recycling Solutions at the end of March, and Compass finishing its divestiture of Fox Factory earlier in the month.
Compass pays a 36-cent quarterly dividend like clockwork that equates to a high-8% yield currently. Better still, Wall Street sees five-year annual earnings growth coming in at 7%. That should help CODI shares tick higher while the payout does the heavy total return lifting.
Compass (CODI) Isn't a BDC, But It Pays Like One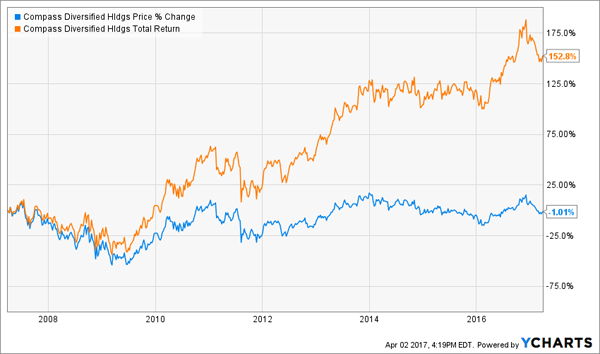 4. Fidus Investment Corp. (NASDAQ:FDUS)
Dividend Yield: 8.8%
We return to the BDC theme with Fidus Investment Corp. While Fidus invests in senior secured debt and equity, it primarily deals with mezzanine debt. Moreover, it deals in "lower middle market companies," which it defines as companies that sport annual revenues between $10 million and $150 million. Necessarily, FDUS does so with a strong eye toward risk management.
Fidus had a particularly active fourth quarter in which it invested a record $934 million and closed on seven new portfolio investments but net asset value per common share grew from $15.17 in full-year 2015 to $15.76 in 2016, and net investment income ticked higher, too. Analysts see a robust 8% improvement to the bottom line this year before it slows to a still respectable 3% moving forward. That should help push FDUS shares higher while you collect nearly 9% in annual income.
Fidus Investment (FDUS) Continues to Manage Its Risk Well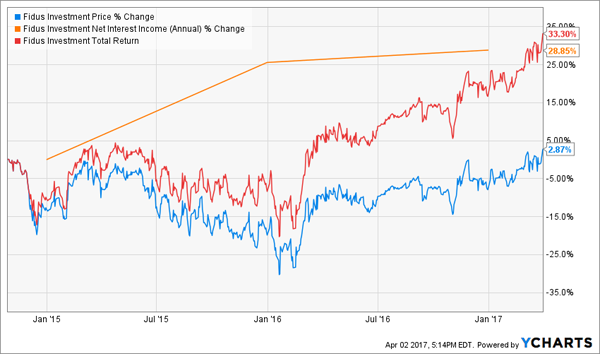 5. Apollo Commercial Real Estate Finance (NYSE:ARI)
Dividend Yield: 9.8%
Last, and most, is Apollo Commercial Real Estate Finance, a mortgage REIT (mREIT) externally managed by an Apollo Global Management LLC (NYSE:APO) indirect subsidiary. It invests in various real estate-related debt investments – mostly split between subordinate loans (53%) and first mortgage loans (42%) at the moment, with 5% in commercial mortgage-backed securities.
ARI is as diversified as it gets from a real estate perspective, with "for sale" residential taking up the biggest chunk at 24%. Still, there are double-digit holdings in retail and hotel properties, and significant single-digit chunks in multifamily residential, industrial, healthcare and mixed-use real estate.
Apollo is delivering not just operational growth, with net interest income up 40% last year alone, but dividend growth after years of stagnation – a long-time 40-cent quarterly dividend was hiked to 44 cents in 2015, then again to 46 cents. Analysts see modest bottom-line growth from here, but the bar is slightly lower here given the excellent yield of nearly 10%.
Apollo Commercial Real Estate Finance (ARI) Delivers Monster Total Returns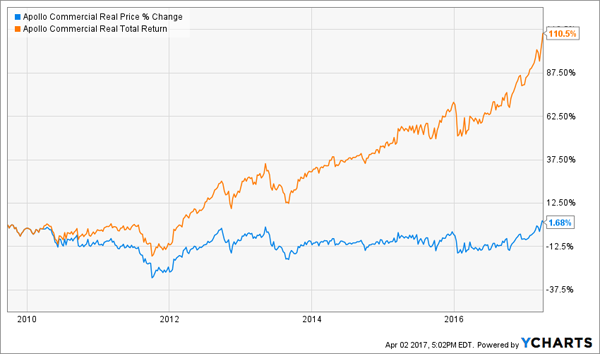 Caveats 
Please keep in mind that these stocks do feature a couple of weak spots that investors need to monitor. The growth prospects admittedly are a little on the sparse side in some cases, and you'll also notice that many of these picks are missing growth of another kind – in the dividend itself.
Win An iPad Pro!
TalkMarkets.com is so convinced you'll love their website they are raffling off an iPad Pro to those who registers here by June 30, 2017. For more information please read the contest Terms and Conditions.
975 authors contribute to TalkMarkets.com so check it out, register here and then program the site to provide you with exactly what you want by topic and author.

Check out my profile & articles on TM

here
If you want more articles like the one above:

LIKE us

on

Facebook; "Follow the munKNEE" on Twitter or register to receive 

our

FREE

tri-weekly

newsletter (see sample here ,
sign up in top right hand corner

).