...Which countries will be the best and worst to invest in over the next 10 years in terms of relative strength of asset prices in real terms based on:
their ageing population,
the expected increasing impact of climate change on their GDP and
their GDP per capita where the lower the GDP the greater the potential for real terms growth?
This post by Lorimer Wilson

, Managing Editor of munKNEE.com, is an edited ([ ]) and abridged (…) version of a portion of the original article by Nadeem Walayat of Marketoracle.co.uk
Best Real Terms Asset Price Growth Countries for the Next 10 Years

The best nations to invest in for the next 10 years based on demographics also carry an elevated climate change risk…[and, as such,] it is best to pursue those most likely to be politically stable so as to allow GDP to grow i.e. Nigeria, Pakistan, Egypt, South Africa, Malaysia, Israel, Algeria, Mexico, Indonesia and then…New Zealand and Australia where both actually see their average age FALL due to continuing immigration…
Canada, the U.S. and the U.K. are closely clustered with their bacon again being saved by HIGH IMMIGRATION with Canada reaping the rewards of a falling average age…
Worst Real Terms Asset Price Growth Countries for the Next 10 Years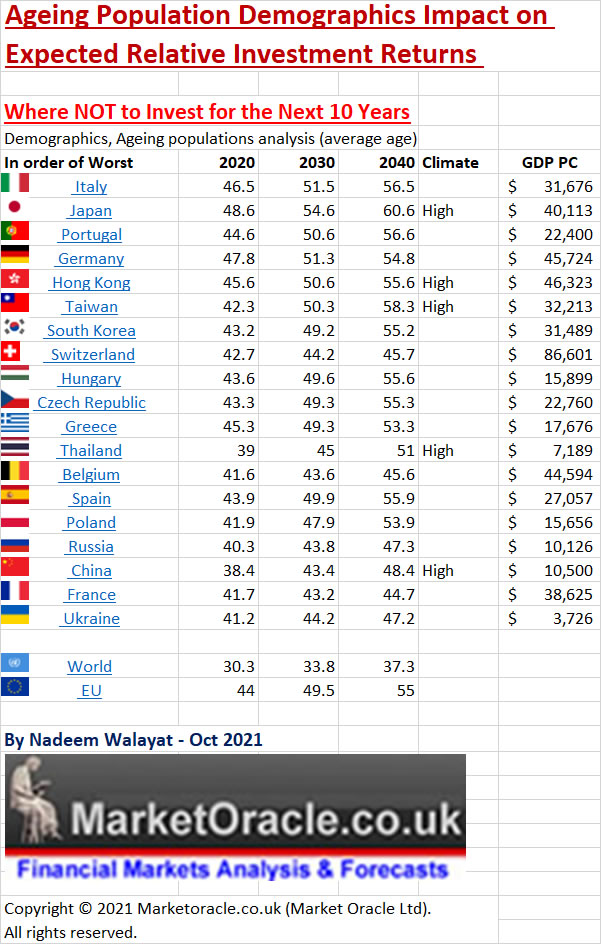 Japan and most of Europe top the charts but, surprisingly, Taiwan and South Korea are ticking demographic time bombs worse…[Based] on this metric one should reduce exposure to those corporations that derive their earnings from those nations…
A Few Last Words: 
Click the "Like" button at the top of the page if you found this article a worthwhile read as this will help us build a bigger audience.
Comment below if you want to share your opinion or perspective with other readers and possibly exchange views with them.
Register to receive our free Market Intelligence Report newsletter (sample here) in the top right hand corner of this page.

Join us on

 Facebook to be automatically advised of the latest articles posted and to comment on any of them.
munKNEE.com has joined eResearch.com to provide you with individual company research articles and specific stock recommendations in addition to munKNEE's more general informative articles on the economy, the markets, and gold, silver and cannabis investing.
Check out eResearch. If you like what you see then…