…I do not believe gold is rising due to a fear trade or due to U.S. dollar weakness; I believe gold is
rising because it is only in the teenage years of its current bull market.
The comments above and below are excerpts from an article by Taylor Dart which has been edited ([ ]) and abridged (…) to provide a faster and easier read.
Rare Signal Flashes For First Time In 14 Years
This week an extremely rare signal flashed for the gold market, which recorded its last [such] signal over a decade ago. The signal is the gold spot price rallying 30% from its lows and shows up as we exit bear markets and move into new bull markets in the metal.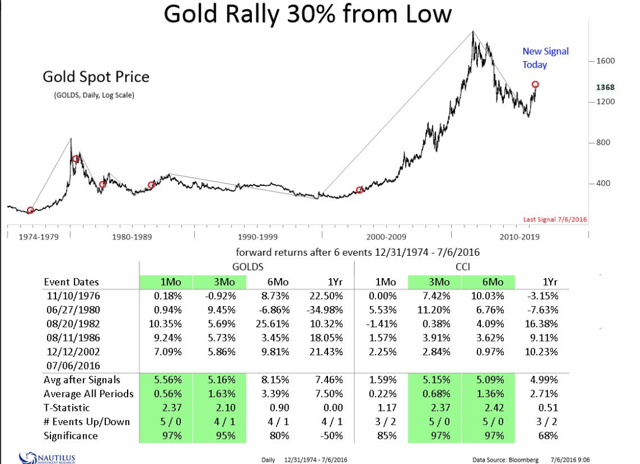 The signal has only occurred 5 times in the past 40 years and shows positive returns over a short and long term basis.
The average 1 month return after this signal occurs is 5.56%, and it is positive 100% of the time using the past 5 signals.
Moving out further and looking at a 6 month basis, the returns are once again impressive with a 8.15% average return, with 80% accuracy.
These statistics do not bode well for gold bears, as they continue to call this bull market overbought. Most bears are looking for a correction to cover their shorts and to conform to their overbought logic, but the chart [above] shows that short term this signal tends to be the strongest.
Even if gold were to perform at the same metric as the weakest occurrence for this signal (1976), gold would be sitting at the same level as it is now, providing no mercy to shorts.
If gold performs at the average metric for this signal, gold will be trading at $1443/ozt a month from today.
Moving out to the 6 month return, if gold performs at the average metric for this signal we will be at $1479/ozt in December,

based on the median return we'll be slightly higher at $1486/ozt.
Based on this signal, it does not pay to be a gold bear over the next 20 trading days…
Disclosure: The above article has been edited ([ ]) and abridged (…) by the editorial team at munKNEE.com (Your Key to Making Money!) to provide a fast and easy read.
"Follow the munKNEE" on Facebook, on Twitter or via our FREE bi-weekly Market Intelligence Report newsletter (see sample here , sign up in top right hand corner)