Precious metals shares are breaking out again after a brief consolidation. It's time to
channel your inner Old Turkey, realize this is a bull market and act accordingly.
The above introductory comments are edited excerpts from an article* by Jordan Roy-Byrne, CMT (TheDailyGold.com) entitled Gold & Silver Stocks: It's Old Turkey Time!
The following article is presented courtesy of Lorimer Wilson, editor of www.munKNEE.com (Your Key to Making Money!) and   www.FinancialArticleSummariesToday.com (A site for sore eyes and inquisitive minds) and has been edited, abridged and/or reformatted (some sub-titles and bold/italics emphases) for the sake of clarity and brevity to ensure a fast and easy read. This paragraph must be included in any article re-posting to avoid copyright infringement.
Roy-Byrne goes on to say in further edited excerpts:
Those familiar with Jesse Livermore and the book Reminiscences of a Stock Operator know who Old Turkey is. He was Mr. Partridge, an old trader who dispensed great wisdom in few words. Those at the office nicknamed him Turkey because of the way in which he strutted around with his chest puffed out.
It's time to channel your own inner Old Turkey and realize that this is a bull market in mining stocks. The evidence is overwhelming….
In addition to the price action, the miners have outperformed the metals in strong fashion and especially in the last five weeks. These are reliable signals of a new bull market.…

In addition,

the charts lead me to believe that the momentum is building and has plenty of room to run…
The first image below is a weekly chart of my new top 40 index. It includes 28 gold stocks and 12 silver stocks. The median capitalization is nearly $750 Million and 15 of the companies are worth $1 Billion or more.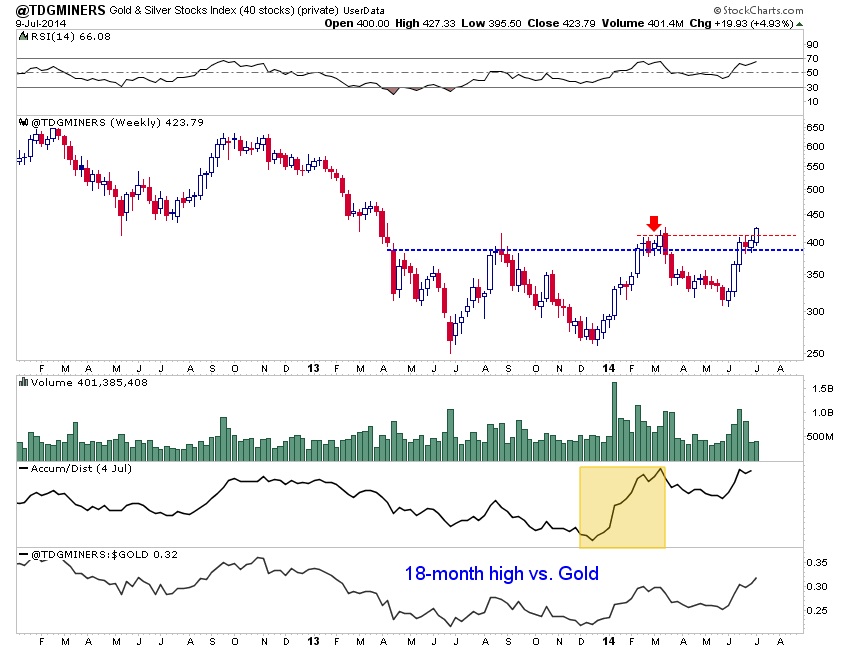 The index appears to be breaking out after a two week consolidation having closed Wednesday at its highest level in about 15 months. Note that:
although the index has advanced considerably in the last month and year to date, it is finally emerging from a reverse head and shoulders bottom that lasted 15 months! There is significant upside potential from the pattern and very little overhead resistance until the 2012 highs. Also note

the huge accumulation during the winter and the relative strength against Gold [as shown at the bottom of the image].
Staying with weekly charts, below is a look at the juniors via GDXJ and SILJ. With a bit more strength to close the week GDXJ will form a higher high and reach a 10-month high. The next resistance isn't until $52 while the next major resistance isn't until $70.
Meanwhile, if SILJ closes the week at the current level then it would mark the highest weekly close in 15 months. SILJ is starting to breakout from a very well defined head and shoulders pattern which projects roughly 30% upside from Wednesday's close.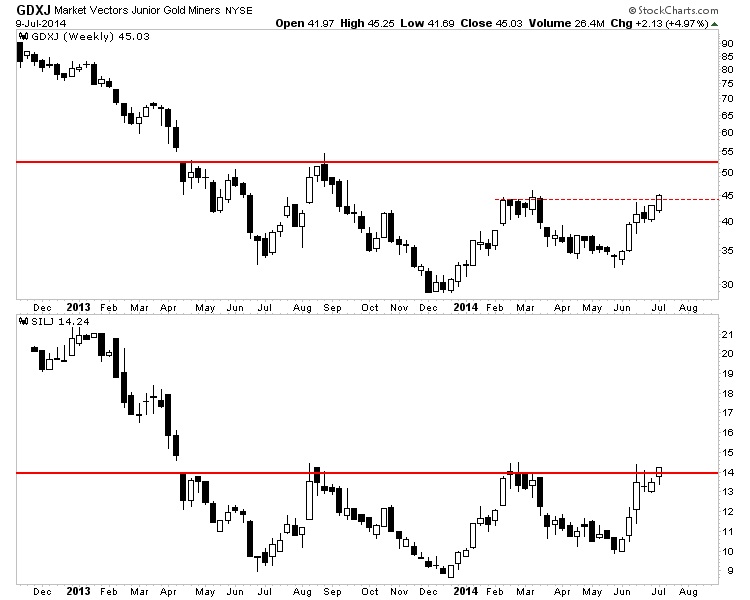 Conclusion
This is a tough time to buy as:
miners are no longer dirt cheap and have already rebounded quite a bit…[and]
there could be a lingering fear that the bear could reassert itself at any moment.
That being said, rebounds in miners (and general markets) tend to last well beyond one year before there is any significant correction, and the final bottom for miners was in December 2013,  so there is plenty of additional upside potential directly ahead.
[As I said in the introduction to this article,
it's time to channel your inner Old Turkey, realize this is a bull market and act accordingly by]
f
ocusing on quality stocks that are not so overbought, taking advantage of dips (5%-10%) when they come and having an exit strategy just in case…
Editor's Note: The author's views and conclusions in the above article are unaltered and no personal comments have been included to maintain the integrity of the original post. Furthermore, the views, conclusions and any recommendations offered in this article are not to be construed as an endorsement of such by the editor.
*http://thedailygold.com/gold-silver-stocks-old-turkey-time/(© 2014 The Daily Gold. All Rights Reserved)
Stay connected!
Related Articles:
1. Broad Metals & Mining Sector Have Finally Bottomed! Here's Why