Get ready for an incredible bounce higher in the gold & silver junior miner sector.  Here are five reasons why.
The above are edited excerpts from an article* by Jeb Handwerger (goldstocktrades.com) entitled Why Capital May Be Flowing From Equities to Junior Miners in 2014.
The following article is presented by

Lorimer Wilson

, editor of

www.munKNEE.com (Your Key to Making Money!)

 and the

FREE Market Intelligence Report newsletter

(sample

here

) and has been edited, abridged and/or reformatted (some sub-titles and bold/italics emphases) for the sake of clarity and brevity to ensure a fast and easy read. This paragraph must be included in any article re-posting to avoid copyright infringement.
Handwerger goes on to say in further edited excerpts:
Some of my charts are showing a potential reversal in the precious metals over the next couple of weeks.
GDXJ Reversing Above Its 50-day Moving Average
The junior miner gold ETF, GDXJ, is reversing above the 50 day moving average and breaking above its recent three month downtrend.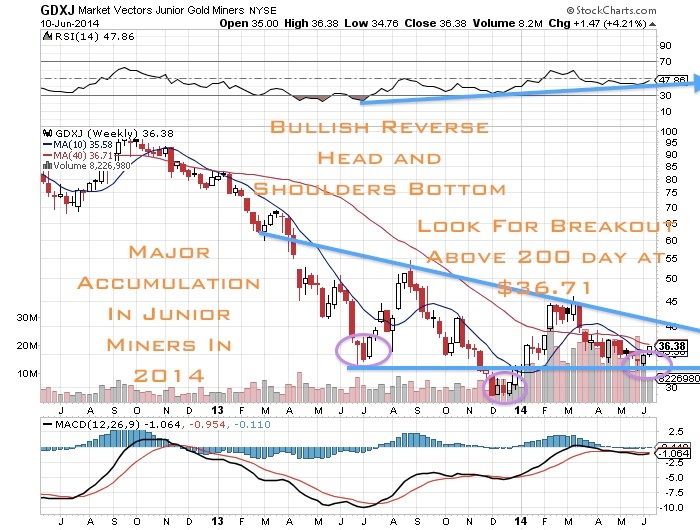 …The…cash positions waiting on the sidelines [and/or the]…profits taken…[from] the rising equity market… return to the ignored resource sector the gains could be huge.  Already the 2014 volume in GDXJ has jumped considerably, outpacing 2012 and 2013.
S&P 500 Has Been Rising On Low Volume
On the other hand the S&P500 has been rising on light volume which is often a warning sign that the extended rally is getting exhausted. [All of] this indicates to me that possibly the large institutions are accumulating the juniors after all the retail investors jumped ship.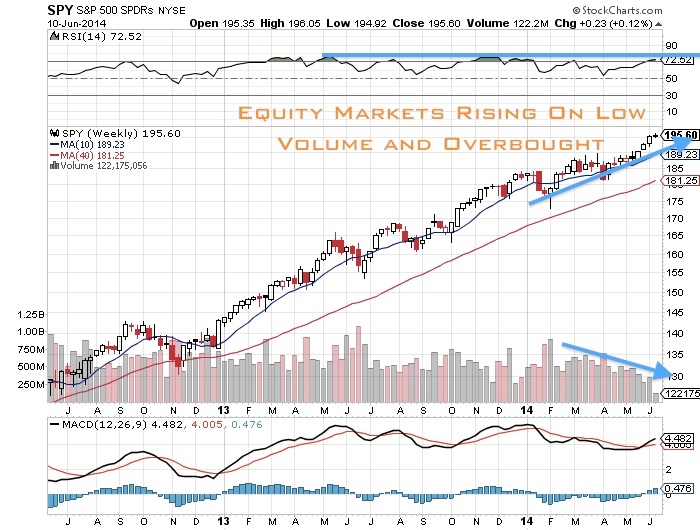 Get ready for an incredible bounce higher in precious metals.
Here are five reasons why:
Increased M&A in the gold mining space and equity investments in junior miners should tell you where the smart money is headed.  Take a look at the recent Osisko deal where Yamana outbid Goldcorp for their Quebec mine as a recent example and a straw in the wind.  Look at Gold Resource Corp (GORO) and Hecla's (HL) increased investments in the junior space.
Gold and silver are trading way below their three year trailing averages which indicates that the price is way oversold and a major bounce is likely.  Furthermore, gold is priced below production putting strain on future supply as miners mothball marginal projects.
The equity markets are too high reaching extreme overbought and speculative levels similar to 2007 before the crash.  A correction in equities sparked by fears of deflation could spark the return to gold and silver as a safe haven as Central Banks may continue to push negative interest rate policies similar to what the ECB recently announced.
Gold and silver have been basing for three+ years and the junior miners have been in arguably a seven year bear market reaching historic oversold levels.
If geopolitics tensions escalate (think the Ukrainian-Russian and the Middle East situation in Iraq, Libya, Syria, Iran and Turkey) it could send metals, commodity and oil prices soaring.  Do not be surprised to see further chaos and increased violence as the U.S. pulls its troops out of the region…
 

Editor's Note: The author's views and conclusions in the above article are unaltered and no personal comments have been included to maintain the integrity of the original post. Furthermore, the views, conclusions and any recommendations offered in this article are not to be construed as an endorsement of such by the editor.
*http://goldstocktrades.com/blog/2014/06/11/why-capital-may-be-flowing-from-equities-to-junior-miners-in-2014/ (© 2014, Gold Stock Trades )
Related Articles:
1. Is Gold Ready To Bounce? Not Likely! Here's Why
Gold and silver have been all over the map in 2014. To figure out what's next for the metals this article assesses their deep and long term status as speculative assets and the relationship between the two metals and determines what must happen to reverse their continuing decline. Read on! Read More »
2. Gold Should Bounce Sharply Higher – Here Are 10 Reasons Why
Is it time to throw in the towel? Is the bull market in precious metals really over? I don't think so because my analyses suggest that nearly all of the fundamental factors that have been driving the gold price higher in the past decade have only strengthened in the past two years. Now that the correction has most likely run its course, I expect gold to bounce sharply higher. Here are 10 reasons why. Read More »
3. The Most Explosive Turnaround to the Upside — EVER — Is Coming In the Precious Metals Sector
I am 100% confident that 1) precious metals will bottom this year and resume a new leg to the upside, 2) the extreme emotions right now regarding gold and silver are typical at major turning points and 3) all the underlying fundamental, cyclical and technical conditions for a new bull market in gold and silver are in place. Here's an update on the latest action in gold, silver, platinum and palladium Read More »
4. A Rise In Silver Prices and a Fall In S&P 500 Index Seems Both Inevitable and Imminent – Here's Why
Silver has had three bad years while the S&P has had 5 good years. It is time for both markets to reverse. Here's why. Read More »
5. Short the Dow & Go Long Gold – It's the "Trade of the Decade"! Here's Why
At the beginning of a hyperinflationary cycle, the stock market virtually always makes substantial gains which is just reflecting the sheer weight of printed money…After the initial enthusiasm the stock market loses its lustre and falls in tandem with the economy into a deflationary depression. The U.S. is now slowly entering such a hyperinflationary phase. Here's what that means for the future price of gold. Read More »