[No wonder you are confused!] Several technical and fundamental indicators have
flashed caution to no avail and this has given way to an uncomfortable tension beneath the surface as investors try to find answers while keeping pace with performance. Below are 10 mixed signals about the near-term direction and theme of the markets.
The above introductory comments are edited excerpts from an article* by Andrew Nyquist (seeitmarket.com) entitled 10 Reasons Investor Confusion Reigns Supreme In 2014.
The following article is presented courtesy of

Lorimer Wilson

, editor of

www.munKNEE.com (Your Key to Making Money!)

 has been edited, abridged and/or reformatted (some sub-titles and bold/italics emphases) for the sake of clarity and brevity to ensure a fast and easy read. This paragraph must be included in any article re-posting to avoid copyright infringement.
Nyquist goes on to say in further edited excerpts:
Considering the way the markets behaved during the first half of the year, it should come as no surprise that there are high levels of investor confusion surrounding the near-term direction (and theme) of the markets.
On a day-to-day basis, investor sentiment ranges from a head scratch to a high five to you gotta be kidding me.  Several technical and fundamental indicators have flashed caution to no avail and this has given way to an uncomfortable tension beneath the surface as investors try to find answers while keeping pace with performance.
Below are 10 such mixed signals:
1.  The Russell 2000 (RUT) and the Small Caps have severely underperformed all year.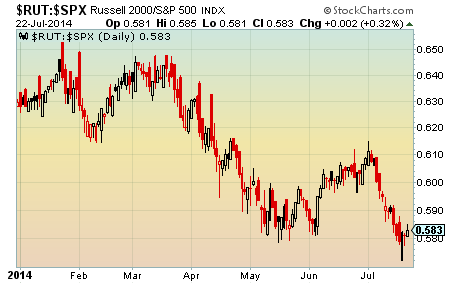 2.  Emerging Markets (EEM) have performed in line (up 7.0% YTD).
3.  Bond yields have dropped and are depressed across several developed countries…and high yield/junk bonds have been gobbled up like candy.
4.  The Euro is falling. The U.S. Dollar is flat.
5.  The Regional Banks Index (KRE) has traded sideways in a wide range.
6.  U.S 1st quarter GDP was negative and the U.S. economy continues to slog along.
7.  Crude Oil is over $100/barrel.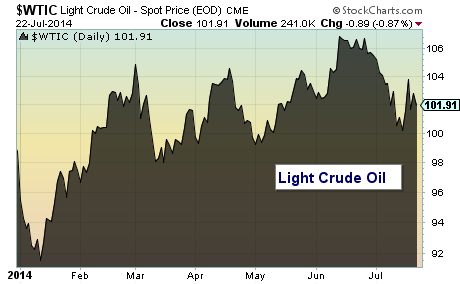 8.  The Utilities Sector (XLU) is up 12.2% not including dividends.
9.  The Volatility Index (VIX) put on a 10-handle and is currently clocking in at 12.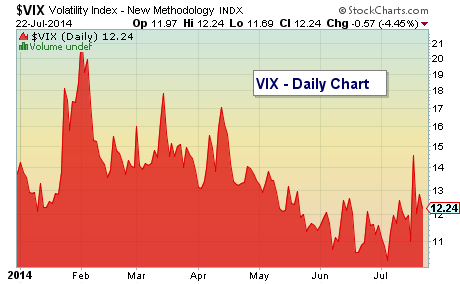 10.  Geopolitical drama is becoming a bigger concern.  From the Syrian civil war…to the Russia-Ukraine tensions…to the Israeli-Palestinian conflict…major super powers are beginning to stir.
Today, the S&P 500 briefly touched new all-time highs and closed less than one percent off the momentous milestone of 2000.
For those keeping score at home, near-term risk is rising in the market place, and so are equities. Invest accordingly.
Editor's Note: The author's views and conclusions in the above article are unaltered and no personal comments have been included to maintain the integrity of the original post. Furthermore, the views, conclusions and any recommendations offered in this article are not to be construed as an endorsement of such by the editor.
*http://www.seeitmarket.com/10-reasons-investor-confusion-2014-13686/ (© 2014 See It Market. All rights reserved.)
Related Articles:
1. Believe It or Not: Both Bulls & Bears Playing In Current Market
The current U.S. equity market has something for everyone. Whether you are bullish or bearish, there is no shortage of indicators or charts you can use to support your thesis. Read More »
2. Are We In Phase 3 – the Final Phase – of This Bull Market Yet?
Are we in the third phase of a bull market? Most who will read this article will immediately say "no" but isn't that what was always believed during the "mania" phase of every previous bull market cycle? With the current bull market now stretching into its sixth year; it seems appropriate to review the three very distinct phases of historical bull market cycles. Read More »

3. What's the Best Way to Invest Given Today's Disturbing World News Headlines?
It's hard not to see some disconnect between recent disturbing world news headlines and the market's quiet advance but this disconnect is rational in the short term, but not necessarily in the long term. Here are 3 rules of thumb for how investors can potentially respond. Read More »
4. Bigger IS Better! What Does This Selective Advance Mean For the Stock Markets Going Forward?
The average U.S. stock is DOWN over 1% thus far in 2014. How can that be when we're being told almost daily that the Dow and S&P 500 are hitting new all-time highs? The answer is likely to surprise you. Read More »
5. Remember the "Nifty 50″? It's Back! What Does It Mean For the Markets Going Forward?
Market historians will recall the term "Nifty 50" originated in the 1960's bull market to describe 50 wildly popular large-cap stocks at the time. Interestingly, some of the same names from that list are leading the market higher today. The question for investors, of course, is what this selective advance means for the markets going forward. Read More