Automatically receive the internet's most informative articles bi-weekly via our free bi-weekly Market Intelligence Report newsletter (sample here). Register in the top right hand corner of this page.
…Silver prices have risen exponentially for the past 90 years as the dollar has been consistently devalued. Expect continued silver price rises…

SILVER TO GOLD RATIO:
Examine the silver to gold ratio for the past 27 years. Low silver to gold ratios indicate long-term buy zones for silver. Silver prices are there now.@Gold&Silver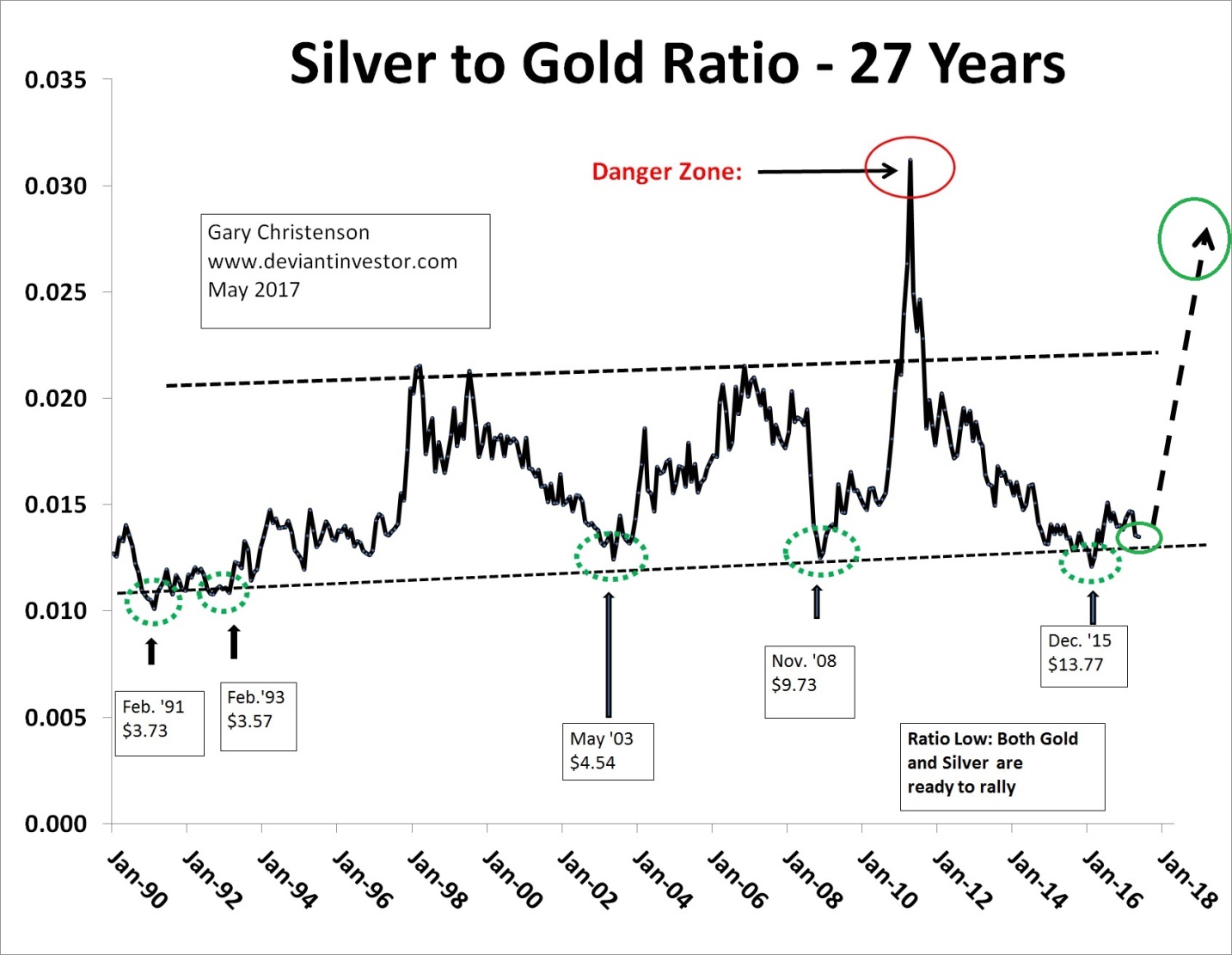 How High Will Silver Prices Rise?
The answer depends upon many variables. A partial list includes:
COMEX silver prices are "managed" by large players, including JPM, which previously have wanted silver prices to remain low. That may be changing. Read Ted Butler.
How rapidly will the Fed and commercial banking increase the supply of dollars and

how much

will they devalue the dollar?
How extreme will our political

circus

become? Distractions will be necessary. The usual response is war after a suitable scapegoat has been identified.
"False Flag" operations may direct blame and attention away from policy failures and toward some "common enemy." Wars increase silver prices.
When will U.S. citizens lose confidence in the dollar?
How rapidly will foreign countries including China, Russia and Saudi Arabia redirect commerce away from the dollar?
Hyper-inflation or 1970s style inflation?
Rise of the IMF and Special Drawing Rights as a global currency?

SUMMARY:
Silver prices for the next decade are dependent upon many unknowns. However, a conservative chart interpretation is shown below.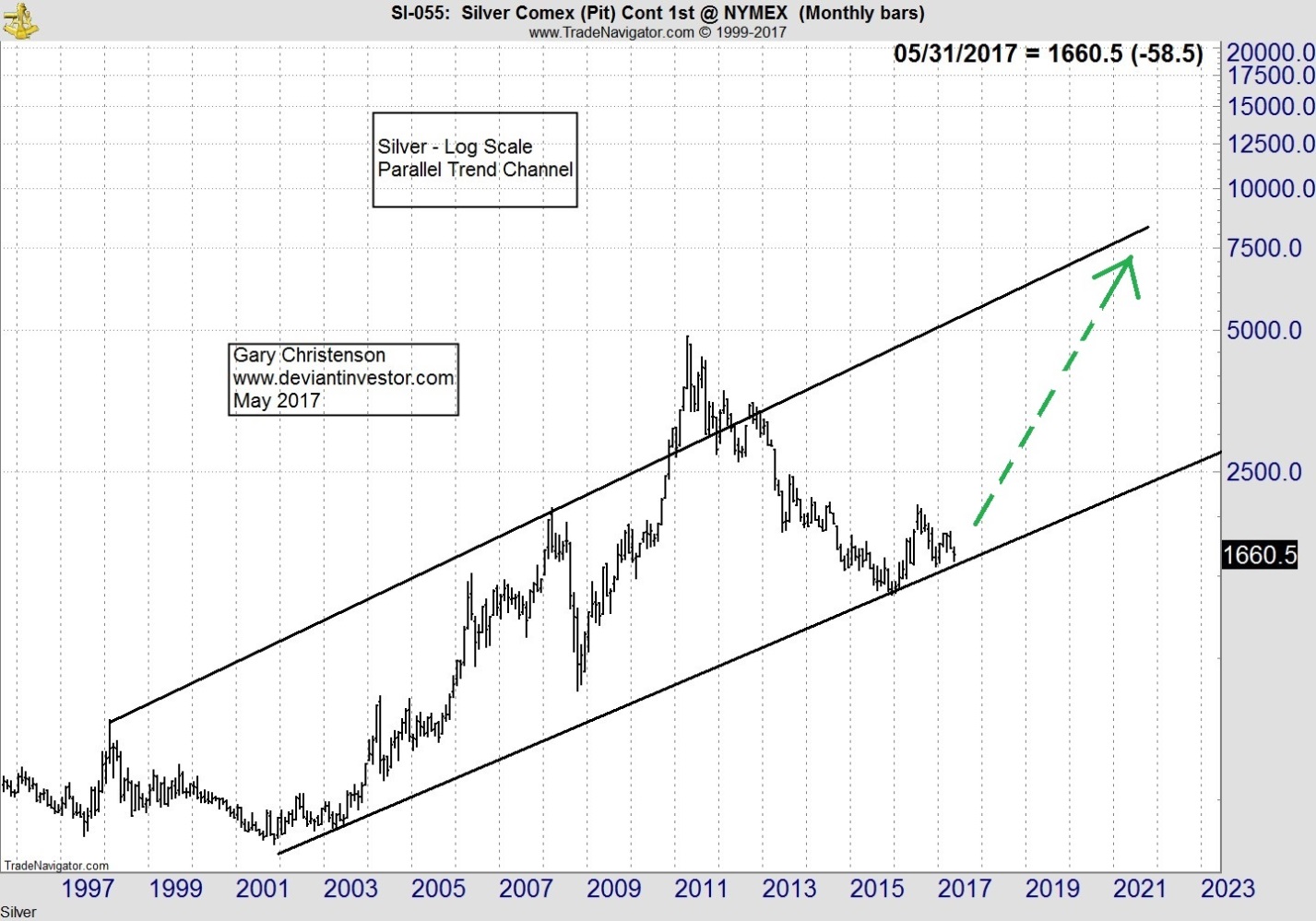 The log trend channel has contained most silver prices for the past 20 years. A "more of the same" financial world suggests silver prices will rise toward $100 in the next 5 – 7 years.
A more aggressive chart interpretation shows prices for silver peaks rising rapidly during the past 17 years.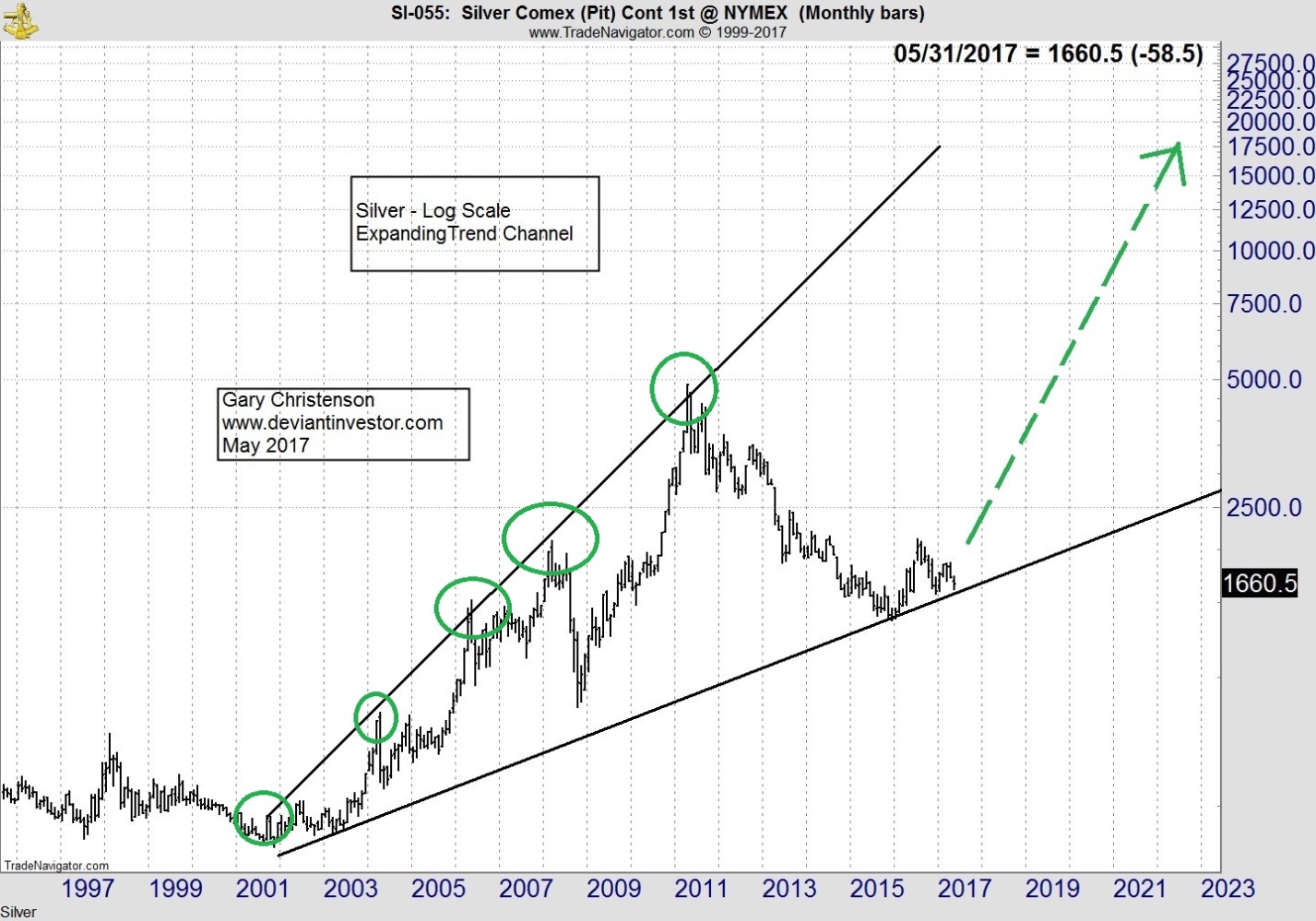 Silver COMEX Monthly Bars: 1999-2017
A blow-off rally in silver – quite possible – suggests silver prices rallying toward $200 – $300 per ounce.
If the powers-that-be create or can't stop hyper-inflation of the dollar, $500 silver will look inexpensive by the end of next decade.
This article consists of edited excerpts

 from an article by Gary Christenson for a 

FASTER – and EASIER – read

.
(The author's views and conclusions are unaltered and no personal comments have been included to maintain the integrity of the original article. Furthermore, the views, conclusions and any recommendations offered in this article are not to be construed as an endorsement of such by the editor.)
munKNEE.com has joined eResearch.com to provide you with individual company research articles and specific stock recommendations in addition to munKNEE's more general informative articles on the economy, the markets, and gold, silver and cannabis investing.
Check out eResearch. If you like what you see then…