Deflation/Inflation Expectations and the Summer Crash of 2011
In the face of lackluster economic growth and no hopes for new stimulus anytime in the near future, the global tightening cycle may force the market back into a deflation scare. Either way, caution remains warranted in such an environment. [Let me explain further.] Words: 568
So says Michael A. Gayed (www.pensionpartners.com/) in excerpts from an article* which Lorimer Wilson, editor of www.munKNEE.com
 (It's all about Money!), has further edited ([  ]), abridged (…) and reformatted below  for the sake of clarity and brevity to ensure a fast and easy read. Please note that this paragraph must be included in any article re-posting to avoid copyright infringement.  Gayed goes on to say:
[While] I still believe that the odds of a significant market decline are much higher than the market is pricing in [let's,] for argument's sake, look at inflation expectations as a way of gauging the possibility that the market will instead rally as opposed to falling off a cliff [as exemplified below by] the price ratio of the iShares TIPS Bond ETF (TIP) relative to the iShares 7-10 Year Treasury Bond ETF (IEF). As a reminder, a rising price ratio means the numerator/TIP is outperforming (up more/down less) the denominator/IEF.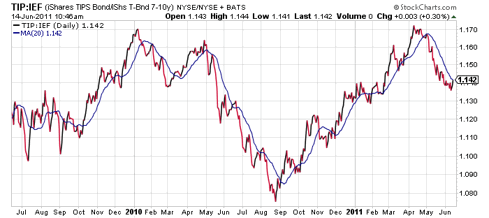 Notice [above] that the peak of the ratio was hit in early April this year after roughly reaching early 2010 levels. The ratio then fell hard for about two months as deflation concerns crept back into the bond market. As economic data weakened, and emerging markets continued to lag, "risk off" came back because risk assets tend to do better when inflationary expectations are rising, not falling as the recent price ratio analysis would suggest.
Sign up for your FREE weekly "Top 100 Stock Index, Asset Ratio & Economic Indicators in Review"
…[In spite of a slight move upwards in the past few days,] the trend appears to be headed lower until proven otherwise and, in many ways, it probably should. This is the first time in three years where there will be no new stimulus to help juice up the economy:
The Fed is ending its QE program (a quasi-tightening of rates),
[Most other] countries, with the exception of Japan, are raising their own interest rates,
The impact of a Greek default is deflationary.
Conclusion
What all this means is that in the face of still lackluster economic growth and no hopes for new stimulus anytime in the near future, the global tightening cycle may indeed force the market back into a deflation scare. Either way, caution remains warranted in such an environment.
Who in the world is currently reading this article along with you? Click here to find out.
*http://seekingalpha.com/article/274866-deflation-inflation-expectations-and-the-summer-crash-of-2011?source=email_macro_view
Related Articles:
Editor's Note:
The above article consists of reformatted edited excerpts from the original for the sake of brevity, clarity and to ensure a fast and easy read. The author's views and conclusions are unaltered.
Permission to reprint in whole or in part is gladly granted, provided full credit is given as per paragraph 2 above.

Stock Market