Precious metals thrive on volatility – the more uncertainty in the markets the more gains silver and
gold will likely see – but how can investors make a rational decision regarding which specific stock to choose in this sector? One idea is to select those that have a positive net income. These stocks are generally safer as their costs have been normalized and are being covered by inflows of revenue and cash. The silver and gold stocks on our list today exhibit positive EPS figures, which we think will benefit its investors.
The comments above and below are excerpts from an article from SmallCapPower.com which has been edited ([ ]) and abridged (…) to provide a faster and easier read.

Klondex Mines Ltd. (TSE:KDX) – $5.62
Gold
Klondex Mines Ltd. is a Canada-based gold and silver mining company that is focused on exploration, development and production of its two gold and silver projects in north central Nevada, such as the Fire Creek mine located in Lander County, Nevada (the Fire Creek Mine or the Fire Creek Project), and the Midas mine (the Midas Mine) and ore milling facility located in Nevada (together with the Midas Mine, the Midas Project or Midas).
Market Cap: 800,758,787

Revenues: 200,520,010

Operating Income: 33,162,425

Debt: 46,012,053.00

Alacer Gold Corp. (TSE:ASR) – $3.49
Gold
Alacer Gold Corp. (Alacer) is an intermediate gold mining company that operates in the segment of mining, development and exploration of mineral deposits in Turkey. The Company's principal products are gold, copper and silver. It has an interest in the Copler Gold Mine in Turkey.
Market Cap: 1,018,869,556
Revenues: 279,991,758
Operating Income: 67,068,650
Debt: 0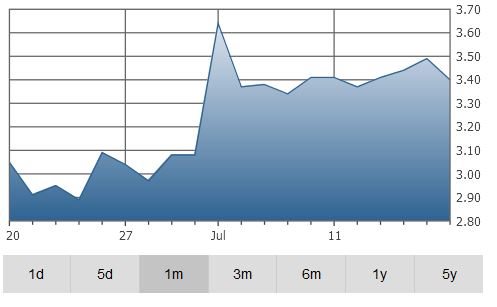 Dynacor Gold Mines Inc. (TSE:DNG) – $2.05
Gold
Dynacor Gold Mines Inc. is a Canada-based ore processing and exploration company. Its activities consist of the production of gold and silver from the processing of purchased ore and the exploration of its mining properties located in Peru. The Company also owns rights on over three mining properties, which are in the exploration-stage, including its exploration gold, copper and silver prospect, the Tumipampa property, and the Anta property, which is a silver exploration prospect with approximately five concessions covering an area of over 3,800 hectares.
Market Cap: 215,285,203.21
Revenues: 106,064,712
Operating Income: 8,791,565
Debt: 6,488,944.00

Fortuna Silver Mines Inc. (TSE:FVI) – $11.15
Diversified Mining
Fortuna Silver Mines Inc. is a Canada-based mining company engaged in silver mining and related activities in Latin America, including exploration, extraction and processing. The Company operates the Caylloma silver, lead, and zinc mine (Caylloma) in southern Peru and the San Jose silver and gold mine (San Jose) in southern Mexico. It produces approximately 4.9 million ounces of silver and over 38,530 ounces of gold at San Jose.
Market Cap: 114,570,744.63
Revenues: 207,264,113
Operating Income: – 6,589,749
Debt: 51,406,112.00
Silvercorp Metals Inc. (TSE:SVM) – $3.90
Non-Gold Precious Metals & Minerals
Silvercorp Metals Inc. (Silvercorp) is a silver-producing Canadian mining company engaged in the acquisition, exploration, development, and mining of silver-related mineral properties in China. The Company is the primary silver producer in China through the operation of over four silver-lead-zinc mines in the Ying Mining District in Henan Province, China, including SGX, HZG, TLP, Haopinggou (HPG) and the LM mines.
Market Cap: 651,232,163
Revenues: 141,978,714
Operating Income: 16,189,777
Debt: 6,055,963.00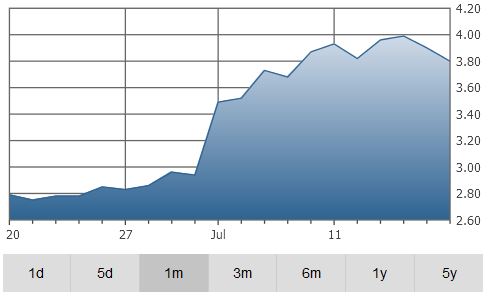 Disclosure: The above article has been edited ([ ]) and abridged (…) by the editorial team at munKNEE.com (Your Key to Making Money!) to provide a fast and easy read.
"Follow the munKNEE" on Facebook, on Twitter or via our FREE bi-weekly Market Intelligence Report newsletter (see sample here , sign up in top right hand corner)