There's a new Silver Sheriff in town, and it happens to be located north of the U.S. border.  While [American]
Silver Eagle sales and growth were impressive in 2013, [Canadian] Silver Maple Leaf sales outgunned the competition by a wide margin. [By how much? Take a look.]
So says Steve St. Angelo (srsroccoreport.com) in edited excerpts from its original article* entitled Canadian Silver Maple Leaf Sales Shatter All Records.
The following article is presented by

Lorimer Wilson

, editor of

www.munKNEE.com (Your Key to Making Money!)

 and the

FREE Market Intelligence Report newsletter

(sample

here

) and has been edited, abridged and/or reformatted (some sub-titles and bold/italics emphases) for the sake of clarity and brevity to ensure a fast and easy read. This paragraph must be included in any article re-posting to avoid copyright infringement.
St. Angelo goes on to say in further edited excerpts: Not only did Canadian Maple Leaf sales shatter all records in 2013, their percentage gain was twice as much compared to Silver Eagles….
the U.S. Mint increased its sales of Silver Eagles from 33.7 million in 2012, to 42.7 million in 2013…a 27% increase year over year
the Royal Canadian Mint sold 28.2 million Silver Maple Leafs in 2013 – an astonishing 56% increase over the 18.1 million ounces sold in 2012.
Silver Maple Leaf sales…increased 10.1 million [troy] ounces compared to a 9 million [troy] ounce gain in Silver Eagle sales.
Furthermore, Silver Maple Leaf sales were 5.1 million [troy] ounces (22%) greater in 2013 than their previous record of 23.1 million [troy] ounces in 2011.
Silver Eagle sales, on the other hand, increased only 2.8 million ozt. (7%) in 2013 compared to the 39.9 million ozt. sold in 2011.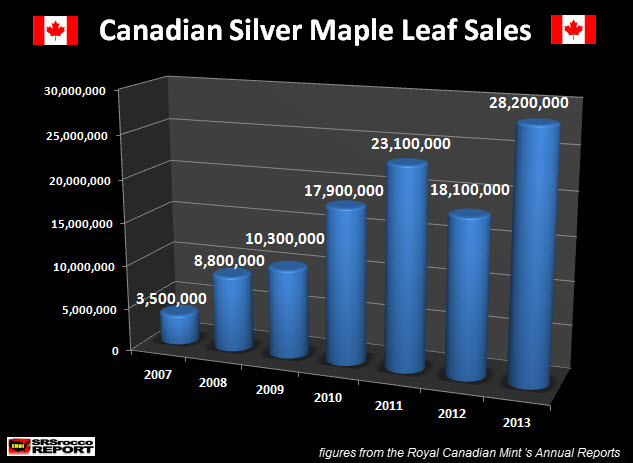 If we combine the figures from the two strongest "Official Coin" sales in the world, we have the following:
We can see [from the above table] that:
Canadian Silver Maple Leaf sales grew tremendously from 3.5 million ozt. in 2007 to 28.2 million ozt. in 2013, while
American Silver Eagle sales increased from 9.9 million ozt. in 2007 to 42.7 million ozt. in 2013.
Basically, the sales of Silver Maple Leafs (8 X) grew twice as much as Silver Eagles (4.3 X) from 2007-2013. Total sales of these two official coins in 2013 now represent:
9% (70.9 mil ozt.) of total world silver mine supply, compared to only 2% (13.4 mil ozt.) in 2007. 
This is a significant figure... Lastly, not only did Silver Maple Leaf sales beat Silver Eagles hands down in percentage gains [56% vs. 27%] last year:
the Royal Canadian Mint sold 48% more Gold Maple Leafs (1,140,000 ozt.) than
the U.S. Mint's Gold Eagles sales which only grew 14% to 856,500 in 2013.
If we look at the chart below we can see Gold Maple Leaf sales over the past six years.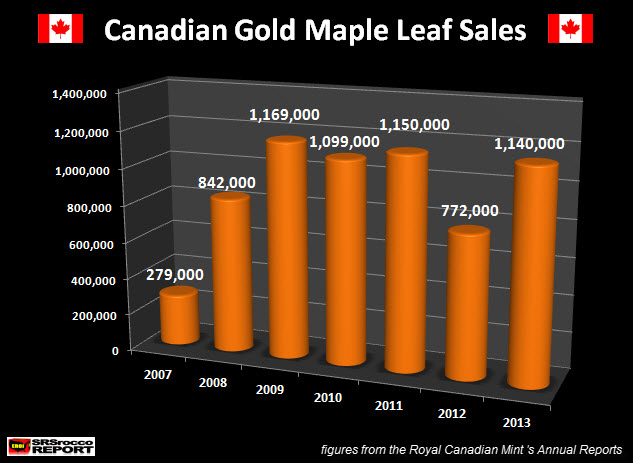 Retail buyers are now:
favoring the Gold Maple Leafs over Gold Eagles due to their extra fineness and lower premium

and

buying an ever greater percentage of Eagle & Maple Leaf silver coins combined than they are their gold counterparts.  In 2013, total Silver Eagle & Maple Leaf sales were 70.9 million compared to the 1,996,500 oz of Gold Eagles and Maple Leafs.  This is a 35.5/1 ratio compared to 28/1 in 2007. The trend is continuing as exemplified by the fact that Silver Eagle sales for the first four months of the year (18.4 million ozt.) are 100 times greater than the 182,000 ozt. of Gold Eagles sold to date.
As soon as the Royal Canadian Mint releases their Q1 2014 report, I will publish an update on their sales figures.  [Here it is!] I would imagine 2014 Silver Maple Leaf sales are just as strong, or stronger, than Silver Eagles. We will see.
 

Editor's Note: The author's views and conclusions in the above article are unaltered and no personal comments have been included to maintain the integrity of the original post. Furthermore, the views, conclusions and any recommendations offered in this article are not to be construed as an endorsement of such by the editor.
*http://srsroccoreport.com/canadian-silver-maple-leaf-sales-shatter-all-records/canadian-silver-maple-leaf-sales-shatter-all-records/ (© 2014 SRSrocco Report. All rights reserved.)
Related Articles:
1. Eagles, Buffaloes & Maple Leafs: Gold Bullion Coins of U.S. & Canada
2. Beware The Dangers In Buying Certain Gold Coins – Here's Why
At first glance, buying gold may seem a simple, straight forward process. However, there are dangers, such as falling for a telemarketer's line that his coins are "non-confiscatable" and somehow have more value because you bought them from him. Basic bullion is the way to go when investing in gold. Words: 788
Read More »
4. What's the Difference Between 1 Gold Karat, 1 Diamond Carat and 1 Troy Ounce?
5. 75th Birthday of Superman Celebrated With New Line of Collector Coins – Take a Look!
6. A Look At Canada's Unique, Beautiful & Costly Coins
In celebration of Canada's 146th birthday we take a look at some of Canada's extraordinary – and rather costly – coins. Read More »
7. Americans – Your Pocket Change Might Contain Coins Worth Thousands of Dollars! Here Are the Top 10 to Look Out For
There are a number of U.S. error coins and die varieties in circulation today worth from $30 to $35,000 because they have small distinguishing characteristics that make them rare and valuable. This article will tell you which of your pocket change coins might be worth a large premium over face value, and why. Words: 1076 Read More »
8. Here's a Dirty Little Secret About Cleaning Bullion Coins
9. Attention Brits: Here's How & Where to Buy Gold Bullion Bars and Coins
We have compiled a directory below of leading gold brokers where you can buy gold bullion, coins and bars online, over the phone or even in branch. Words: 400
Read More »
10. China Flooding Market With Counterfeit Gold & Silver Coins! Here's How to Protect Yourself
11. It's Silver's Time: Sales of Silver Coins Soaring; Price of Silver About to Soar!