"…All reliable bottoms start with a reclamation of the 200-day moving average…[and] taking a look at…the GDXJ Index below, there's absolutely no indication of a bottom yet… If it doesn't look like a bottom and doesn't smell like a bottom, it's probably not a bottom…"
By Lorimer Wilson, editor of munKNEE.com – Your KEY To Making Money! 
[
This synopsis of edited excerpts

* (576 words) from the original article (1464 words) by Taylor Dart provides you with a 61% FASTER – and EASIER – read. Dart is receiving compensation from Seeking Alpha for pageviews of his original article as posted there so please refer to it for more detail.  Please note: This complete paragraph, and a link back to the original article, must be included in any article re-posting to avoid copyright infringement.]

."..The Gold Juniors Index (GDXJ), is not providing any confirmation of a bottom yet.
We have seen more than half of the index constituents drop below their September low,
we have 85% of the sector below their 200-day moving averages, and
we have not seen a single new 52-week high.
…[GDXJ]:
remains below all of its key moving averages,

continues to hang in the bottom half of its recent trading range,

and remains locked in a bear market for the time being

…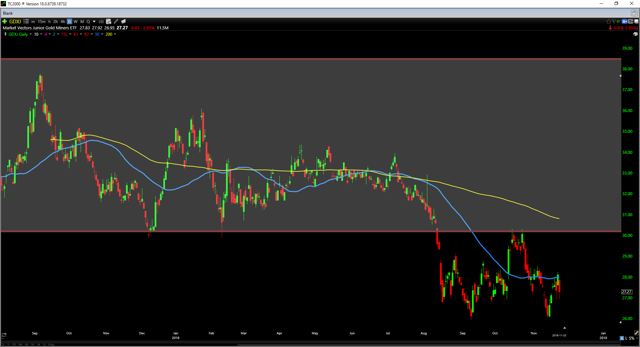 (Source: TC2000.com)
Looking at a more zoomed-out picture of the index, we can see that we continue to trade in a downtrend and have broken down from a 2-year base and are holding below. Until the GDXJ Index can, at a minimum, move back into this base, I see no reason to get even remotely excited. Past support levels tend to become new resistance levels, and so far the index is making minimal effort to reclaim its prior support.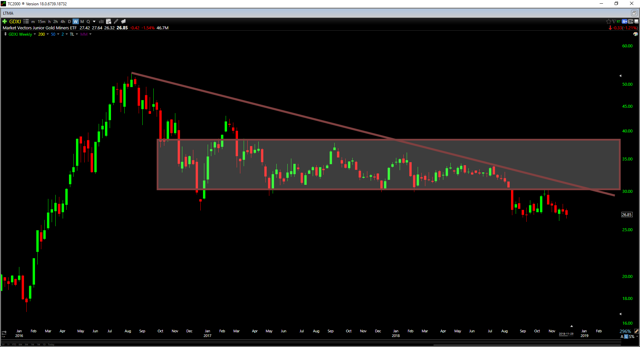 (Source: TC2000.com)
Looking at a daily chart of the index below, we can see that the index has strong resistance at both $30.55 and $33.50. The downtrend line off also comes in near the $30.55 area, as well as the 200-day moving average. Unfortunately, for the bulls, the odds are stacked against them here until they can put in a weekly close above $30.55. The trouble then is that there's another key resistance level at $33.50 they will need to push through before this bull market can resume. This means that even if the Gold Juniors Index managed to stage a 20%+ rally, it would still need be out of the woods. I would view rallies into either of these levels as just oversold bounces within a bear market.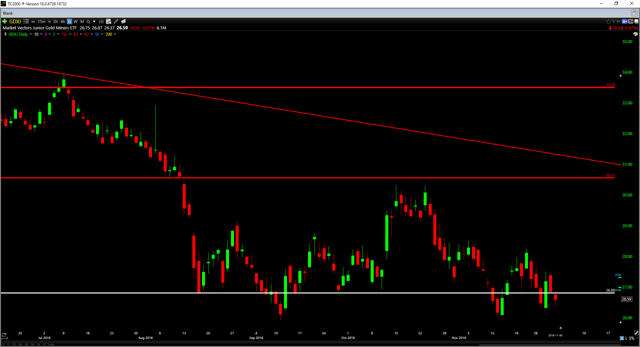 (Source: TC2000.com)
The bulls do have a key line in the sand here at $26.80, and holding this level is very important for the bulls. This $26.80 level is the last real support level left until the $18.80 near the 2016 lows. As we can see that if $26.80 is lost and the index remains weak, we have two strong resistance levels above, but minimal support below. The bulls must hold onto this $26.80 support level on a weekly close going forward. This means that the bulls do not want to see any Friday closes below $26.80. The bulls closed below this level last week, but it was a marginal break. This does not mean we have to head down to $18.80, but it's not an ideal situation when the next key support level is 30% below if the current one is broken (26.80).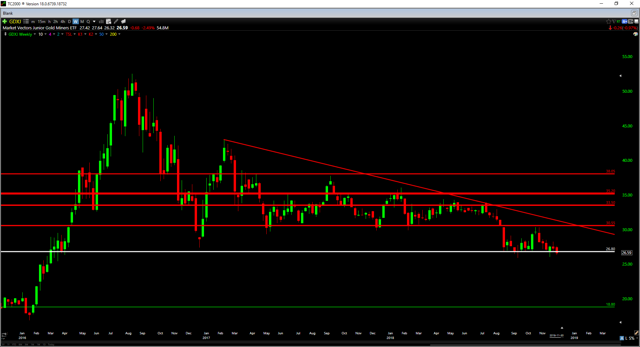 (Source: TC2000.com)
Conclusion
With almost no gold juniors left in up-trends, and an index that has resistance stacked overhead with no bottoming pattern in place, I see no reason to be in a rush to buy positions here…Until breadth improves or the index itself starts showing signs of a bottom, I see no reason to commit any real capital to the sector. The first sign of a potential turnaround would be a weekly close above $30.55, or an improvement in breadth in the sector…"
(*The author's views and conclusions are unaltered and no personal comments have been included to maintain the integrity of the original article. Furthermore, the views, conclusions and any recommendations offered in this article are not to be construed as an endorsement of such by the editor.)
 Want your very own financial site? munKNEE.com is being GIVEN away – Check it out!
For the latest – and most informative – financial articles sign up (in the top right corner) for your FREE bi-weekly Market Intelligence Report newsletter (see sample here).
If you enjoyed reading the above article please hit the "Like" button, and if you'd like to be notified of future articles, hit that "Follow" link.