The price movement of silver since 2008 resembles the silver sentiment cycles during the 1972-1979 suggesting that we could well see $100+/ozt in the next few years.
The above introductory comments are edited excerpts from an article* by Gary Christenson (DeviantInvestor.com) entitled The Silver Sentiment Cycle.
Christenson goes on to say in further edited excerpts:
The following chart shows:
Silver Prices: 1972 – 1979
• Silver moved upward from about $1.40 in 1971, rallied to about $6.40 in March 1974, and fell to about $4.30 in August 1977.
•The March 1974 peak took about 3 years and ended about 4.55 times its starting point.
•The August 1977 low took another 3.5 years and fell about 33% from the peak price.
Now look at the following chart of silver prices from 2008 – 2014.
Silver Prices: 2008 – 2014
•Silver moved upward from about $8.53 in October 2008, rallied to over $48 in April 2011, and fell slightly below $19 in September 2014.
•The April 2011 peak took about 2.5 years and ended at about 5.7 times its starting point.
•The correction into the September 2014 low has taken about 3.4 years and declined about 61% from its peak.
Do you see the similarities? I have placed sentiment labels on both graphs.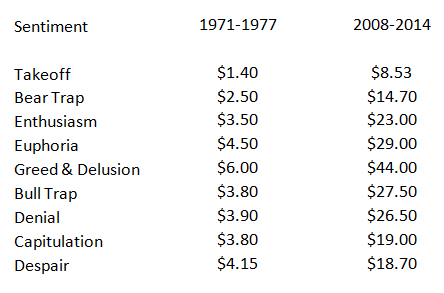 What is Different This Time?
Probably not much! The patterns are similar, but the potential rally from present prices in 2014 looks like it could be even larger than the 1977 – 1980 rally. Why? See below.
In the early 1970s silver went from "ho-hum" to "enthusiasm" to "wow, who would believe it could go to $6.40?" After the 2008 crash silver went from "going back to 5 bucks" to "enthusiasm" to "wow, who would believe it could go above $45?" As a reminder,
after silver rallied to the then astounding price of $6.40 in early 1974,
it crashed back to $3.80,
traded sideways for 2 years and
less than 3 years later it had briefly traded at $50.00, due to a combination of

inflation,
debt and deficits,
political issues,
conflict with the USSR,
fear,
a market corner, and
dollar weakness.

then crashed to about $18.50.
In another 3 -5 years (2017 – 2019), I expect silver will have rallied to $50, $100 or maybe $300 or more, due to a combination of:
multiple wars,
unpayable debts,
inflation,
deficits,
bailouts,
bail-ins,
massive "money printing,"
inflationary expectations,
QE,
potential hyperinflation,
considerable fear,
currency wars,
counter-party risk,
political issues,
derivatives,
conflict with Russia,
economic and dollar weakness, and
the weakening or outright loss of the dollar's global reserve currency status….
I expect that silver will rally well over $100 in the next few years because most or all of the "favorable" and few or none of the "unfavorable" items listed above will occur…
Editor's Note: The author's views and conclusions in the above article are unaltered and no personal comments have been included to maintain the integrity of the original post. Furthermore, the views, conclusions and any recommendations offered in this article are not to be construed as an endorsement of such by the editor.
* http://deviantinvestor.com/6337/the-silver-sentiment-cycle/
If you liked this article then "Follow the munKNEE" & get each new post via

Related Articles:
1. Silver's Neon "Sale!" Sign Is Flashing Like A Disco Ball! Here Are 7 Reasons Why
Eventually, all markets correct excesses. The global economy is near a tipping point, and we must prepare our portfolios now, ahead of that chaos, for a big payday which means owning a meaningful amount of physical silver in addition to gold. Let me offer 7 reasons why that is the case. Words: 1588 Read More »
2. The Case For $5,000 Silver – Yes, $5,000 Silver
If the price of silver were based directly on the real physical silver market, silver's price should be at $5,000 an ounce. I'm not saying the price of silver will reach $5,000 an ounce; I'm just saying that the actual PHYSICAL silver spot price is not only extremely undervalued, but that it is an illusion compared to the real value of an ounce of physical silver, since it is totally disconnected from reality. [Let me explain further.] Read More »
3. 4 Unique Characteristics Should Propel Silver Skyward
With the likes of Ray Dalio and billionaire George Soros placing big bets on a recovery in precious metals now is likely the time for investors to take the plunge. The key question remains, however, which precious metal? My preference is silver. Here's why. Read More »
4. Authors Of "The Money Bubble" Foresee $10-12,000 Gold & $500 Silver – Here's Why
James Turk and John Rubino are well known figures in the gold industry and they've just published a new book, 'The Money Bubble' in which they argue that the price of gold is about to soar to $10-12,000/ozt. – and silver to $500/ozt. Here's why. Read More »
5. Silver Presents A "Golden" Investment Opportunity – Here's Why
Silver has a reputation for being gold's less desirable sister, but make no mistake, silver may still be a golden opportunity to invest in. Silver's use is already very prevalent in the photography, consumer electronics, medical, and high tech industries and a major consumer of silver in the future will be the green technology sector in products such as solar cells and batteries. Read More »
6. Buy Silver Instead of Gold! Here's Why
People who have trusted the paper market first go to gold when they have their awakening because it is the largest precious metals market in the world but the more I learned about silver, however, the more I realized that silver was the smart decision. Here a a few reasons why that is the case. Read More »
7. Move Up In Silver To Be Sharper, Greater & Faster Than Gold – Here's Why
Analysts and investors seem to be very bearish towards silver, but we think that the fundamentals of silver are now becoming extremely attractive in terms of contrarian opportunities. Volatility and risk are not always commensurate, and we believe that silver offers investors fundamentals that can be much stronger than expected and returns that would be magnified by the small size of the silver market (and the bearish positioning by participants). Contrarian investors would be wise to take note. Read More »
8. Silver Likely to Rally Even Farther & Faster Than Gold In Coming Months – Here's Why
It is a reasonable bet that gold, about 40% below its 2011 high and facing large demand and dwindling supply, will rally in price over the next few years. Silver prices will follow gold prices but rally farther and faster from their currently low and oversold condition. Read More »
9. Gold:Silver Ratio Suggests Much Higher Future Price for Silver – MUCH Higher!
The majority of analysts maintain that gold will reach a parabolic peak price somewhere in excess of $5,000 per troy ounce in the next few years. Given the fact that the historical movement of silver is 90 – 95% correlated with that of gold suggests that a much higher price for silver can also be anticipated. Couple that with the fact that silver is currently greatly undervalued relative to its average long-term historical relationship with gold and it is realistic to expect that silver will eventually escalate dramatically in price. How much? This article applies the historical gold:silver ratios to come up with a range of prices based on specific price levels for gold being reached. Words: 691 Read More »
10. Silver Is Signaling Potential For Large Upside Move This Year – Here's Why
While not widely reported or analyzed, over the past several months there has been an enormous amount of buying in the various markets for physical silver – both one-ounce sovereign-minted coins and refined bars. Along with some standard trading signals I'll discuss below, I believe the activity in the market for physical silver is signaling the potential for a large upside move sometime this year. Let me explain. Read More »
11. A Rise In Silver Prices and a Fall In S&P 500 Index Seems Both Inevitable and Imminent – Here's Why
Silver has had three bad years while the S&P has had 5 good years. It is time for both markets to reverse. Here's why. Read More »
12. Spectacular Rally in Silver Depends on Whether This Dow 30 Rally is Real or Fake – Here's Why
Which will it be – a long wait for a spike in silver or will it be soon? It all depends on whether this current Dow rally is real or fake. I think it's fake. Read More »
13. Silver Has the Potential to Increase 4-Fold From Today's Price – Here's Why
The price ratio of gold to silver has fallen precipitously in raging bull markets for the metals, so the silver price could have an upwards move at four times the rate of any gold price increase. I think that the fundamentals look better than ever, and…[that] there is an explosive move coming in 2014. [Indeed,] I think that within a reasonable timeframe silver will probably trade over $100. Read More »
14. Massive Debt Levels Will Push Silver To $150 And Beyond
The process of the devaluation of gold and silver, started by the demonetization of gold and silver, is about to reverse at a greater speed than ever before. Read More »
15. What You Need to Know Before Investing in Silver
I believe there is more opportunity in the silver market over the next two years relative to gold and, as such I'm now advocating accumulating a large overweight position in silver relative to gold because, over the long-term, there is such a great demand vs. supply situation developing….Before investing in silver, however, there are a number very important things that you must understand about the silver market. Let me explain. Words: 899 Read More »
16. Silver On Its Way to $50/ozt. & Then to "Blue Sky Country"
Silver has moved above its 200-day moving average which is a signal for silver prices to challenge the $50 area, overcome it and then traverse 'blue sky country' to target the upper trendline shown in the chart shown below. Read More »