This week's rail data was somewhat mixed with total carloads showing a decline while intermodal jumped 4.2% YoY. [This
suggests]…an economy that is growing modestly… It's not a great environment, but it's also misguided to get bogged down in the debate over a new recession. Words: 235
So says Cullen Roche (http://pragcap.com) in a report* which Lorimer Wilson, editor of www.munKNEE.com (Your Key to Making Money!), has further edited ([ ]), abridged (…) and reformatted below for the sake of clarity and brevity to ensure a fast and easy read. The author's views and conclusions are unaltered and no personal comments have been included to maintain the integrity of the original article. Please note that this paragraph must be included in any article re-posting to avoid copyright infringement.
Who in the world is currently reading this article along with you? Click here
Roche goes on to say, in part:
The Association of American Railroads (AAR) has the details on this week's rail data:
Ten of the 20 carload commodity groups posted increases compared with the same week in 2010, including: nonmetallic minerals, up 22.4 percent; iron and steel scrap, up 20.9 percent, and metals and products, up 19.2 percent.
The groups showing a decrease in weekly traffic included: grain, down 25.6 percent, and coke, down 11.5 percent… For the first 42 weeks of 2011, U.S. railroad cumulative volume…was up 1.7 percent from the same point last year…[with] trailers and containers, up 5.3 percent from last year.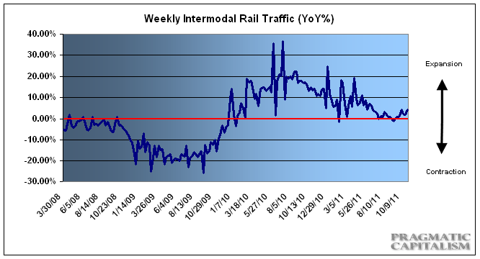 *http://pragcap.com/rail-traffic-continues-to-post-gains
Related Articles:
1. Latest Freight Shipment Indices Indicate NO Global Recession is Imminent!
Economic inflection points are seldom obvious but if we take the time to analyze all the data, there are at least five indicators that suggest another U.S. recession is not imminent. [Take a look.] Words: 920
2. Chicago Fed National Activity Index: Recession Coming?
If you're inclined to sit on the fence these days in the delicate art of anticipating the next phase of the business cycle, you'll get no argument from the latest update on the Chicago Fed National Activity Index, a monster index of indexes that encompasses 85 measures of U.S. economic activity. This benchmark has weakened this year but it's still not flashing a formal prediction of economic contraction…[Let me explain.] Words: 255