Gold: Once a Year Buying Opportunity Is Quickly Approaching
Since the beginning of its bull market run back in 2002…gold has enjoyed consistently strong technical support at its 150-day moving average…[only] testing this…support once or twice a year, at most…and in each of the last 9 years, the one time that gold has consistently tested support… [has been] during the month of July. [Furthermore,] in 7 of these last 9 years gold has rallied strongly from this July support level to post gains of +22% on average through the remainder of the year. As a result, it [is important] to capture these opportunities when they present themselves – and such appears to be quickly approaching in the coming days of July. Words: 458
So says Eric Parnell (http://www.gerringwm.com/) in an article* which Lorimer Wilson, editor of www.munKNEE.com
(It's all about Money!), has further edited ([  ]), abridged (…) and reformatted below  for the sake of clarity and brevity to ensure a fast and easy read. Please note that this paragraph must be included in any article re-posting to avoid copyright infringement.  Parnell goes on to say:
It appears that we are seeing the same July retest setting up for gold in 2011. After rising above its 50-day moving average for most of the year, gold recently made a decisive break lower…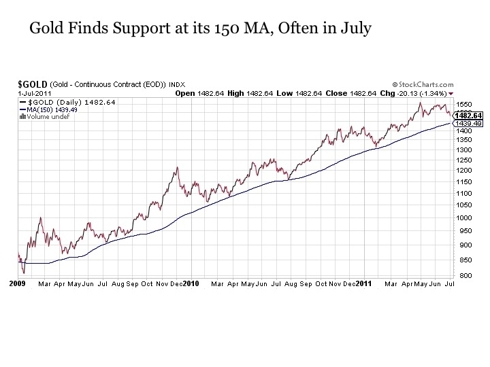 Focusing on the SPDR Gold Trust Shares (GLD), a further -3% pullback would have the price once again back at the 150-day moving average. Seeing such a move occur in the coming week, if not early the following week, would not be a surprise given the manner in which gold has retested this support level in the past.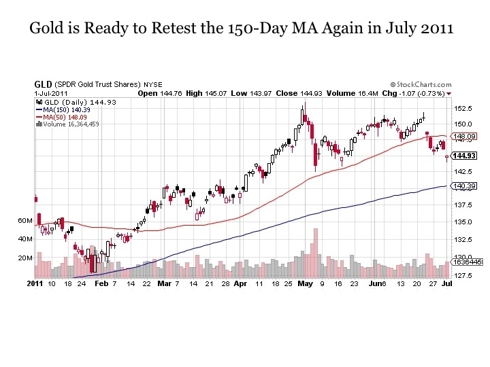 Conclusion
In most years over the past decade, the pullback toward the 150-day moving average has been fleeting. This has been particularly true in recent years following the financial crisis. As a result, it is important to keep a close eye on the gold price in the coming days as we move through July. For once it touches its support at its 150-day moving average, it could be off to the races for the rest of the year… [Go here for the latest graph of exactly where gold currently is relative to its 150-day MA.]
*http://seekingalpha.com/article/277796-gold-once-a-year-buying-opportunity-is-quickly-approaching?source=email_macro_view
Related Articles:
Editor's Note:

The above article consists of reformatted edited excerpts from the original for the sake of brevity, clarity and to ensure a fast and easy read. The author's views and conclusions are unaltered.
Permission to reprint in whole or in part is gladly granted, provided full credit is given as per paragraph 2 above.

Gold