…How low can gold go? The answer to that question depends on the extent of continued strength and stability in the U.S. dollar. The continued strength in the U.S. dollar and any slowdown in the effects of inflation will counter any possible trend of higher gold prices…
$1,000 Gold?
In looking at possible downside targets one cannot rule out a return to $1000 oz., at least initially…Technically speaking, however, there is virtually no support below the zone of $1400 – 1600 oz….
Gold Prices (inflation-adjusted) – 50 Year Historical Chart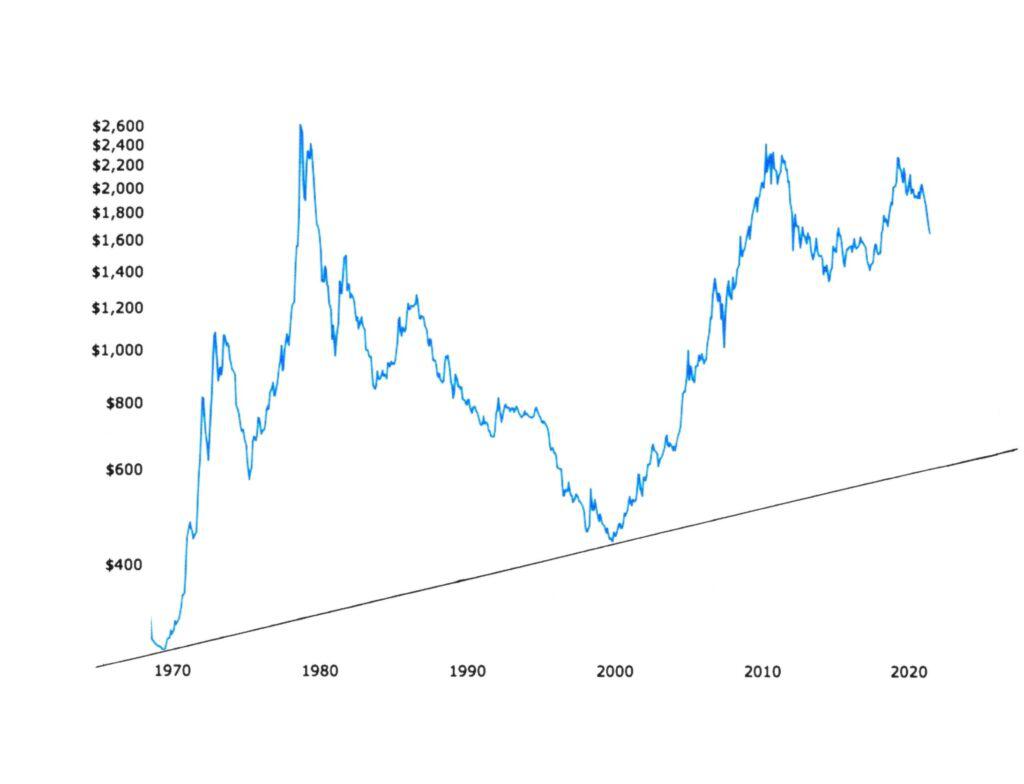 $600 – $800 Gold?
The chart above shows an uptrend line dating back to January 1970. That uptrend line intersects at $600 oz. within the next six to twelve months. If we experience a multi-year decline similar to that which happened after previous peaks, then gold could still decline to somewhere close to $800 oz. several years from now.
Will Gold Suddenly Turn Around and Move to New Highs?
If you are expecting gold to suddenly turn around and move to new highs, then, by definition, you are betting on a sudden and protracted decline in U.S. dollar strength. [Why? Because] the price of gold tells us nothing about gold. A long-term higher gold price over time is a reflection of the actual loss in purchasing power of the U.S. dollar that has already occurred.
Conclusion
Stop looking to gold for the answers. The only thing you need to know about where the gold price is headed is what the U.S. dollar is doing. Right now, the U.S. dollar is strong. As long as that strength continues, the price of gold will not go to new highs.
The above post by Lorimer Wilson, Managing Editor of munKNEE.com, is an edited ([ ]), abridged […], retitled, restructured, reformatted, highlighted and grammatically corrected version of an article by Kelsey Williams (kelseywilliamsgold.com) for the sake of brevity and clarity to ensure a fast and easy read.