We…[feel] that 2014 could end up being the turnaround year [for precious metals]
and that a bull market ascent could develop in 2015, especially in gold shares. [Here's why.]
The above introductory comments are edited excerpts from an article* by Mary Anne & Pamela Aden (adenforecast.com) entitled Gold, Still Looking Good.
The following article is presented courtesy of

Lorimer Wilson,

editor of

www.munKNEE.com (Your Key to Making Money!) 

and has been edited, abridged and/or reformatted (some sub-titles and bold/italics emphases) for the sake of clarity and brevity to ensure a fast and easy read. This paragraph must be included in any article re-posting to avoid copyright infringement

.
The Aden sisters go on to say in further edited excerpts:
The Physical Metals
All the precious metals – gold, silver, palladium, platinum and copper – rose this past month above their respective 65 week moving averages (see Chart 1 below) for the first time in 18 months, and it's all happening during a roaring bull market in stocks and a solid rise in bonds. This is a great first step!

 The Juniors
The junior gold mining shares….have been leading the rise...and since juniors are higher risk than seniors, it makes them a good leading indicator when they begin to outperform.
The HUI
[Senior] gold shares [as represented by the HUI] have now also risen above their 65 week moving average, as you can see on Chart 2 below.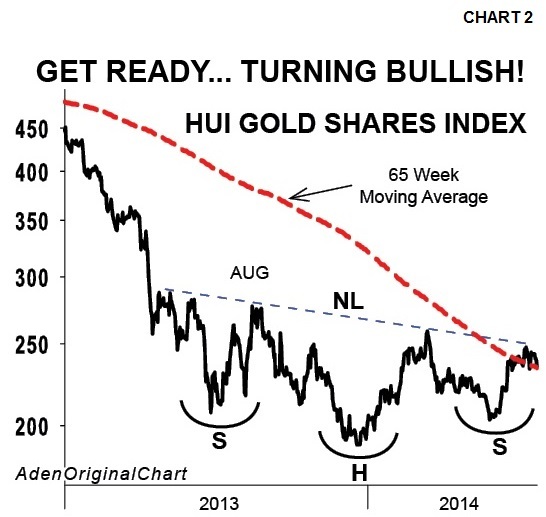 Gold shares fell to their lows last December…and that low ended up becoming the head formation of a head and shoulders bottom…With the HUI index currently above its 65 week moving average, and near the neckline of the H&S bottom, it shows that a bottom is likely in and if the HUI gold shares index can now stay above 234, it will be off and running!
Gold Shares Outperforming Physical Gold
Gold shares have been rising more than gold during the past month.  When gold shares are better it's saying, risk is worth it because they're more speculative than gold itself.
Note on Chart 3 below how HUI is just starting to rise more than gold… and, interestingly, this ratio tends to form a major low every 5½ years, and in each case, gold shares rise more than gold for several years.
With its leading indicator (B) now breaking clearly above an over 4 year downtrend, it's showing gold shares have the potential to rise much more than gold this year and next.  This coincides with the 5½ year pattern!
Conclusion
[Given the above] we recommend buying and keeping the shares, (as well as the metals).
Editor's Note: The author's views and conclusions in the above article are unaltered and no personal comments have been included to maintain the integrity of the original post. Furthermore, the views, conclusions and any recommendations offered in this article are not to be construed as an endorsement of such by the editor.
*http://www.gold-eagle.com/article/gold-still-looking-good (Mary Anne & Pamela Aden are well known analysts and editors of The Aden Forecast, a market newsletter named 2010 Letter of the Year by MarketWatch, which provides specific forecasts and recommendations on gold, stocks, interest rates and the other major markets. For more information, go to www.adenforecast.com.)
Follow the munKNEE!
Related Articles:
1. 6 Ways to Mitigate Risk When Investing In Gold & Silver Mining Companies
No matter which gold miner you buy, you are going to expose yourself to some risk. Further complicating the issue, the least risky companies are nearly always overvalued on a purely quantitative basis. However, there are 6 ways that an investor can mitigate the risk associated with investment in mining stocks and they are outlined in this article. Read More »
2. Plenty of Additional Upside Potential Directly Ahead for PM Miners
Precious metals shares are breaking out again after a brief consolidation. It's time to channel your inner Old Turkey, realize this is a bull market and act accordingly. Read More »
3. 5 of the Best Reasons to Own Both Physical Gold & Their Miners – Especially Now
This is Part 4 of an excellent 5-part series of infographics (links to the previous 3 are provided below) on various aspects of gold. Read More »
4. It's Time To "Swap" Your PM Stocks For Physical Gold & Silver – Here's Why
We are of the opinion that the miners and explorers (and their indexes GDX and GDXJ} should be "swapped" for the precious metals – gold, silver, and their proxies (GLD and SLV). This way investors will maintain exposure to precious metals while reducing their exposure to the more volatile miners as some of the share dilution and recent investor exuberance play out – and at least hedge themselves if the price continues to rise. Read More »
5. Bear Phase in Bull Market for Gold Will End This Summer – Here Are 30 Reasons Why
Below are the 30 reasons, 23 new and 7 set in cement, of why the Bear phase in the bull market for gold ends this summer without any new lows. Read More »
6. Get on Board – NOW! We're On the Verge of a Major Bull Market Advance Across the PM Sector.
The charts below make it crystal clear that we are on the verge of a major bull market advance across the PM sector. While these charts are for the Market Vectors Junior Gold Miners ETF, what happens to the GDXJ has major implications for the whole sector, for the simple reason that it is not going up without the entire sector going up too. Read More »
7. Incredible Bounce Coming Soon In Gold & Silver – Here Are 5 Reasons Why
Get ready for an incredible bounce higher in the gold & silver junior miner sector. Here are five reasons why. Read More »
8. Fed Funds Cycle Suggests Positive Outlook for Gold – Here's Why
Below is some interesting research by Doug Peta of BCA Research regarding the Fed Funds Rate Cycle, and what that research – as well as our own in-house research – could mean for gold to help you understand the positivity we see for the precious metal looking towards 2015. Read More »
9. Gold Should Bounce Sharply Higher – Here Are 10 Reasons Why
Is it time to throw in the towel? Is the bull market in precious metals really over? I don't think so because my analyses suggest that nearly all of the fundamental factors that have been driving the gold price higher in the past decade have only strengthened in the past two years. Now that the correction has most likely run its course, I expect gold to bounce sharply higher. Here are 10 reasons why. Read More »
10. The Most Explosive Turnaround to the Upside — EVER — Is Coming In the Precious Metals Sector
I am 100% confident that 1) precious metals will bottom this year and resume a new leg to the upside, 2) the extreme emotions right now regarding gold and silver are typical at major turning points and 3) all the underlying fundamental, cyclical and technical conditions for a new bull market in gold and silver are in place. Here's an update on the latest action in gold, silver, platinum and palladium Read More »
11. Gold: Buy Now & You Buy Right! Here Are 4 Reasons Why
Q: Is now the time to buy more gold or to finally get in the game? A: Yes. Make sure that you take advantage of today's price and "mine" your own gold. [Here are 4 reasons why that is the case.] Read More »
12. Gold Stocks Could Jump 100% in the Coming Year – Here's Why
It's not crazy to think that gold stocks could easily double from their current levels if you realize the extreme condition the gold-stocks-to-gold ratio is in – and if you know your market history. Let me explain. Words: 336; Charts: 1 Read More »
13. Impending Market Capitulation Phase In Gold & PM Stocks Will Make Millions For Those Who Buy At Bottom
Stocks are pulling back in preparation for one final mind-blowing surge to top off this five-year bull market. Gold, on the other hand, looks like it is setting up for a final bear market capitulation phase where every gold bug finally throws up their hands in disgust and jumps over to the stock market right as it's putting in a final bubble top. For those…that are sitting in cash, this final capitulation is going to represent one of the greatest buying opportunities of this generation. Read More »