An intermediate top is forming in gold and silver, confirmed by the latest
COT data, indicating that a severe drop is imminent. In addition, the latest 1-year chart for gold shows gold having become heavily overbought after after a parabolic slingshot move. Breakdown from the parabola will likely lead to a dramatic plunge. This article addresses these factors complete with enlightening charts. Read on.
The original article, as written by Clive Maund (clivemaund.com) is presented below in an edited ([ ]) and abridged (…) format by the editorial team at
munKNEE.com (Your Key to Making Money!)
to provide you with a fast and easy read.
Gold
The latest 1-year chart for gold is – or should be – alarming for those still long the sector. It shows gold having hit a target after a parabolic slingshot move that resulted in it becoming heavily overbought. Now it is vulnerable to a reaction which the latest COTs suggest will be heavy. Breakdown from the parabola will likely lead to a dramatic plunge.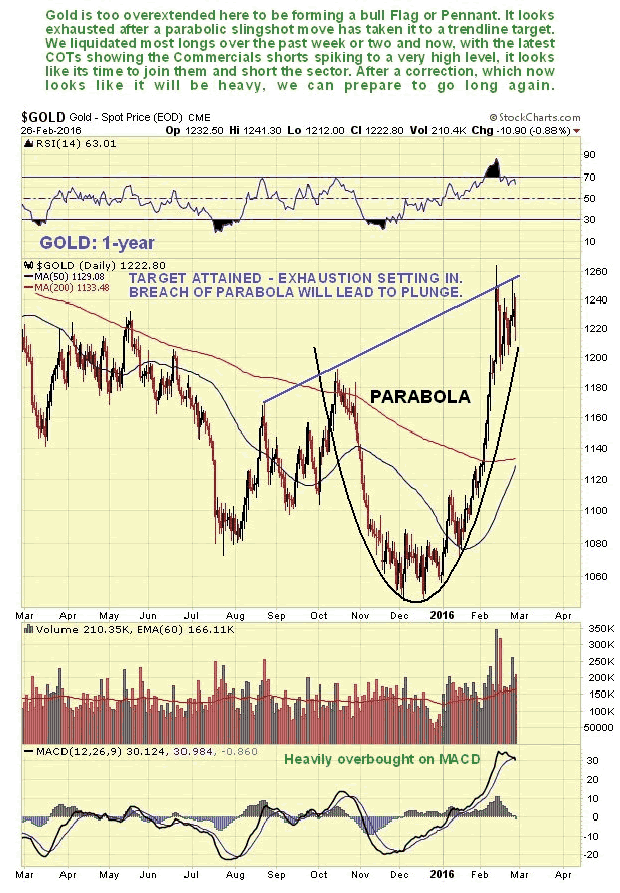 The gold COT chart below…shows that Commercial short and Large Spec long positions exploded higher last week, the culmination of a multi-week exponential ramp. As the Commercials are collectively always right and the Large Specs wrong, this means trouble. This is characteristic of an important top, and gold is now expected to plunge, probably immediately.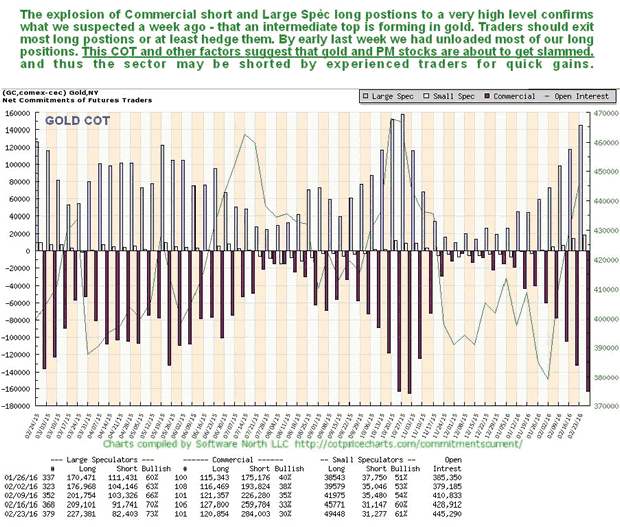 The long-term 6-year chart below provides additional clues regarding why gold's sharp advance halted when it did – it has arrived at the upper boundary of the broad downtrend channel shown.
Silver
Turning to silver, the picture is considerably weaker, and is in fact dismal, although longer-term this should not be a cause for depression, as silver is normally weak compared to gold at this stage of the cycle.
On silver's 1-year chart below we can see that the recent rally was weak compared to the rally in gold – it did not even manage to rise much above its 200-day moving average, which did not turn up, and it failed to break out of the downtrend channel shown. Now it is breaking lower again, and latest COTs, which we will come to in a moment suggest that the reaction now starting will be severe, and take it to the lower boundary of the channel as a minimum downside objective.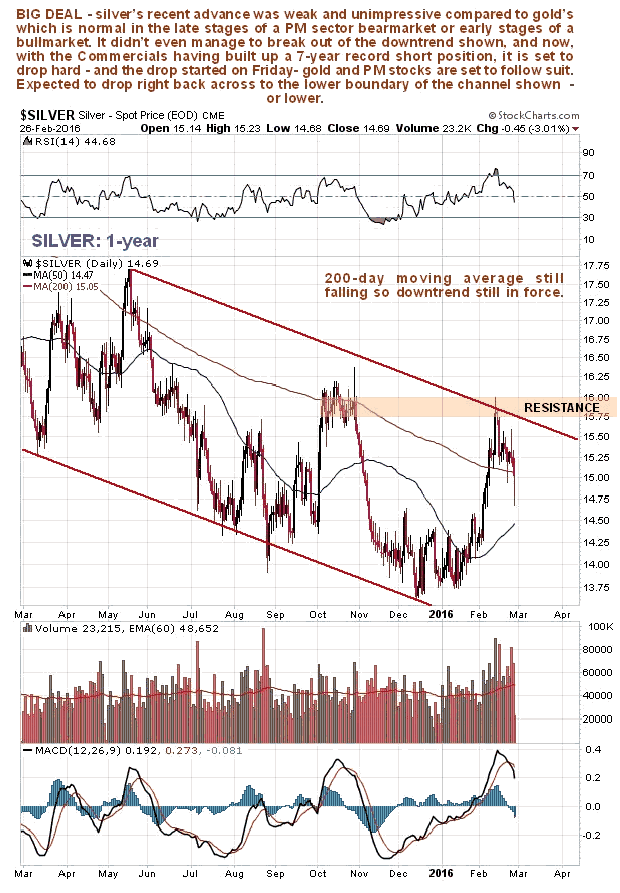 The latest silver COTs are simply frightful, with the Commercials having built up a 7-year record short position. This was already the case last week, and this week it's even worse. These COTs suggest that silver is about to take a severe beating.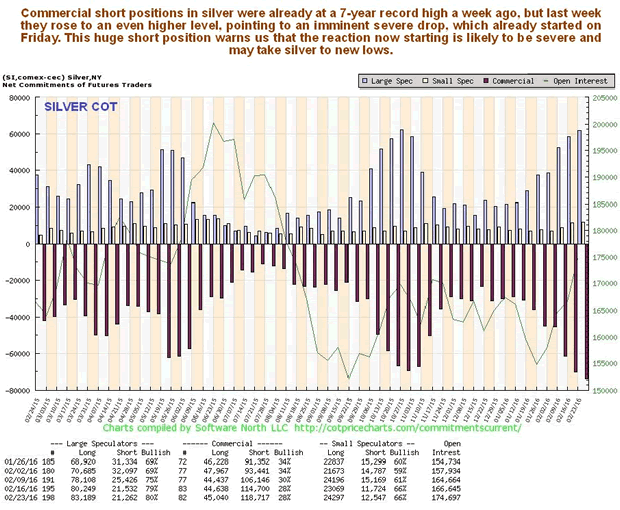 The long-term 6-year chart reveals that silver's latest rally was in the end nothing more than "a flash in the pan" within its ongoing long-term downtrend, and the latest COTs point to new lows for silver soon.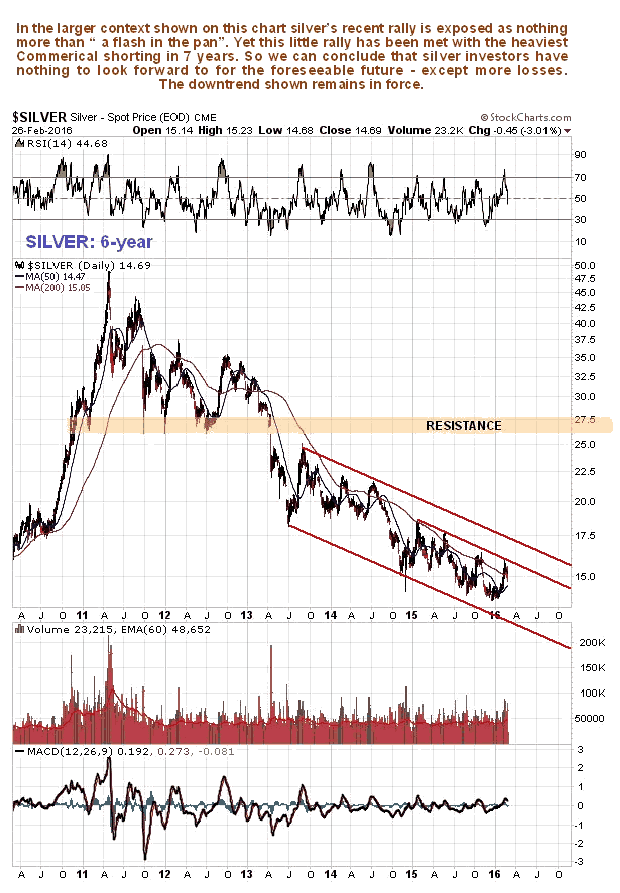 Conclusion
Trying to unearth a fundamental explanation or reasons for what we are observing here is, as usual, a waste of time. Normally, by the time you find out, it's too late to do anything about it. Asked to speculate about possible explanations two things come to mind:
the possible emergence soon of a coordinated global QE barrage that results in a Happy Days are here again mentality, as systemic stress eases for a while and the stock market rallies on the prospect of improved liquidity and
a realization by the "mad as hatters" Neocons, who are possessed by a drive to overpower Russia then China and take over the world, that starting a thermonuclear exchange with Russia over Syria is perhaps not such a good idea, since the Nuclear Winter that might result would probably affect them too.
[The above being said, however, if] the ceasefire in Syria holds, then tensions will ease somewhat which would, of course. be a negative for gold and silver.
"Follow the munKNEE" on Facebook, on Twitter or via our FREE bi-weekly Market Intelligence Report newsletter (see sample here , sign up in top right hand corner)
Related Article from the munKNEE Vault:
Gold & Silver To Plummet By End of March – Then Go Parabolic!
Gold & silver will plummet to $725ozt. & $12ozt., respectively, by the end of March, 2016, and then go absolutely parabolic in price by the end of 2016/early 2017. Below are the specific details, with charts, to help you reap substantial financial rewards should you wish to avail yourself of my analyses.