If you're inclined to sit on the fence these days in the delicate art of anticipating the next phase of the business cycle, you'll get no argument from the latest update on the Chicago Fed National Activity Index, a monster index of indexes that encompasses 85 measures of U.S. economic activity. This benchmark has weakened this year but it is still not flashing a formal prediction of economic contraction…[Let me explain.] Words: 255
So says James Picerno (www.capitalspectator.com) in edited excerpts from an article* which Lorimer Wilson, editor of www.munKNEE.com (Your Key to Making Money!), has further edited ([ ]), abridged (…) and reformatted below for the sake of clarity and brevity to ensure a fast and easy read. The author's views and conclusions are unaltered and no personal comments have been included to maintain the integrity of the original article. Please note that this paragraph must be included in any article re-posting to avoid copyright infringement.
Picerno goes on to say:
The Chicago Fed index's three-month moving average slipped to –0.28 in August from –0.27 in July, the Chicago Fed reports. No one will confuse that reading with a healthy economy, but it's not a recession signal either. Technically, we're in a "below trend" environment. By the rules of this benchmark, the tipping point is when the three-month average falls below -0.70. The latest reading of -0.28 for August is slightly above that level, but the margin of comfort is minimal.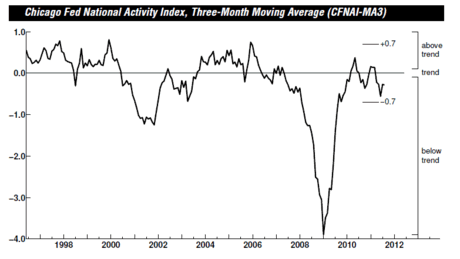 Conclusion
It seems that we're one exogenous shock away from deep trouble.
*http://www.capitalspectator.com/archives/2011/10/one_exogenous_s.html#more
Related Articles:
1. Latest Freight Shipment Indices Indicate NO Global Recession is Imminent!
Economic inflection points are seldom obvious but if we take the time to analyze all the data, there are at least five indicators that suggest another U.S. recession is not imminent. [Take a look.] Words: 920
2. George Soros: a Great Depression-like Scenario Could Very Well Play Out – Here's Why
Europe is on the verge of a collapse, and unless something gets done relatively soon, (perhaps as soon as the next few weeks), Europe is likely to experience their own 2008 scenario. The U.S. and Chinese economies are heavily dependent on exporting goods to Europe, and with Eurozone growth slowing as a result of the potential default in Greece, and then on to the rest of the PIIGS, a "Great Depression-like scenario" could very well play out. [In fact,] George Soros thinks we are headed towards another Great Depression and, you know what, he's right! What do you think? Is George Soros right? Are we headed for another depression? Words: 530
3. Risk of Global Financial System Contagion Increasing – Here's Why
It is widely accepted that Greece is insolvent even though the higher echelons of euro-zone politics still hesitate to use the term, and default swap prices…give virtually 100% odds that Greece will default. The handling of the issue has heightened the perception of risk for other problem countries of the euro zone…such that investors now give 60% odds of default by Portugal…and 30%-plus odds for default by Italy… Even France, with its S&P AAA rating, is now rated more likely to default than Brazil! [In addition, the U.S. is facing the liklihood of a fiscal policy impasse in Congress that could well lead to a recession. As such, as we see it, the risk of contagion in the financial system around the world has risen dramatically. We substantiate our contentions below.] Words:1612
4. Is the Financial World On the Verge of a Nervous Breakdown? These Signs Suggest So
Will global financial markets reach a breaking point during the month of October? Right now there are all kinds of signs that the financial world is about to experience a nervous breakdown. Massive amounts of investor money is being pulled out of the stock market and mammoth bets are being made against the S&P 500 in October. The European debt crisis continues to grow even worse and weird financial moves are being made all over the globe. Does all of this unusual activity indicate that something big is about to happen? Let's hope not – but historically, the biggest stock market crashes have tended to happen in the fall. So are we on the verge of a "Black October"? Words: 1200
5. Nouriel Roubini: Bold and Aggressive Policy Actions Necessary to Prevent a Depression
The latest economic data suggests that recession is returning to most advanced economies, with financial markets now reaching levels of stress unseen since the collapse of Lehman Brothers in 2008. The risks of an economic and financial crisis even worse than the previous one – now involving not just the private sector, but also near-insolvent sovereigns – are significant. So, what can be done to minimize the fallout of another economic contraction and prevent a deeper depression and financial meltdown? [Below I recommend 8 ways that would do just that.] Words: 1641
 6. Goldman Sachs Privately Telling Clients to Bet on Upcoming Economic Collapse!The debt crisis in the United States is unsustainable, and the debt crisis in Europe is unsustainable. As such, we are facing a global debt meltdown and are heading for an economic collapse. You aren't going to hear that truth from the media or from our politicians, however, because keeping people calm is much more of a priority to them than is telling the truth – and right now we are in the calm before the storm. Nobody knows exactly when the storm is going to strike (i.e. when the collapse is going to happen) – but it is definitely on the way — and now even Goldman Sachs is admitting [that that is most likely the outcome of the present situation. Here is what they had to say recently in a "secret" document that has just now been made public.] Words: 1147