Due to high unemployment and a weak recovery world central bankers are focused on weakening their currencies to boost exports. [As such,] I think [even more] quantitative easing and other currency intervention is in our future…[and this will further increase]…both inflation and the price of gold. Let me explain with a few charts.] Words: 350
So says Bear Fight (pseudonym) in edited excerpts from the original article* as posted at www.SeekingAlpha.com.
Lorimer Wilson, editor of

www.FinancialArticleSummariesToday.com (A site for sore eyes and inquisitive minds)

and

www.munKNEE.com (Your Key to Making Money!)

has edited ([ ]), abridged (…) and reformatted (some sub-titles and bold/italics emphases) the article below for the sake of clarity and brevity to ensure a fast and easy read. The article's views and conclusions are unaltered and no personal comments have been included to maintain the integrity of the original article. Please note that this paragraph must be included in any article re-posting to avoid copyright infringement.
The articles goes on to say, in part:
Further QE to Cause Higher Inflation and Rise in Gold Price
The chart below [of] the U.S. monetary base, the price of gold and the U.S. consumer price index [clearly] shows [that] gold prices and the consumer price index have responded to historical growth in growth of the monetary base.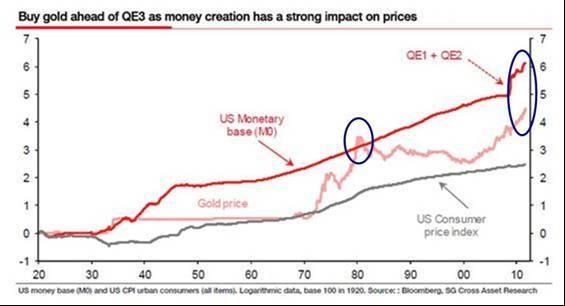 [The price of] gold experienced a euphoric bubble in the 1980s when gold exceeded the monetary base [and during this current] 10 year bull market in the price of gold the growth in the monetary base has kept pace [see chart below].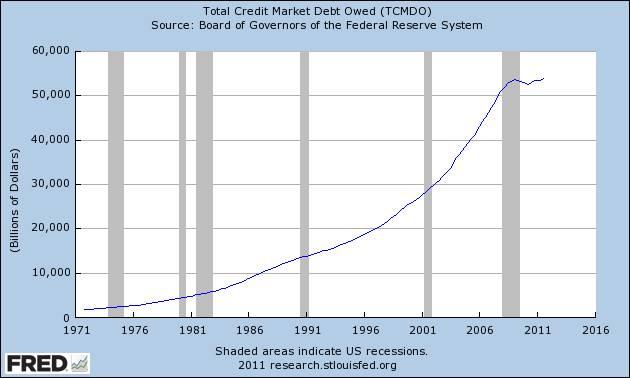 Investor Gold Holdings Only at 0.96% of Assets
Similar to the first chart outlining the bubble territory in the 1980s, [the chart below shows that] gold as a percentage of assets was three times higher in 1980 [than currently is the case]…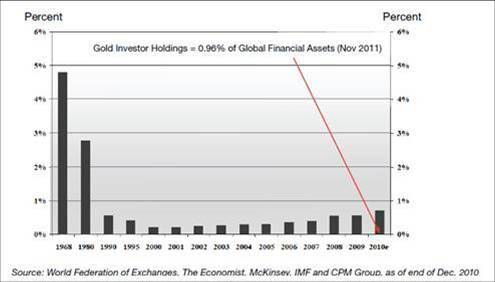 Conclusion
While I believe that QE3 will be a catalyst for further increases in the price of gold, similar to QE1 and QE2, the thesis on gold is not linked to another QE program. The thesis on gold is simply monetary debasement by world governments and debt growth since 1971.
*http://seekingalpha.com/article/320554-buying-gold-on-more-qe?source=email_macro_view&ifp=0
Why spend time surfing the internet looking for informative and well-written articles on the health of the economies of the U.S., Canada and Europe; the development and implications of the world's financial crisis and the various investment opportunities that present themselves related to commodities (gold and silver in particular) and the stock market when we do it for you. We assess hundreds of articles every day, identify the best and then post edited excerpts of them to provide you with a fast and easy read.

Sign-up for Automatic Receipt of Articles in your Inbox or via FACEBOOK | and/or TWITTER so as not to miss any of the best financial articles on the internet edited for clarity and brevity to ensure you a fast an easy read.
Related Articles:
1. These 5 Apocalyptic Engines Causing Hyperbolic Growth in US Money Supply
I recently wrote an article showing how US True Money Supply (TMS) appeared to be growing at a hyperbolic rate [see here], and that gold was also on a hyperbolic course…Hyperbolic growth in the quantity of money ends with hyperinflation… [and] both TMS and the dollar price of gold are pointing to a hyperinflationary outcome. This article explains why this might be so. Words: 764
2. True Money Supply Is Already Hyperinflationary! What's Next?
Economists are telling central banks to accelerate monetary growth even faster…to avoid a bank balance sheet implosion with all the deflationary consequences that implies. [As such,] the prospects for 2012, and thereafter, are for Total Money Supply to continue its hyperbolic trend – and when such a trend becomes established it becomes almost impossible to stop because the whole debt-based economy and the banking system would collapse. [Let me explain further.] Words: 550
3. 2012: More Money-printing Leading to Accelerating Inflation, Rising Interest Rates & Then U.S. Debt Crisis! Got Gold?
Evidence shows that the U.S. money supply trend is in the early stages of hyperbolic growth coupled with a similar move in the price of gold. All sign point to a further escalation of money-printing in 2012…followed by unexpected and accelerating price inflation, followed by a rise in nominal interest rates that will bring a sovereign debt crisis for the U. S. dollar with it as the cost of borrowing for the government escalates…[Let me show you the evidence.] Words: 660
4. Economic/Currency Collapse Could Bring Martial Law and Confiscation of Your High-priced Gold! Got Silver?
Do we really honest-to-God no-fingers-crossed cherry-on-top believe that the powers-that-be will simply allow us to mosey up to the cashiers cage and redeem or convert our Gold for whatever monetary unit reigns supreme or is created [should our current financial system and currencies collapse? As such,] IF there comes a time when the best move forward is to sell most of our Gold and switch to another asset class, one more likely to survive the transition intact, will we be able to see this as obvious and a no brainer? [Let me explain what could well happen and the effect such a development would have on all things Gold.] Words: 3037
5. What is Money – Really – and Why Do We Need to Own Gold – Really?

Have you ever wondered what money really is [and why we need to own some gold as a result]? You'll notice that everyone you read has a strong opinion , but who's right? [Let look at the situation and see if we can come to an answer that we both can agree on.] Words: 3086
6. Egon von Greyerz Interview on Future QE, Hyperinflation and the Price of Gold
A final or total catastrophe of the currency system will occur as a result of unlimited money printing that will lead to hyperinflation. Stock markets will benefit temporarily from this QE [but we expect that the] markets will fall 90% against gold in the next few years. The correction in the precious metals [will] likely [soon] be over and we should see the metals going to new highs in 2012. Words: 450
7. Goldrunner Called $1,920 Gold High Exactly; Now Expects $3,000 – $3,500 by Mid-Year
Short-term volatile moves in Gold, as we have seen over the past few months, do not affect our projections for the future price of Gold based on our fractal (pattern) "model" off the late 70′s Gold Bull. Just as we correctly projected the $1,920 high in our April article entitled Goldrunner: Gold on track to Reach $1860 to $,920 by Mid-year (gold reached $1,917.20 in late August and $1,923.70 in early September, 2011), our current analysis indicates that Gold will enter a range between $3,000 and $3,500 by mid-year 2012. Words: 975
8. 2012: Is This How U.S. Financial Crisis Will Unfold Later This Year?
As economic and political matters become more desperate in the U.S., so will what the government considers acceptable. If a debt default cannot be engineered via continuous inflation as the Fed's current money-printing is attempting to do, it will occur via a direct repudiation of obligations or a quasi-surreptitious one such the hypothetical one I present in this article. Here is… a look (not a prediction) at a series of not improbable events that could develop [and which] would change our economic world overnight[ – and your financial well-being too]. Words: 1365
9. We Have Reached the End of the Road and are Staring into the Abyss! Got Gold?
With most of the world's major economies as well as the financial system bankrupt…most people will rely on governments and central banks to save us but how can anyone possibly believe that totally incompetent and clueless politicians and central bankers could solve the problem they created in the first place… The main objective of governments is to stay in power and thus to buy votes, therefore they are incapable of taking the right decisions and the opposition, aspiring to power, is even less suitable since they will lie through their teeth and promise the earth in order to be elected. So what is the solution? Read on! Words: 2391