The 200-day moving average…is a signal that the factors responsible for driving the market are either changing or have changed. What it is telling us now is that the bear, quieted by Fed Chairman Powell's capitulation to Wall Street, could begin roaring again soon.
Bull markets tend to trade well above the 200-day moving average; bear markets below it. Time spent trading around the 200-moving average usually indicates a period of transition [and] the price action we currently see in the E-Mini S&P 500 indicates…[just that].
…The market is testing the 200-day moving average again – only this time to the downside. It closed just above it yesterday.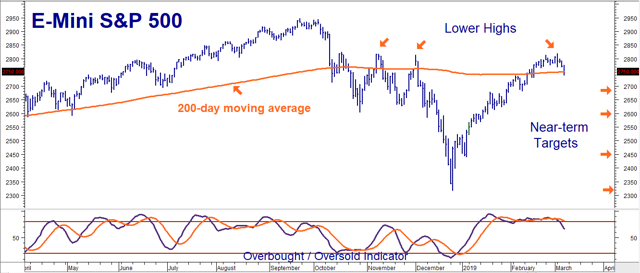 The market's inability to make higher highs, following four upward thrusts through the 200-day moving average is not a good sign. The path of least resistance is shifting further south with each failure. Our near-term downside targets are old swing lows at 2680, 2600, 2450 and 2300 in the front-month E-mini S&P 500 futures. These levels match downside Fibonacci projections nearly perfectly.
We believe a series of lower closes beneath the 200-day moving average (currently 2752 in the March futures) could be enough to awaken the sleeping bear from his short hibernation…
Editor's Note:
The above excerpts*

from the original article entitled S&P 500: 200-Day Moving Average Back In Play

have been edited ([ ]) and abridged (…) for the sake of clarity and brevity

.

Also

note that this complete paragraph must be included in any re-posting to avoid copyright infringement.

Scroll to very bottom of page & add your comments on this article. We want to share what you have to say!
(*The author's views and conclusions are unaltered and no personal comments have been included to maintain the integrity of the original article. Furthermore, the views, conclusions and any recommendations offered in this article are not to be construed as an endorsement of such by the editor.)