Real Estate Investment Trusts (REITs) have historically been stable, income-producing investments. In the small-cap REIT space, investors might want to take a look at these financially sound REITs that should develop into income-yielding machines.
The comments above and below are excerpts from an article from SmallCapPower.com) which has been edited ([ ]) and abridged (…) to provide a faster and easier read.
With no interest rate hikes on the near-term horizon the sector looks attractive right now
FirstService Corp. (TSE:FSV) – $57.34
Real Estate Services
FirstService Corporation is a provider of residential property management and other essential property services to residential and commercial customers. The Company's operations are conducted in two segments: FirstService Residential and FirstService Brands. FirstService Residential is a property manager and provides a range of ancillary services primarily in various areas, including on-site staffing, including building engineering and maintenance, full-service amenity management, security, concierge and front desk personnel, and landscaping; banking and insurance products, and energy conservation and management solutions. FirstService Brands provides a range of property services through franchise networks and Company-owned locations.
Market Cap: 2,108,462,074

Revenues: 1,710,260,035

Operating Income: 96,618,382

Total Debt: 274,740,710

Colliers International Group Inc. (TSE:CIG) – $47.68
Real Estate Services
Colliers International Group Inc. is engaged in the provision of commercial real estate services. The Company's primary services are outsourcing and advisory services, lease brokerage and sales brokerage. It provides services for sales, leases and mortgages in various areas, such as landlord representation, tenant representation, and capital markets and investment services.
Market Cap: 1,777,084,475

Revenues: 2,330,092,233

Operating Income: 120,539,014

Total Debt: 453,703,058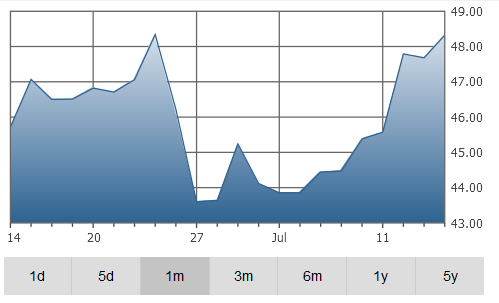 Tricon Capital Group Inc. (TSE:TCN) – $9.02
Real Estate Services
Tricon Capital Group Inc. is an asset manager and principal investor focused on the residential real estate industry. The Company operates through five segments. Through Tricon Housing Partners, its land and homebuilding investment vertical, it invests or co-invests in private commingled funds, separate accounts and sidecars.
Market Cap: 215,285,203.21

Revenues: 32,230,784

Operating Income: 75,913,069

Total Debt: 171,673,606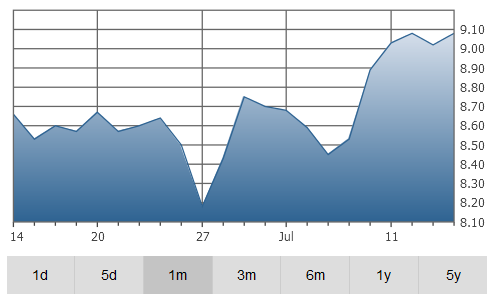 DREAM Unlimited Corp (TSE:DRM) – $7.99
Real Estate Rental, Development & Operations
Dream Unlimited Corp. is a holding company for a real estate company engaged in various businesses, including residential land development, housing and condominium development, retail development, asset management and management services, renewable energy infrastructure and commercial property ownership. Its segments include Land Development; Housing Development; Condominium and Mixed-Use Development; Retail Development; Asset Management, Management Services and Equity Interests in Related Parties; Investment and Recreational properties, and Renewable Power.
Market Cap: 114,570,744.63

Revenues: 386,510,000

Operating Income: 215,592,000

Total Debt: 485,925,000
Disclosure: The above article has been edited ([ ]) and abridged (…) by the editorial team at munKNEE.com (Your Key to Making Money!) to provide a fast and easy read.
"Follow the munKNEE" on Facebook, on Twitter or via our FREE bi-weekly Market Intelligence Report newsletter (see sample here , sign up in top right hand corner)