If you were considering taking the family on a European or Japanese vacation, now may be a good time, as the Yen, the Euro and other European currencies have fallen dramatically against the USD. (see table below).
This version of the original article by Frank Holmes (usfunds.com) has been edited ([ ]), abridged (…) and reformatted for the sake of clarity and brevity to provide the reader with a faster and easier read.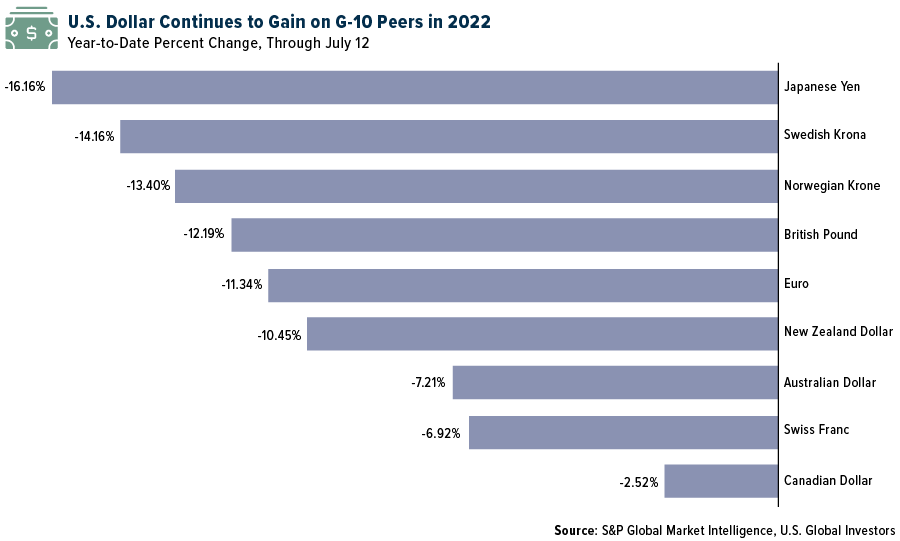 A stronger dollar is favorable not only for Americans traveling abroad but also companies that pay to import goods from other countries. On the other hand, a soaring dollar can hurt U.S. exporters since it makes goods more expensive to foreign buyers, dampening demand…
Among the biggest victims of King Dollar's strength is gold, which, like most commodities, is priced in the greenback internationally. The yellow metal has long been valued as a safe haven during times of economic uncertainty and high inflation, which we're certainly facing today. June's consumer price index (CPI) came in at a scorching annual rate of 9.1%, the highest in over 40 years, but if we use the inflation methodology from 1980, the figure is closer to 17% or more….
Despite [the above, however,] gold has steadily fallen since its 2022 high of $2,070 per ounce, set in early March. As of today, gold is off close to 7% for the year, and last week it briefly traded below $1,700 for the first time since March 2021. Based on the 14-day relative strength index (RSI), the metal looks incredibly oversold at around 23, the lowest it's been since August 2018.
In addition, gold has signaled a "death cross," which occurs when the 50-day moving average dips below the 200-day moving average, and some investors and traders see this move as a bearish sign.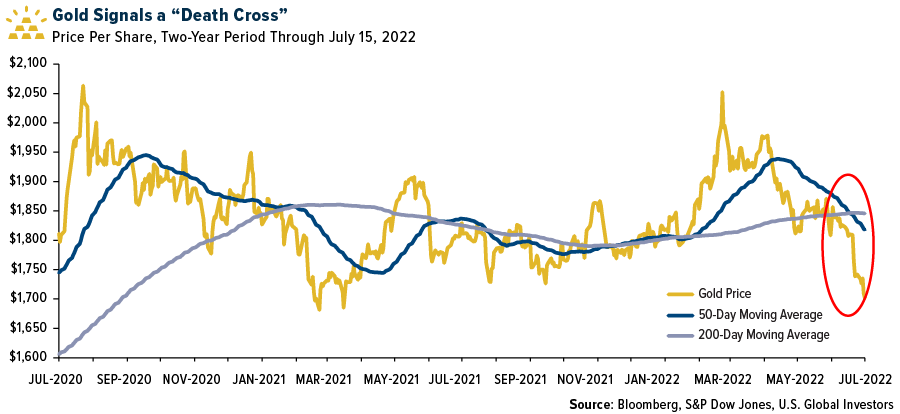 While some investors and traders see this move as a bearish sign but I see it as a buying opportunity. If you believe that the dollar is overextended relative to other currencies, and that a reversal could happen in the coming weeks and months, now may be a good time to accumulate gold, especially if you think we're in the midst of a recession…
Do with that information as you wish, but I believe it's wise and prudent to have exposure to gold at this time, between 5% and 10% of your portfolio.