We are at an important crossroads in this commodities bull market…[where] even the most
fearless bulls are tempted to give up – to sell out of their positions and consider themselves lucky that they were able to be along for the ride and to escape with any profits at all – but I have posted a chart below to help remind you of the real danger in "getting out" now. Words: 350
So says Kevin McElroy (www.wyattresearch.com/pubs/listing/repr) in an article* posted on SeekingAlpha.com which Lorimer Wilson, editor of www.munKNEE.com (Your Key to Making Money!), has edited ([ ]), abridged (…) and reformatted below for the sake of clarity and brevity to ensure a fast and easy read. The author's views and conclusions are unaltered and no personal comments have been included to maintain the integrity of the original article. Please note that this paragraph must be included in any article re-posting to avoid copyright infringement.
McElroy's article continues as follows:
If you were convinced to sell gold in 1975 as the 65 week moving average was breached, you would have regretted it [as shown in the chart below]. You would have missed the biggest part of the bull market in gold.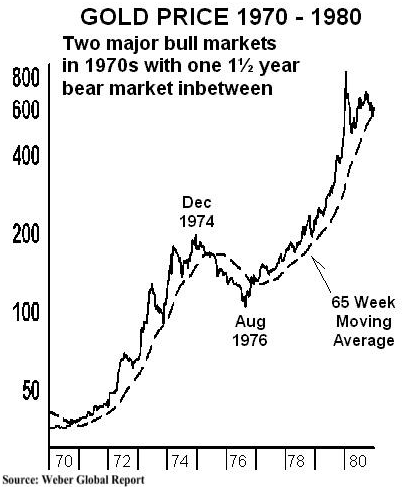 Right now, I believe we're at a period not unlike early 1975. Then, as it is now, the uptrend is still intact – and gold is still above the 65 week moving average: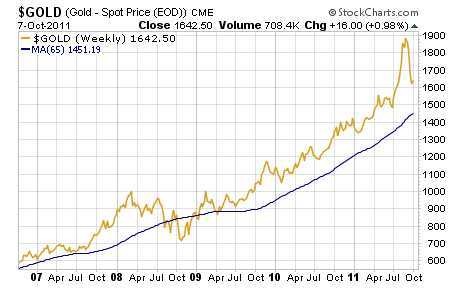 There is nothing special about the 65 week moving average, but as you can see from both the 1970-1980 chart and from the modern chart:
buying gold when it's at or under the 65 week moving average is a pretty good strategy for averaging in. Typically, buying under that moving average will give you the best price you'll get within a year so if you're waiting for another time to buy then your day might come and
if you're looking for the exits, [however,] then my personal belief is that you're a bit premature – and that if you sell out of your gold (and silver) positions [now] you will regret it.
Conclusion
Be patient. Be diligent – and have a plan for your investments.
Who in the world is currently reading this article along with you? Click here to find out.
*http://seekingalpha.com/article/298895-gold-be-patient-be-diligent?ifp=0&source=email_macro_view