Register to "Follow the munKNEE" and automatically receive all articles posted
President Obama will be sworn into office for a second term on January
21 and that's good news if you own gold stocks. Why? Because gold stocks, [as represented by the XAU] have increased, on average, by 20% during inaugural years since 1985 (28% in 2005; 36% in 2003). While there's no real rhyme or reason as to why gold stocks thrive in inauguration years – statistical anomaly or otherwise – it is yet another reason to buy gold stocks right now. Words: 312; Charts: 1
So says Chris Preston (www.WyattResearch.com) in edited excerpts from his original article* entitled Another Reason to Buy Gold Stocks NOW.‏
This article is presented compliments of

www.FinancialArticleSummariesToday.com

(A site for sore eyes and inquisitive minds) and

www.munKNEE.com

(Your Key to Making Money!) and may have been edited ([ ]), abridged (…) and/or reformatted (some sub-titles and bold/italics emphases) for the sake of clarity and brevity to ensure a fast and easy read. Please note that this paragraph must be included in any article re-posting to avoid copyright infringement.
Preston goes to say in further edited excerpts:
I stumbled upon the following chart on Business Insider yesterday, which shows the performance of gold mining stocks in post-election – i.e. inauguration – years since 1985: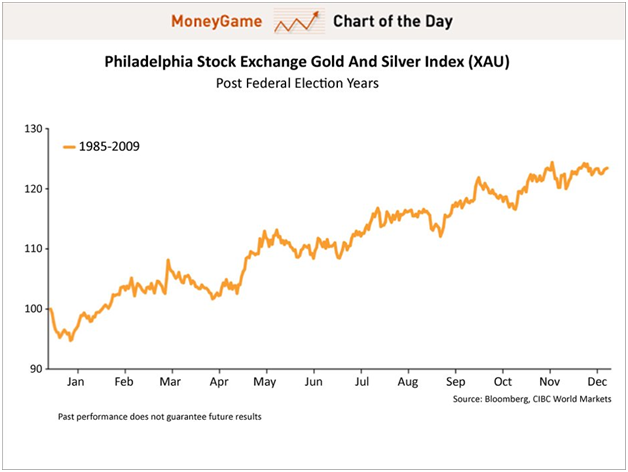 Not a bad chart… but, as the chart cautions in very fine print at the bottom, "past performance does not guarantee future results." Nevertheless, the 25-year history of stellar performance in post-election years – statistical anomaly or otherwise – is yet another reason to buy gold stocks right now. [Indeed,] as my fellow Resource Prospector Kevin McElroy wrote in his "A Rare Opportunity in Gold Stocks" article earlier this week, "Now is arguably the best time in a decade to buy gold stocks" because:
gold stocks are cheap, down approximately 30% from their September 2011 highs. XAU, the Philadelphia Gold and Silver Index (charted above) that tracks the stocks of gold and silver mining companies, is as cheap as it's been since August.
there are plenty of gold stocks brimming with potential right now – particularly in Africa, which boasts the three fastest growing economies in the world and the largest collection of untapped gold deposits on the planet.
Those are tangible – and very real – reasons to buy gold stocks now…but the difference this year is that there are already plenty of other good reasons to buy them.
Editor's Note: The author's views and conclusions are unaltered and no personal comments have been included to maintain the integrity of the original article. Furthermore, the views, conclusions and any recommendations offered in this article are not to be construed as an endorsement of such by the editor.
*http://www.wyattresearch.com/article/another-reason-to-buy-gold-stocks-now/29233
Register HERE for Your Daily Intelligence Report

It's FREE
Provides the "best of the best" financial, economic and investment articles to be found on the internet
Is in an "edited excerpts" format to provide brevity & clarity to ensure a fast & easy read
Don't waste time searching for informative articles. We do it for you!
Register

HERE

and automatically receive every article posted
Related Articles:
1. Keep the Faith – This Bull Market in Gold STILL Promises to Be One for the History Books! Here's Why
Seeing the S&P 500 outperform gold and seeing gold stocks get decimated…has been enough to create suicidal sentiment…in the precious metals (PM) sector…but, as the many calls for an end of the PM bull market…[are expressed,] the risk in the PM sector gets lower and lower. The bigger picture hasn't changed and isn't going to for some time [so] keep the faith and hold onto your PM sector items tight. Don't let the short and intermediate-term noise distract you from what STILL promises to be a secular bull market for the history books. The Dow to Gold ratio will hit 2 and might even go below 1 this cycle. [Let me explain.] Words: 873
2. Check It Out: Gold Stock Manias in 79/80, 82/83 & 95/96 Saw 2,000 – 4,000% Returns – and It Could Happen Again
The timing of this article may seem incongruous given the current weak performance of gold and gold stocks but that was the identical situation in each of the past manias – both the metal and the equities didn't excel until the frenzy kicked in. The following documentation (exact returns from specific companies during this era are identified) is actually a fresh reminder of why we think you should hold on to your positions – or start accumulating them, if you haven't already. (Words: 1987; Tables: 7)
3. A Peek at Possible Developments in Gold, Silver, Mining Shares & the Dow
There are countless articles available for free suggesting what to expect short- and long-term in the markets but what are those analysts who charge a fee for their insights and recommendations saying these days? Same old, same old or unique and actionable? One such subscription market timing service has pulled back the veil to give us a peek at what could well be unfolding. Words: 906; Charts: 8 links
4. LAST CHANCE to Buy Gold/Silver/PM Stocks At Low Prices – BIG Moves Coming In December, January & February
What is developing in the markets is not the beginning of  another leg down in gold, but a second chance to get positioned for what should be a  very profitable intermediate degree rally over the next 2-3 months. [Let me explain further with a number of charts to support my position.] Words: 460
5. Goldrunner: HUI Index Could Go As High As 1000 in 2013! Here's Why
The prospects look great for Gold and Silver to move sharply higher into 2013 to mimic the moves made in the 2005/ 2006 period and especially in 1979.  In both cases back then the PM Stock Indices made big runs along with Gold and Silver.  As such, the current HUI looks good for a major bottom to now be in place and to mimic the PM Stock Surrogate chart from the late 70's. This would see the HUI go as high as the 1000 area in 2013. Let me explain further. Words: 640