Automatically receive the internet's most informative articles bi-weekly via our free bi-weekly Market Intelligence Report newsletter (sample here). Register in the top right hand corner of this page.
The central bank gold-buying spree is expected to continue into next year as countries continue to create a hedge against geopolitical risk and diversify their reserves away from the US dollar.@Gold&Silver
Central Bank Purchases
According to data compiled by the International Monetary Fund and   reported by the World Gold Council through October of this year,
central bank gold purchases have totaled 562 tons

, putting the sector on pace to roughly match last year's total of just over 650 tons.

2018 marked

the highest level of annual net central bank gold purchases since the suspension of dollar convertibility into gold in 1971

, and

the second-highest annual total on record.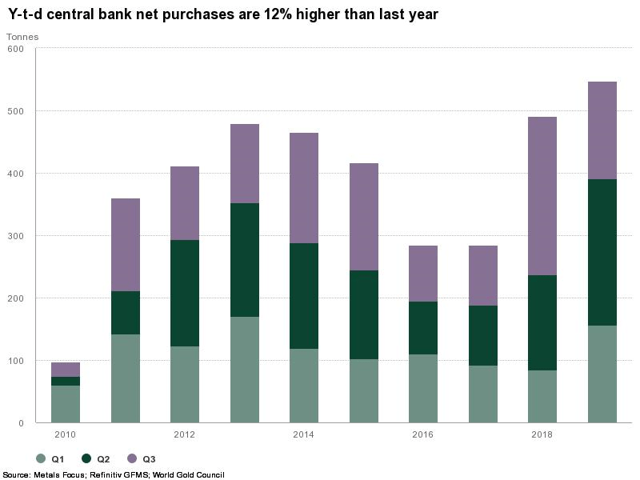 Analyst Expectations
A number of analysts…expect the central bank gold-buying spree to continue next year.
Goldman Sachs

analysts project central bank gold purchases will come in around the 650-ton mark again in 2020.

Standard Chartered

 precious metals analyst Suki Cooper said central banks are still "firmly on the buy side," because the yellow metal is "safe, liquid and generates returns" and

suggests a more modest total of 525 tons.

London-based consultancy

Metals Focus

director Phillip Newman called this year's central bank gold-buying "exceptionally strong" and said he

thinks that net buying will continue at a high level next year, even if it's not as high as 2019.

World Gold Council director of market intelligence Alistair Hewitt said there are two major factors driving central banks to buy gold – geopolitical instability and extraordinarily loose monetary policy and that "Central banks are looking toward gold to balance some of that risk. We've also got negative rates and yields for a large number of sovereign bonds."
Central Bank Diversification From USD
[In addition to the above]…there is a quest by some central banks to diversify away from the U.S. dollar:…
Russia and China…are increasingly gravitating to sound money like gold and ripping themselves away from the Fed's dollar…
Eastern European countries, including Poland and Serbia, have joined the buying-spree…
and there is speculation that one or more Western European banks could enter the market next year. A Commerzbank analyst said the Dutch central bank is a strong candidate. Earlier this fall, the DNB published what Commerzbank called a "remarkable" statement about the role of gold on its website. It called gold an "anchor of trust"…[and the bank's] "ultimate reserve asset." The DNB holds more than 600 pounds of gold, according to its website….
World Gold Council's Hewitt said that once central banks start accumulating gold, they generally continue for extended periods of time. He also noted that the underlying factors driving this rush to gold will likely remain in place.
Editor's Note: 
The above excerpts

from the original article by Peter 

have been edited ([ ]) and abridged (…) for the sake of clarity and brevity.

  The author's views and conclusions are unaltered and no personal comments have been included to maintain the integrity of the original article.  Furthermore, the views, conclusions and any recommendations offered in this article are not to be construed as an endorsement of such by the editor. A

lso

note that this complete paragraph must be included in any re-posting to avoid copyright infringement.