While it would seem that moms and pops and the average punter out there are running out of the equity market and into the "safety" of US Treasuries, corporate insiders are doing the exact opposite. This is yet another bullish contrarian sign. From the start of 2004 at least, this is the biggest buying spree that corporate insiders have engaged in. [Allow me to show you the specifics.] Words: 345
So says Brad Mcfadden (www.dailytradingreport.com)  in an article* which Lorimer Wilson, editor of www.munKNEE.com (It's all about Money!), has further edited ([  ]), abridged (…) and reformatted below  for the sake of clarity and brevity to ensure a fast and easy read. Please note that this paragraph must be included in any article re-posting to avoid copyright infringement. Mcfadden goes on to say: 
This graph comes courtesy of sentimentrader.com.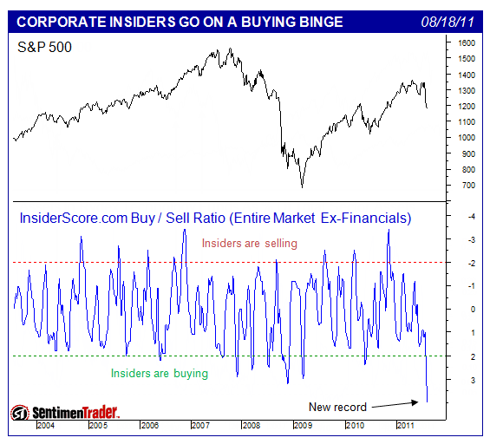 click to enlarge
What are the implications? This is very bullish as corporate insiders are a lot more in tune with the long term prospects of their respective companies than the average trader, mom and pop investor, or economist out there.
Conclusion
To me, "record" corporate insider buying in the face of the weakness we have seen in the Dow over August is yet more confirmation that most, if not all, the weakness in equities is due to fear, not fundamentals. I continue to believe that any weakness in large cap US stocks should be seen as a buying opportunity for long term investors.
Who in the world is currently reading this article along with you? Click here to find out.
*http://www.dailytradingreport.com/dtr/dtr_blogs/96-corporate-insiders-buying-equities-like-there-is-no-tomorrow
Related Articles:
Editor's Note:
The above article consists of reformatted edited excerpts from the original for the sake of brevity, clarity and to ensure a fast and easy read. The author's views and conclusions are unaltered.
Permission to reprint in whole or in part is gladly granted, provided full credit is given as per paragraph 2 above