Berkshire Hathaway's investment portfolio has quite a following as many consider it as the Holy Grail in investing. Part of the interest can be attributed to curiosity over what Berkshire Hathaway's Warren Buffett is doing with the stocks in the portfolio and the fact that there are countless investors trying to mimic Buffett's actions in their own portfolio in an attempt to realize superior returns. This article… provides an analysis of the changes made to Berkshire Hathaway's 13F stock portfolio during Q4 2018.
During Q4 2018, Berkshire Hathaway's (NYSE:BRK.A) (NYSE:BRK.B) 13F stock portfolio…[consisted of] 45 individual stock positions [of which] the top 5 positions accounted for ~63% of the portfolio – Apple Inc. (NASDAQ:AAPL), Bank of America (NYSE:BAC), Wells Fargo (NYSE:WFC), Coca-Cola (NYSE:KO), and American Express (NYSE:AXP) -…[with many of the remaining holdings being] minutely small compared to the overall size of the portfolio. [Here are the details.]
New Stakes
Red Hat Inc. (RHT),
Suncor Energy (SU),
StoneCo Ltd. (STNE)…
Stake Disposals
Oracle Corp. (ORCL)…
Stake Increases
Bank of America (BAC)…
US Bancorp (USB)…
JPMorgan Chase (JPM),
PNC Financial (PNC),
Travelers Companies (TRV)…
Bank of New York Mellon Corp. (BK)…
General Motors (GM)…
Stake Decreases
Apple Inc. (AAPL): AAPL is currently the largest 13F portfolio stake at ~22%, and Berkshire's ownership is at ~5% of the business…
Wells Fargo & Co. (WFC): WFC is Buffett's third-largest stake at 10.74% of the 13F portfolio…
Southwest Airlines (LUV): LUV is a 1.39% portfolio stake…Berkshire owns ~9.5% of LUV.
Charter Communications (CHTR): CHTR is a ~1% of the portfolio position…
United Continental Holdings (UAL):…The stake is at ~1% of the portfolio…Berkshire controls ~8% of UAL.
Phillips 66 (PSX): PSX is now a small 0.56% of the portfolio stake. It is a long-term position…
Kept Steady
American Express (AXP) has a ~17.6% portfolio stake,
Coca-Cola (KO) has a ~9.4% stake…Buffett has said these positions will be held "permanently"…
Kraft Heinz Co. (KHC): KHC is currently a large position at 7.66% of the portfolio…
Moody's (MCO): MCO is a 1.89% of the 13F portfolio stake. It is a very long-term position…
Delta Air Lines (DAL): DAL has a 1.79% position…and Berkshire controls ~9.5% of DAL.
Goldman Sachs (GS): GS is 1.67% of the portfolio stake…
DaVita Inc. (DVA): DVA is ~1% of the portfolio position…[with an] ownership stake of ~23%…
VeriSign Inc. (VRSN): VRSN…[has a portfolio position of]…~1% of the portfolio (~10% of the business).
Liberty SiriusXM Group (LSXMA) (LSXMK)…is trading at a significant NAV discount to the parent's (SIRI) valuation…
USG Corporation (USG): USG is a very long-term holding…Buffett controls around 31% of the business.
American Airlines (AAL): AAL stake…is 0.77% of the portfolio…Berkshire controls ~9% of AAL.
Sirius XM Holdings (SIRI): SIRI stake…is 0.43%
Teva Pharmaceutical (TEVA): TEVA is a very small 0.36% of the portfolio stake…
Liberty Global PLC (LBTYA) (LBTYK):…The stake is at 0.31% of the 13F portfolio.
Axalta Coating Systems (AXTA): AXTA is a small 0.31% of the portfolio stake…Berkshire owns 10.1% of the business.
STORE Capital (STOR): The STOR stake is 0.29%…
Synchrony Financial (SYF): SYF is 0.27% of the portfolio…
Restaurant Brands International (QSR): QSR is 0.24% of the 13F portfolio position…Berkshire's stake in the business is ~4.2%.
The following stocks have very small with positions of less than ~0.5% of the portfolio each:
Costco Wholesale (COST),
Johnson & Johnson (JNJ),
Liberty LiLAC Group (LILA) (LILAK),
Mondelez International (MDLZ),
M&T Bank (MTB),
Mastercard Inc. (MA),
Procter & Gamble (PG),
Torchmark Corporation (TMK),
United Parcel Service (UPS),
Verizon Communications (VZ),
Visa Inc. (V)…
Notes: Berkshire Hathaway is also known to own:
~8% of Seritage Growth Properties (SRG)…
a 225M share position in BYD Company and,
per last year's annual report, a $1.7B position in Sanofi – it is not in the 13F report as it holds the securities listed in Euronext Paris which is outside the realm of US 13F securities.
The spreadsheet below highlights changes to Berkshire Hathaway's 13F stock holdings in Q4 2018: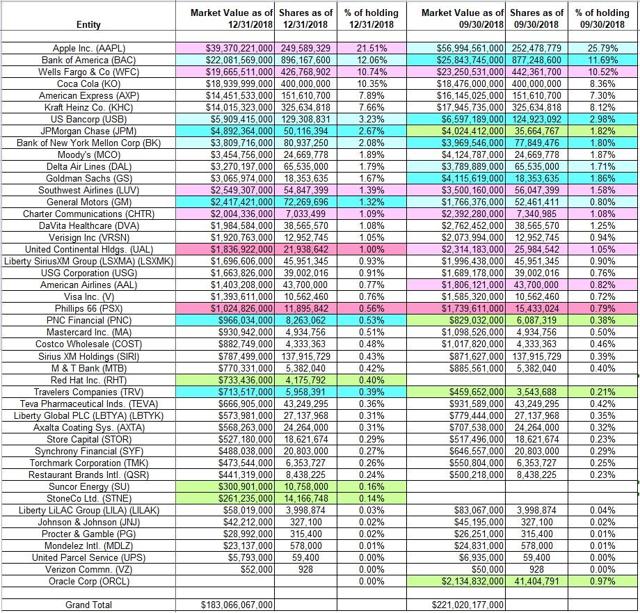 (The above information is based on Warren Buffett's regulatory 13F Form filed on 02/14/2019. Please visit our Tracking 10 Years Of Berkshire Hathaway's Investment Portfolio article series for an idea on how his holdings have progressed over the years and our previous update for the moves in Q3 2018.)
Warren Buffett's writings (PDFs) are a treasure trove of information and are a very good source for anyone starting out on individual investing.
The above summary

* of the original article by John Vincent has been edited ([ ]), restructured and abridged (…) for a 71% faster – and much easier – read. (Vincent is receiving compensation from Seeking Alpha for pageviews of his original article as posted there so please refer to it for the unedited version. Also note that this paragraph must be included in any article re-posting to avoid copyright infringement.)
*The author's views and conclusions are unaltered and no personal comments have been included to maintain the integrity of the original article. Furthermore, the views, conclusions and any recommendations offered in this article are not to be construed as an endorsement of such by the editor.