…In the following article, we present a decade-by-decade review of U.S. stock and bond returns over the past 9 decades…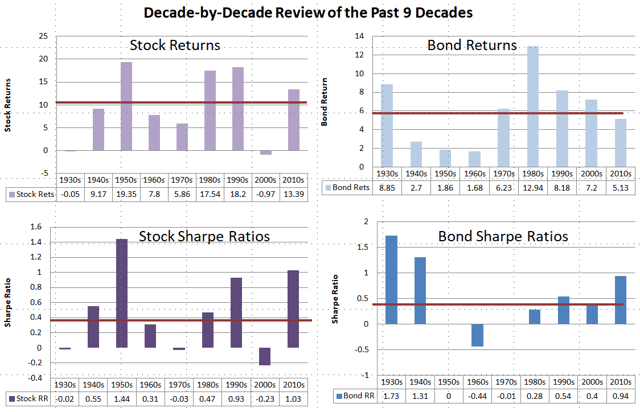 Stock and bond returns over the past decade are near their respective norms, but the returns per unit of risk (Sharpe Ratios) are well above. It's been a good decade with average returns far below average risk.
Stocks earned 13.39% per year, exceeding their 10% average return.
Bonds earned a little less than their 6% average return, delivering 5.13% per year.
On a risk-reward basis, stocks tripled the .35 average, earning 1.03% per unit of risk (standard deviation).
Similarly, the bond Sharpe ratio of .94 is more than double the historical average. Also of interest, the bond Sharpe ratio for the past decade is the highest in the post-war era.
Editor's Note: 
The above excerpts

from the original article by  

have been edited ([ ]) and abridged (…) for the sake of clarity and brevity.

  The author's views and conclusions are unaltered and no personal comments have been included to maintain the integrity of the original article.  Furthermore, the views, conclusions and any recommendations offered in this article are not to be construed as an endorsement of such by the editor. A

lso

note that this complete paragraph must be included in any re-posting to avoid copyright infringement.