Image Source: Unsplash
There's a lot of speculation about how Bitcoin will perform moving forward and whether the market will have to wait until the next Bitcoin halving to see any kind of bullish momentum. We have done an exhaustive search of the internet and come up with over 40 forecasts of what  professional forecasting agencies and experts have to say as to their predictions of where the price of Bitcoin will be by the end of 2023, 
An original article by Lorimer Wilson, Managing Editor of munKNEE.com – Your KEY To Making Money!
Next year, 2024, is a year for Bitcoin's halving event. The Bitcoin halving event happens every four years in which Bitcoin rewards to its miners are cut in half, (the miner's payout will be reduced to 3.125 BTC). This event is generally viewed as positive for Bitcoin's price, as halving helps in contracting supply. Historically, halving has been seen as a very good sign for bringing momentum in Bitcoin's price.
Bitcoin Halving History
Bitcoin Halving Event
Price on Halving Day
Price 150 days later
2012
$12.35
$127
2016
$650.53
$758.81 (+166%)
2020
$8821.42
$10,943 (+224%)
(Source: cointelegraph.com and munKNEE.com)
In 2016, Bitcoin was worth about $500. Five years later, in the summer of 2021, it was worth $30,000 even after the price had halved in the spring. The long term trend is extremely bullish, even if investing in it might mean a rollercoaster ride. For a live look at current Bitcoin pricing go here.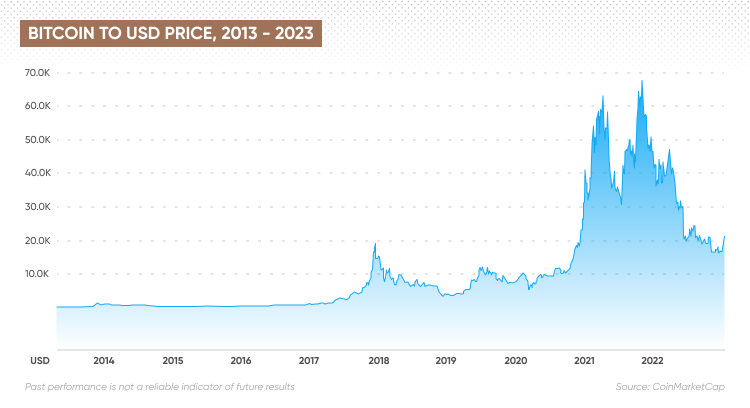 Specific predictions should be taken with a grain of salt as professional forecasting agencies and experts try to calculate a price based on algorithms and technical analysis. Below are what over 40 professional forecasting agencies and experts have to say regarding their predictions as to where the price of Bitcoin will be by the end of 2023. Its price as of May 7th, 2023 was $28,890.
In 2023
Sub-Total Average: $32,537 (+12.6%)
Sub-Total Average: $39,031; Cumulative Average: $35,784 (+23.9%)
Sub-Total Average: $48,668; Cumulative: $40,079 (+38.7%)
Sub-Total Average: $75,444; Cumulative Average: $48,920 (+69.3%)
Anthony Pompliano: $100,000 (Source)
Philip Swift: $137,000 (Source)
Tim Draper: $250,000 (Source)
Average $162,333: Cumulative Average: $56,832 (+96.7%)
Please Note:  The above algorithm-based price prediction forecasts use real-time Bitcoin market data and, therefore, the specific data is always changing, albeit slightly. The source of price Bitcoin forecasts matters, as do the tools utilized in making the analytical Bitcoin predictions. Some are more aggressive than others as algorithm-based price predictions can be wrong as they use past performance to inform their estimates and, as such, Bitcoin crypto price predictions should not solely form a basis for investing in cryptocurrencies. They are excellent for determining the direction of a cryptocurrency but not the magnitude. Always conduct your own due diligence before trading or investing, and never invest or trade money you cannot afford to lose.
Should You Invest In A Cryptocurrency?
According to Morning Consult, 22% of Americans said they owned at least one form of crypto in April of 2023 with 16% of respondents saying they owned Bitcoin, 12% Ethereum, and 8% each of Binance Coin and Tether. 27% of Bitcoin owners, and 21% of Ethereum owners, said they were planning on adding to their holdings in the next month amid fears of a full-blown banking crisis.
What Is the Best Way To Invest In Bitcoin?
The ProShares Bitcoin Strategy ETF is a bitcoin-linked exchange-traded fund which gains exposure to bitcoin via future contracts (which means that the price is based on the expected price of bitcoin on certain exchanges at the expiration date of the bitcoin futures contract as traded on the regulated Chicago Mercantile Exchange) rather than the current spot price of the cryptocurrency itself. Since the bitcoin ETF is not a direct investment in bitcoin, the price of the ETF may deviate from the price of the cryptocurrency. That being said, it gives traders and investors a way to get an exposure to bitcoin without having to buy the asset itself and having to navigate exchanges or use wallets and private keys. (Read: Invest In Bitcoin the Easy Way – Here's How)