Toronto is still the King of North American real estate development according to the Rider Levett Bucknall (RLB) Crane Index that shows Toronto had 120 active construction cranes in July…[which is] more than twice the number of active construction cranes than the next city on the list. Where does your city rank? Here's the list.
Why Crane Counts?
[Because] the number of high rise projects are a major component of the business cycle.
When development is booming, so is the economy – and a strong economy helps to drive necessary components of real estate growth.

There's cash for more employment, offices, retail spaces… [and] more residential real estate.

The reverse happens when it begins to slow down.
About the North American RLB Crane Index
Rider Levett Bucknall's North American RLB Crane Index® is published bi-annually and currently tracks the number of cranes in use in 14 major cities across the U.S. and Canada. Index cities include Austin, Boston, Calgary, Chicago, Denver, Honolulu, Los Angeles, New York, Phoenix, Portland, San Francisco, Seattle, Toronto, and Washington, D.C.
How the RBL Crane Index Is Applied
The application of real estate to the business cycle is so common, RLB even gives cycle estimates. [As you can see in the depiction below,] the cycle is broken down into growth and decline periods, each with three phases – peak, mid, and trough.
Peak is when things are the highest, also called the top of the cycle.
Mid is when project numbers are firmly starting to rise in the growth, and drop in the decline.
Trough is when there's minimal activity, and the market has bottomed.
How long it spends in each one of these phases is dependent on how inefficient the market has become. Got it?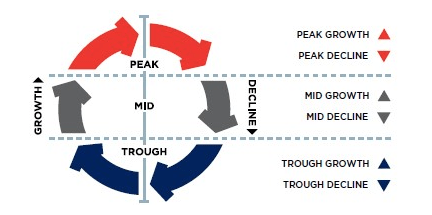 Source: Rider Levett Bucknall. Better Dwelling. 
Number of Cranes Actively Used for Real Estate Development
| City | July 2018 | July 2019 |
| --- | --- | --- |
| 1, Toronto | 97 | 120 |
| 2. Seattle | 65 | 49 |
| 3. Los Angeles | 36 | 49 |
| 4. Calgary | 26 | 34 |
| 5. Portland | 30 | 30 |
| 6. Washington | 25 | 28 |
| 7. Chicago | 40 | 27 |
| 8. New York | 20 | 27 |
| 9. San Francisco | 26 | 23 |
| 10. Denver | 29 | 18 |
| 11. Boston | 13 | 14 |
| 12. Honolulu | 11 | 4 |
single-family development is forecasted to be in the mid-decline phase and
multi-family development (i.e. apartments), are now at peak growth.
Seattle & Los Angeles
In a distant second for crane count are Seattle and Los Angeles. Both cities had 49 cranes in July, but
Seattle has 16 fewer cranes than they did last year.

Both low-rise and multi-family residential development are at peak growth.

Los Angeles has 13 more cranes than during the same period last year.

Both low-rise and multi-family residential development are at peak decline.
Calgary
Calgary [has]…34 cranes deployed at development sites in July, up 8 from the same time last year.
single-family development is seen as in mid–growth, approaching peak development and
multi-family residential development is in mid-cycle decline, which logically hits the trough next. This would see the region enter a period of low growth.
New York City
New York City, often used as a leading indicator for the cycle, had a jump in cranes. There were 27 cranes in July, up 7 compared to the same month last year.
single-family development is forecast to be in the mid-decline phase while
multi-family residential development (i.e. apartments) have entered the peak decline phase.
Earlier this year RLB analysts forecast a global slowdown in real estate development.
Slowing growth of the global economy was the biggest reason cited.
Tighter credit conditions and trade tensions also weighed on growth.
Editor's Note: 
The above excerpts

from the original article by Kaitin Last 

have been edited ([ ]) and abridged (…) for the sake of clarity and brevity

.  The author's views and conclusions are unaltered and no personal comments have been included to maintain the integrity of the original article.  Furthermore, the views, conclusions and any recommendations offered in this article are not to be construed as an endorsement of such by the editor. A

lso

note that this complete paragraph must be included in any re-posting to avoid copyright infringement.
Want more such articles?

"Follow the munKNEE"
on

Facebook,

on

Twitter

or via our

FREE bi-weekly

Market Intelligence Report

newsletter (see sample here, sign up in top right hand corner of page).
Get engaged:
Have your say regarding the above article in the Comment section

at the bottom of the page.
Articles Wanted:
Original articles & links to other informative articles that deserve a wider read

. Send info to loriewil[at]yahoo[dot]com.