The PCE price index – without food and energy – the lowest lowball inflation measure that the U.S. government releases –  rose by 3.64% in September, compared to a year ago, the hottest inflation reading since May 1991.
This post by Lorimer Wilson

, Managing Editor of munKNEE.com, is an edited ([ ]) and abridged (…) version of an article by Wolf Richter for the sake of clarity and length to ensure a fast and easy read.
This "core PCE" is the inflation measure that the Fed uses for its official inflation target of a "symmetrical" 2%. The reason it uses this measure is because it is the lowest lowball inflation measure the government publishes, and it understates actual inflation even more than other indices the government publishes.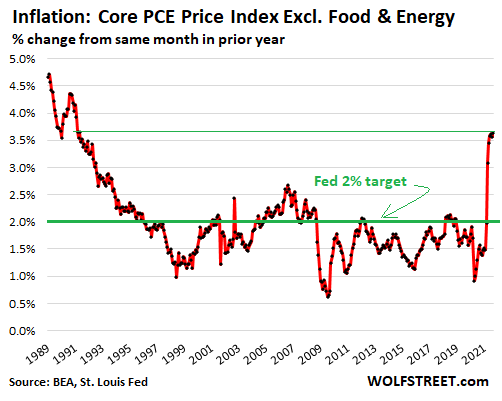 The close-up of core PCE, covering the past 10 years, shows a little more closely what is happening on a year-over-year basis.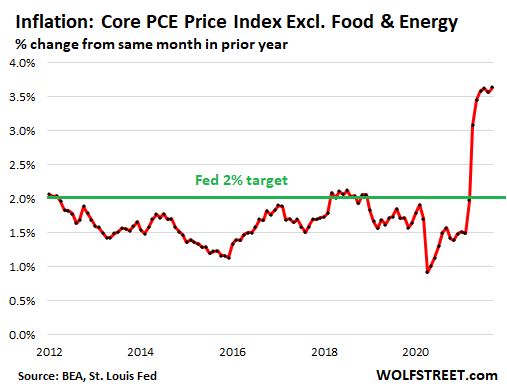 …This inflation surge is happening while the Fed is still recklessly printing $120 billion a month, having amassed $8.6 trillion in assets, nearly half of it – $4.2 trillion – in the past 20 months to repress long-term interest rates and inflate asset prices, and it's still repressing short-term interest rates to near-zero. With these policies, the Fed is energetically throwing enormous amounts of fuel into the world for further inflation. 
Click the "Like" button at the top of the page if you found this article a worthwhile read as this will help us build a bigger audience.
Comment below if you want to share your opinion or perspective with other readers and possibly exchange views with them.
Register to receive our free Market Intelligence Report newsletter (sample here) in the top right hand corner of this page.

Join us on

 Facebook to be automatically advised of the latest articles posted and to comment on any of them.
munKNEE.com has joined eResearch.com to provide you with individual company research articles and specific stock recommendations in addition to munKNEE's more general informative articles on the economy, the markets, and gold, silver and cannabis investing.
Check out eResearch. If you like what you see then…