…One of the most important skills you can have in the market is knowing when to play it safe and when to be aggressive. The current market context is one in which it makes a lot of sense to focus on capital protection and sleeping well at night.
This version of the original article,

by Andres Cardenal

, has been edited* here by munKNEE.com for length (…) and clarity ([ ]) to provide a fast & easy read.
…Many stock markets around the world have been remarkably weak over the past several months, and this weakness finally caught up to U.S. stock markets in October….
The magnitude of the adjustment in U.S. stock indexes is not too big by historical standards, although many of the stocks in the indexes are doing considerably worse than the averages, so the performance numbers for the indexes don't really show the whole picture.
When it comes to international markets, both developed and emerging, global stocks are clearly under considerable pressure.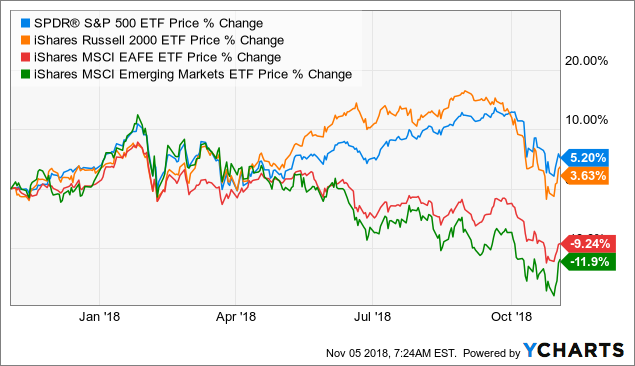 …Economic data in the U.S. remains strong, but many companies are feeling cautious about the future.
According to data from Factset research,
the typical post-earnings reaction when a company delivers earnings numbers above expectations is that the stock rises 1% on average that day.
During this quarter, however,

the average reaction to an earnings beat has been a decline of 1.5%.

This is clearly telling us that, even when companies are reporting earnings numbers above expectations for the most recent quarter, forward-looking guidance is not as optimistic as expected.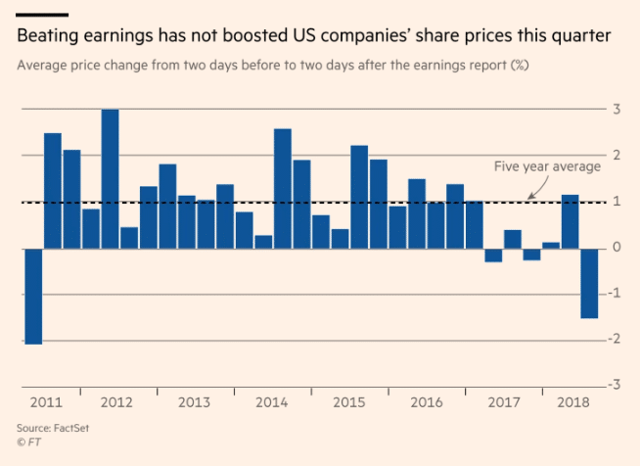 Source: Financial Times with data from FactSet
Adding to the uncertainty,:
Global liquidity from central banks in the U.S., Europe, and Japan is substantially declining.
This has been a major headwind for stocks in the past.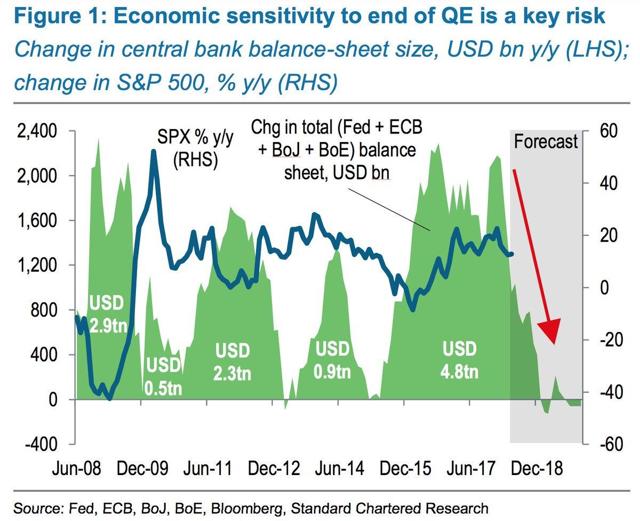 Source: Topdowncharts.
Most global stock markets are in a downtrend, as measured by the 200-day moving average, and this has some remarkably important implications in terms of risk and rewards going forward.
When markets are already trending down, not only are returns generally much lower, but volatility is also much higher. The probability of a quick and nasty market crash is much higher when the market is below the 200-day moving average. #munKNEE.com is being given away – check it out!
The table below is from a research paper by Mebane Faber entitled Where The Black Swans Hide. The paper basically compares returns and volatility levels when the market is either in a downtrend or in an uptrend, using the 200-day moving average as the long-term trend indicator.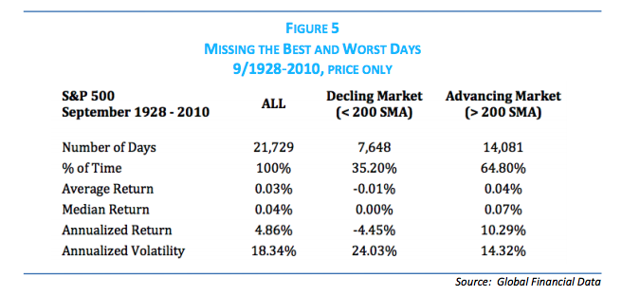 Data shows that high volatility days (both up and down) tend to happen when the market is in a downtrend.
…There is nothing magical or unique about the 200-day moving average. The 200-day moving average is just a popular and effective long-term trend metric. You can reach similar conclusions by evaluation other kinds of trend indicators.
The main point is that nobody can predict a market crash, but the probabilities of a market crash increase or decrease in different market environments…
if the market is in a downtrend and volatility is elevated, a market crash is more likely to happen.

Reducing your market exposure when the market is in a downtrend is not about market timing but about reducing the risk of suffering a massive loss due to an accelerating market selloff.
Drawdowns
…It is not uncommon at all to have drawdowns of the S&P 500 that take between 5 and 10 years to recover….even take as much as 14 years based on the historical evidence. If you own a portfolio of individual stocks, chances are that such portfolio will be more concentrated and volatile than the index. This means that the losses can be much larger and it can take even more time to recover from drawdowns…
By protecting your portfolio when the long-term trend is no longer up, you can significantly reduce the risk of big losses from a statistical perspective, and this can be a game-changer when it comes to protecting your portfolio from devastating events…
Increasing cash levels,

holding only the best high-quality ideas on the long side,

hedging the portfolio with inverse ETFs,

and adding short positions in order to make money in both bull and bear markets
is a much stronger and more responsible approach than simply holding lots of stocks and hoping that this will turn out to be a short-term pullback as opposed to a deep and ugly bear market…
Conclusion
One of the most important skills you can have in the market is knowing when to play it safe and when to be aggressive. The current market context is one in which it makes a lot of sense to focus on capital protection and sleeping well at night…
[Editor's Note: The author is receiving compensation from Seeking Alpha for pageviews of his original article as posted there so please refer to it for the unedited version.]
(*The author's views and conclusions are unaltered and no personal comments have been included to maintain the integrity of the original article. Furthermore, the
views, conclusions and any recommendations offered in this article are not to be construed as an endorsement of such by the editor)
For the latest – and most informative – financial articles sign up (in the top right corner) for your FREE bi-weekly Market Intelligence Report newsletter (see sample here)
 Thank you for taking the time to read this article. If you enjoyed reading it please hit the "Like" button, and if you'd like to be notified about my future ideas, hit that "Follow" link.