A look at what's happening in the 3 gold price charts below makes me very bullish on the
yellow precious metal.
This article is an edited ([ ]) and revised (…) version of the original (written by Michael Lombardi) to ensure a faster & easier read. It may be re-posted as long as it includes a hyperlink back to this revised version to avoid copyright infringement.
Since late 2016, gold prices have been forming a technical chart pattern called an "ascending triangle." This pattern is formed when there's a price uptrend, but resistance to move even higher has been encountered. Over the last few days, however, gold prices have moved above that resistance level [to $1333 as of Sept. 12/17]. In technical analysis terms, this is a "breakout." You can see it on the chart below [Go to stockcharts.com – $GOLD – for the most current chart.].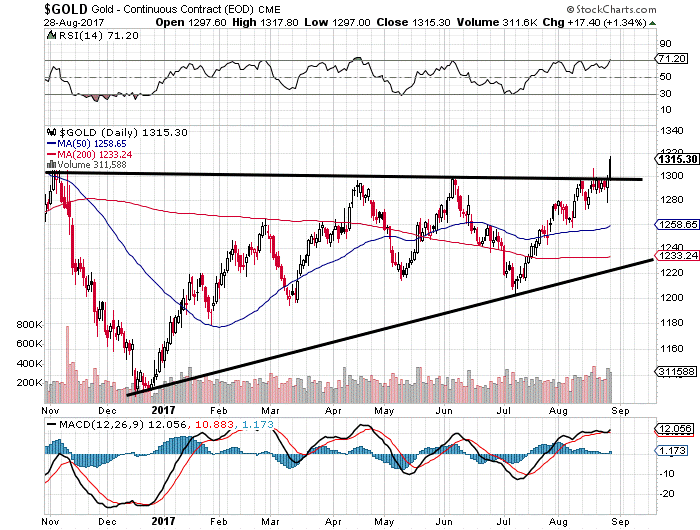 Chart courtesy of StockCharts.com
…Also take a look at this next chart below, which is longer-term in scale. The breakout in gold prices is even more defined on this chart. [Go to stockcharts.com – $GOLD – for today's current prices.]
Chart courtesy of StockCharts.com
Another thing that investors should pay attention to on the chart above is the downtrend being broken. Gold prices just broke above a downtrend that was in place since late 2011. This is big and shouldn't be ignored because, when trends break, usually a massive move follows.
Lastly, let's look at this very long-term chart of gold prices.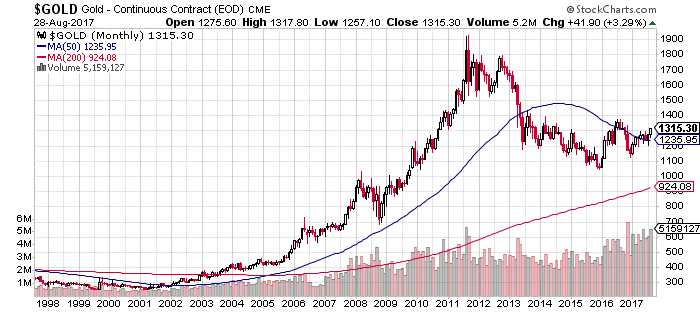 Chart courtesy of StockCharts.com
Pay attention to the 50-month moving average, the 200-month moving average, and the volume at the bottom of the chart. [As of Sept.12/17,] we see both of the moving averages below current gold prices [at $1,276 & $1,239, respectively]. At its core, this says that the long-term trend continues to point upward. As they say in technical analysis, "the trend is your friend until it's broken."
Also, notice how gold's volume has been increasing since 2016. This tells us that buyers are coming in, and that the selling pressure we saw in 2013, 2014, and 2015 may just be diminishing.
In conclusion, looking at what's happening on the gold price charts,
I can't help but be bullish on the yellow precious metal….
[I also think there is a major] opportunity offered by the depressed shares of gold mining companies. It's still not too late; these shares will soar as gold prices continue their climb.
Scroll to very bottom of page & add your comments on this article. We want to share what you have to say!
Related Articles from the munKNEE Vault:
1. 5 Charts Suggest Much Higher Gold Prices – Take A Look! 
The best way to maximize market profits is to identify the direction of the primary trend and position yourself with it. This post looks at five charts which analyze the long term trend and prospects for gold and they all support the long term trend in the gold price. Take a look.
2. Gold Going Beyond $3,000/ozt; Gold Miners/Gold Ratio To Double!
Gold is going to be moving sharply higher – and Gold Miners are going to be going through the roof. If you're not taking steps to actively profit from this, it's time to get a move on.
munKNEE should be in everybody's inbox and MONEY in everybody's wallet!
If you want more articles like the one above sign up in the top right hand corner of this page and receive our FREE bi-weekly newsletter (see sample here).
munKNEE.com – " The internet's most unique site for financial articles! Here's why"