If you are a believer in much higher gold prices like many analysts are (see here) then this article should be of considerable interest because the price of gold has a huge impact on the profitability of a gold/silver miner and the value of a such a company. Indeed, the setup for a major rally – dare I say, a parabolic move – in gold miner stocks is right in front of us so it's time to start searching for undervalued stocks with large reserves in the ground – and this article does just that.
An original article by Lorimer Wilson, Managing Editor of munKNEE.com (Your KEY To Making Money!)
What Is A Parabolic Move?
A stock goes parabolic when panic buying sets in and prices are driven vertical with an almost complete absence of sellers and this creates a vacuum of buying with traders rushing into a certain stock regardless of price, in fear of being left behind.  While parabolic stocks are attractive to buy because they offer the possibility of making a lot of money in a relatively short period of time, it is dangerous to overstay your welcome as it often marks the end of a move with prices not returning to the ultimate highs again for a long time (see the example below). The key in trading such a strong trend is capturing as much of the move up as possible early in the move on the original breakout in price action from a previous range.
The price action pattern that creates the parabolic curve looks like a staircase and it can last for weeks and sometimes months.
Examples of Previous Parabolic Surges
Junior Miners Returns in 1979-1980
Gold increased by 276% from the beginning of 1979 to a peak of $850/ozt. on January 21st, 1980, and gold stocks, in general, went up dramatically at that time (see below) with many of them becoming 10-baggers (1,000% gains and more).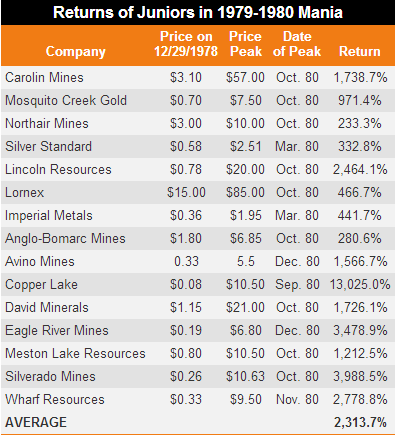 As Jeff Clark has
said
, "If you had bought a reasonably diversified portfolio of top-performing gold mining juniors prior to 1979, your initial investment could have grown 23 times in just two years as illustrated above. If you had managed to grab 80% of that move, your gains would still have been over 1,850%. A return of that magnitude would have meant that a $10,000 portfolio in gold juniors would have been worth $241,370 at its peak…or about $195,000 if you had exited at 80% of the top prices. To realize such an outstanding gain, however, you would have had to sell your holdings to realize your profits as a failure to do so would have seen many of your winners' gains evaporate."
Junior Miner Returns In Mid-1990s Bull Market
Returns like those shown above happened again in the bull market of the mid-1990s as illustrated below: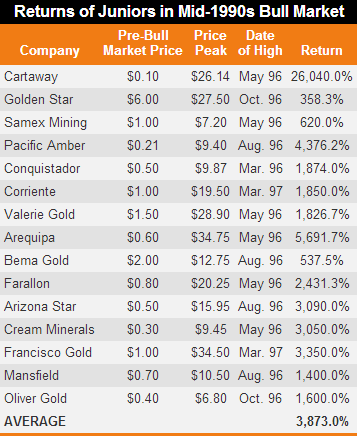 American Cannabis MSO Returns In 2020-2021
Between February/March, 2020, and mid-February, 2021, the 9 largest (see
here
) American multi-state operators (MSOs) went parabolic rising 700%, on average, during that 12-month period ranging from +426% to +1,070% (for Planet 13). In the ensuing 12 months the stocks declined by 58% and then another 75% in the next 12 months ending up 17.5% BELOW their average price back in February/March, 2020. That is a perfect example of a parabolic curve – up dramatically and down dramatically ending up at a lower price than when the move began. Furthermore, true to form the 9 MSOs went up in a step-like formation as follows:
Step 1 in October, 2020: +42%
Step 2 in November, 2020: +12%
Step 3 in December/early January, 2021: +21%
Step 4 from mid-January to the mid-February peak in February, 2021: +24%
Summary 
We are on the verge of a tremendous boom and the only way to make the kind of money outlined above is to buy before the boom is in full swing – and that is now. Why do I say now? Because it would appear that we have moved from Base 1 to Base 2 in the parabolic curve. The gold ETFs, GDXJ and SGDJ, have gone up 51% and 53%, respectively, in the past 6 months, the silver ETFs, SIL and SLVP, have gone up 43% each in the last 6 months and the 15 juniors (average market cap of only $34M) I have selected (see below) from a list of 50 such stocks researched by analyst Don Durrett (see link
here
) – have gone up 60%, on average, over the last 6 months.
Bear Creek (BCEKF);
Cartier Resources (ECRFF);
Lahontan Gold (LGCXF);
Nighthawk Gold (NHK);
Equity Metals (EQMEF);
Gold Mountain Mining (GMTNF);
Revival Gold (RVLGF);
Hummingbird Resources (HUMRF);
Aftermath Silver (AAGFF);
Silver Z (AGXPF);
Integra Resources (ITRG);
Paramount Gold Nevada (PZG);
White Rock Minerals (WRMCF);
Troilus Gold (CHXMF); and
FreeGold Ventures (FGOVF)
Conclusion
The surge in gold and silver stocks gives every indication that the parabolic move in gold and silver juniors has started.  As the U.S. dollar rolls over on inflationary debasement more and more speculators will flood back into gold futures which will catapult physical gold and silver higher and that will motivate investors to chase the precious metals' upside momentum which will accelerate the parabolic move further and faster. With that, the gold and silver stocks will rocket higher in a massive up-leg perhaps even surpassing the massive up-legs experienced back in 1979/80 and the mid-1990s.