…The Fed's…[increase in the interest rate on Wednesday] virtually guarantees a recession or depression. The beginning of the end of the bull market in stocks and real estate has begun, and the dawn has come for the pending bubble in precious metals.
@$$4$…I said in my 2022 forecasts posted in December that stocks would be flat for the year. The Fed's actions yesterday reinforce that expectation, imho, unless they reverse course sooner than anticipated. When they do reverse course, we'll get a final melt-up in stocks prior to the total collapse of everything. This is most likely to occur next year—latest 2024, in my opinion. The WEF's risk survey reinforces this expectation, calling for an "Asset Bubble Burst" some time between 2023 to 2025.
This means the sky is the limit for Gold and Silver…[but] the risk is that we head lower first, either straight down or following a negatively divergent record high. I would lean more to the latter if it plays out due to the record short position held by the Bullion Banks and the extreme overbought and bullish conditions at new record highs. This will be like taking candy from a baby for the Bullion Banks. The temptation to squeeze out all of the weak longs would likely be too great.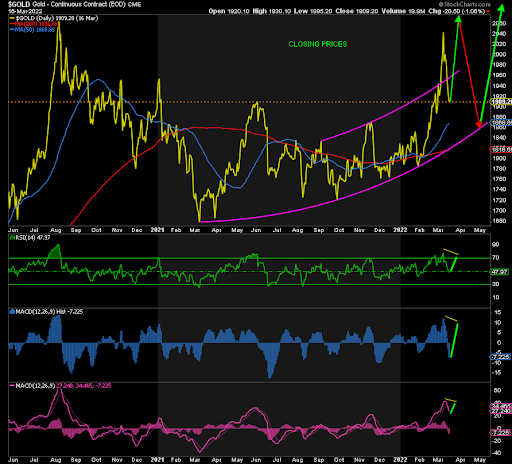 …As I've been doing since December, I'll be buying any and all material dips because the inevitable march higher to new record highs is coming, imho. Any pullbacks, no matter how big, will just be a detour before the rocket launch. Different route, same destination.
The glory days of new record highs in the stock market and home prices rising 20, 30, 50% per year are coming to an end. The bubble in precious metals is about to begin, and it will last for decades, imho.
The above excerpt from the

original

 article by David Brady (sprottmoney.com)
was edited [ ] and abridged (…) to provide you with a faster and easier read.
Also 

note that this complete paragraph must be included in any re-posting to avoid copyright infringement.
 

Please Donate Some MONEY to munKNEE.com – Thank You! 
I would appreciate it – immensely – if you would show your appreciation of my efforts with a donation so I will have the enthusiasm to continue doing so.
For the past 12 years I have been publishing  "a unique (here's why) financial site for sore eyes and inquisitive minds" called munKNEE.com at no cost to the millions (yes, millions!), like you, who have visited the site over those years.
Every week I surf the net on your behalf looking for the 10 most informative articles written by the best commentators/analysts out there which I then edit and abridge before posting to provide you with a faster, and easier read. That has amounted to about 6,500 articles, in total, over that 12-year period.
If you are willing to help me out please go HERE, enter your donation amount, click the box if you wish to make the amount a monthly donation, and then click on your choice of payment method. It is that "fast and easy".
I hope this request for money hasn't offended you and, should you choose not to donate, that you will still continue to "Follow the munKNEE!"
As a thank you I will send you a link to an unpublished gem of a book on wealth creation by Monty Pelerin entitled WEALTH IF YOU WANT IT.
 munKNEE.com has joined eResearch.com to provide you with individual company research articles and specific stock recommendations in addition to munKNEE's more general informative articles on the economy, the markets, and gold, silver and cannabis investing.

Check out eResearch. If you like what you see then…