…I am not saying that the market will fall apart today or tomorrow, but I expect a correction to materialize within the next several weeks, and here's why.
Shiller P/E
…We see the Shiller P/E climbing towards the ultra-frothy dot-com bubble-like levels. Could it continue to climb higher? Possibly, but it feels like this is an excellent time to get more cautious on equities here as the historical median is 15.85 and the percentage needed to adjust is 59% which would cause the S&P 500 to fall from 4,540 to 1,860.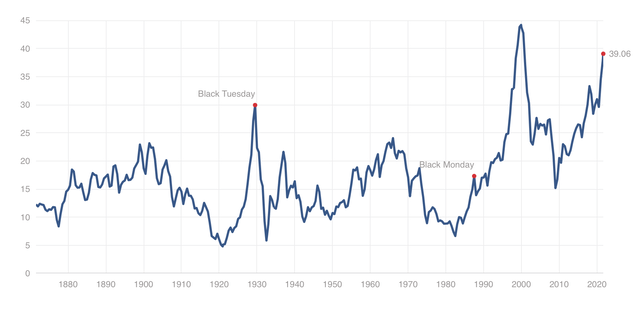 Source: multpl.com
P/E Ratio
If we exclude the skewed financial crisis P/E data, the S&P 500's P/E ratio is also approaching levels only witnessed during the fantastic boom and bust dot-com cycle

.

The historical median is 14.86 and the percentage needed to adjust is 58% which would cause the S&P 500 to fall from 4,540 to 1,900.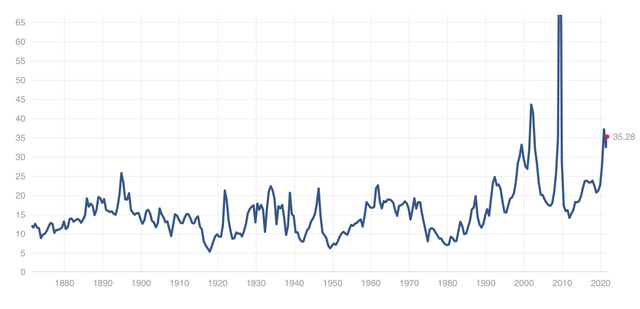 Source: multpl.com
Price to Sales Ratio
The S&P 500's price to sales ratio is at its highest levels in history, eclipsing even the days of the 2000 bubble. This dynamic implies that stock prices are appreciating at record levels relative to their revenue growth. The historical median is 1.52 and the percentage needed to adjust is 53% which would cause the S&P 500 to fall from 4,540 to 2,130.
Source: multpl.com
Analysts Are Too Optimistic
…While the trailing S&P 500 P/E multiple is around 31, the forward estimate is only 22 and this elevated ratio is still about 50% higher than the historical median, but can it even be attained? With a possible coronavirus-induced slowdown approaching, are S&P 500 earnings going to rise by nearly 30% YoY? It seems that the current expectations may be too optimistic. As corporate profits begin to miss estimates, analysts could revise lower, which will likely cause stock valuations to adjust.
The S&P 500 has not notably dipped through the 50-day moving average since the correction of last fall. We see numerous textbook 2-3% pullbacks that get bought up quickly just as the market touches down on the 50-day MA support. However, as fundamental factors start to weigh on price action, the S&P 500 could fall through support during one of these pullbacks, and a 5-10% correction will likely occur.
Source: stockcharts.com
The Takeaway
While the market will likely continue to trade higher in the coming days, a notable correction is probably close.
The Fed taper is coming and it should coincide with the continuous rise in coronavirus cases. The coronavirus phenomenon is perpetually getting worse, and the growing case count may not peak until the winter months.
The dynamic of growing virus numbers coupled with the Fed taper will likely impact economic growth and corporate profits. Earnings may have peaked in Q2, and Q3 numbers may disappoint with slower growth forecasts and lower guidance and, therefore, analysts may need to reevaluate and lower their ultra-bullish forecasts…
Thus, we should see a correction of about 10% materialize over the next several weeks (September/October).
Editor's Note:  The original article by Victor Dergunov
has been edited ([ ]) and abridged (…) above for the sake of clarity and brevity to ensure a fast and easy read

.  The author's views and conclusions are unaltered and no personal comments have been included to maintain the integrity of the original article.  Furthermore, the views, conclusions and any recommendations offered in this article are not to be construed as an endorsement of such by the editor. A

lso

note that this complete paragraph must be included in any re-posting to avoid copyright infringement.

A Few Last Words: 
Click the "Like" button at the top of the page if you found this article a worthwhile read as this will help us build a bigger audience.
Comment below if you want to share your opinion or perspective with other readers and possibly exchange views with them.
Register to receive our free Market Intelligence Report newsletter (sample here) in the top right hand corner of this page.

Join us on

 Facebook to be automatically advised of the latest articles posted and to comment on any of them.
munKNEE.com has joined eResearch.com to provide you with individual company research articles and specific stock recommendations in addition to munKNEE's more general informative articles on the economy, the markets, and gold, silver and cannabis investing.
Check out eResearch. If you like what you see then…