The silver juniors on our list today have diversified portfolios in terms of minerals in
their projects, and zinc is one of them. With strong cash positions compared to accounts payable and each junior currently producing or set to start production by 2018, these names should be in good shape to continue to benefit from zinc's run.
The comments above and below are excerpts from an article by SmallCapPower.com which may have been enhanced – edited ([ ]) and abridged (…) – by 
munKNEE.com (Your Key to Making Money!)
 to provide you with a faster & easier read.  Register to receive our bi-weekly Market Intelligence Report newsletter (see sample here , sign up in top right hand corner.)
Zinc has been the best performing base metal, gaining 46% year to date. One of the major causes of this price increase…is that Chinese smelters may have to cut production for the first time in years which would cause a major shortage and, with demand for zinc only set to increase (it is used for rust-proofing steel in building and automobiles), this shortage will persist and should push the price higher.
Impact Silver Corp. (CVE:IPT) – $0.70
Diversified Mining
Impact Silver Corp is a Canada-based silver producer engaged in silver mining and related activities, including exploration, development and mineral processing in Mexico. The Company's segments include Mexico, including the Company's mining operations and exploration properties; Canada, including head office and group services, and Caribbean, including exploration properties held in the Dominican Republic. The Company operates a series of mines near Zacualpan in the State of Mexico and in Guerrero State, and produces silver, lead, zinc and gold sold in the form of lead and zinc concentrates. It controls over two mineral districts in central Mexico totaling approximately 300 square kilometers, including the Royal Mines of Zacualpan Silver District and the Capire-Mamatla Mineral District.
Market Cap: $ 61.37 (mm)
YTD Price PCT Change: 500.0%
Cash (LTM, CAD, Millions): $7.7
Accounts Payable (LTM, CAD, Millions): $1.94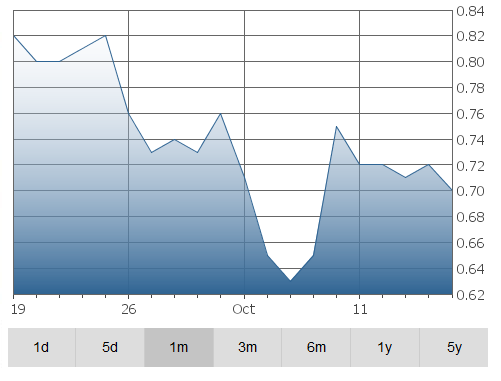 First Majestic Silver Corp. (TSE:FR) – $10.33
Non-Gold Precious Metals & Minerals
First Majestic Silver Corp. (First Majestic) is a mining company engaged in the business of silver production, development, exploration, and acquisition of mineral properties with a focus on silver production in Mexico. The Company operates through eight segments: six segments located in Mexico, one retail market segment in Canada and one metal trading segment in Europe. Its segments in Mexico are Santa Elena, La Encantada, La Parrilla, Del Toro, San Martin and La Guitarra. Its segment in Canada is Coins and Bullion Sales, and Europe is Silver Sales. The Company owns and operates approximately six producing silver mines.
Market Cap: $ 1,616.76 (mm)
YTD Price PCT Change: 129.0%
Cash (LTM, CAD, Millions): $108.2
Accounts Payable (LTM, CAD, Millions): $27.26
MAG Silver Corp. (TSE:MAG) – $17.51
Diversified Mining
MAG Silver Corp. is a mineral exploration and development company focused on the acquisition, exploration and development of projects located within the Mexican silver belt. The Company operates through the exploration of mineral properties in Mexico segment. The Company's projects include Juanicipio Property, Cinco De Mayo Property and Guigui Property.
Market Cap: $1,397.24 (mm)
YTD Price PCT Change: 79.2%
Cash (LTM, CAD, Millions): $30.86
Accounts Payable (LTM, CAD, Millions): $0.339
---
Follow the munKNEE – Your Key to Making Money!
"Like" this article

on Facebook

Have your say

on Twitter

Register to receive our

bi-weekly

Market Intelligence Report newsletter

(see sample

here

,

sign up in top right hand corner

)

 Share your thoughts

with us

in the comments section below

. We'd like to hear from you!
Related Articles from the munKNEE.com Vault:
1. Top Silver Stocks for 2016: September Update
Right before the start of the year, I wrote an article outlining my top 5 overall silver stock picks for 2016. I may not be as bullish on these picks as I was back in December 2015 so here's an update including the performance of my picks and my current recommendations.
2. The 4 Silver Juniors With the Best Free Cash Flow Figures
The 4 mining stocks on our list today have exposure to silver. In addition, they have the best free cash flow figures compared to their competitors during the last 12 months.
3. These 5 Gold & Silver Equities Should Continue To Outperform
Precious metals thrive on volatility – the more uncertainty in the markets the more gains silver and gold will likely see – but how can investors make a rational decision regarding which specific stock to choose in this sector? One idea is to select those that have a positive net income. These stocks are generally safer as their costs have been normalized and are being covered by inflows of revenue and cash. The silver and gold stocks on our list today exhibit positive EPS figures, which we think will benefit its investors.
4. Cup & Handle Pattern Suggests Silver Could Be Headed to $690/ozt.
Just what might be the final target of silver's 30 year cup and handle pattern? Try a mind numbing $690/ozt. by 2022.
Silver's performance since April 1, 2016, has more than doubled that of gold. That being said, the silver names on our list today should continue to shine as all have undertaken significant debt, using that as leverage to enhance production initiatives and sell more silver at these elevated prices.
6. Silver: Will It Really Reach $1,000 a Troy Ounce?
Keith Neumeyer believes the silver price could hit $1,000 an ounce. Could such an increase really be in the cards for the white metal?
7. A Minimum Target of $675 for Silver Is NOT Wishful Thinking! Here's Why
The 70s pattern for silver is very similar to the pattern that currently exists. Therefore, I do not think it is wishful thinking that silver will reach the target of $675 as a minimum. Now, you have an opportunity to go back in time to 1978, without a "time-machine," and make a similar but bigger gain.
8. Silver Set to Surge to $140/ozt. by 2019 – Here's Why
Silver "supply concerns" could "boost the metal's price nine-fold", according to the CEO of the best-performing producer of the metal as reported by Bloomberg.