Our research team believes Silver may become the most incredible Sleeper Rally Setup we've seen in the past 12+ years for investors if the global economic cards continue to get scattered and crumpled over the next 10+ years…
…We believe Silver is setting up another High Price Breakout pattern that should conclude within the next 2 to 4 months with a price high near $22.50 to $24.00… After this peak is reached…we believe the upside price rally…will…immediately move the price of Silver to well above $85 per [troy] ounce. Ultimately, we…estimate it will likely top somewhere between $90 and $550. This, of course, will require some type of major bear market is other asset classes and possibly some global crisis but we believe it is very possible in due time…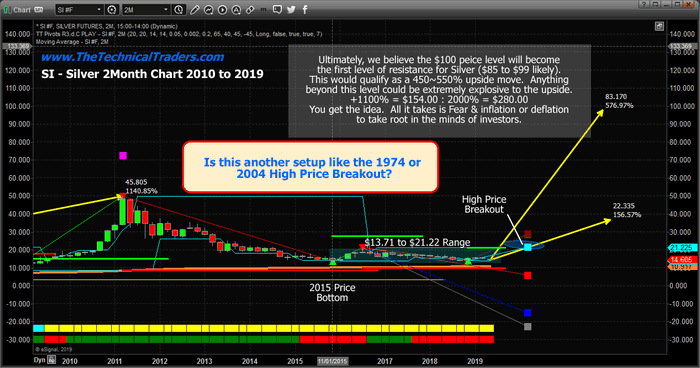 Conclusion
…There you have it – one of the most incredible trade setups you'll ever see in your lifetime.  Yes, it may happen twice in your life or more, but we believe this setup in Silver is just weeks or months from initiating the next upside price leg (the High Price Breakout) and we are alerting you now to be prepared.
Editor's Note:
The above excerpts

* from the original article by Chris_Vermeulen (TheTechnicalTraders.com) 

have been edited ([ ]) and abridged (…) for the sake of clarity and brevity

.

Also

note that this complete paragraph must be included in any re-posting to avoid copyright infringement.

Scroll to very bottom of page & add your comments on this article. We want to share what you have to say!
(*The author's views and conclusions are unaltered and no personal comments have been included to maintain the integrity of the original article. Furthermore, the views, conclusions and any recommendations offered in this article are not to be construed as an endorsement of such by the editor.)