Thanks for visiting munKNEE.com. Automatically receive future articles (2x weekly) by registering in the top right corner of this page.
With the US-China trade war deteriorating it is becoming increasingly likely that China…[will] ban exports of rare earths to the USA. This would lead to a scramble by the U.S. to source non-Chinese rare earth sources. This article…[highlights the supply situation and provides a link to those] non-Chinese rare earth miners which are likely to benefit from increased U.S. buying and/or investment.
The U.S. is vulnerable to a China ban on rare earths as:
The U.S. imports 78% of their rare earths from China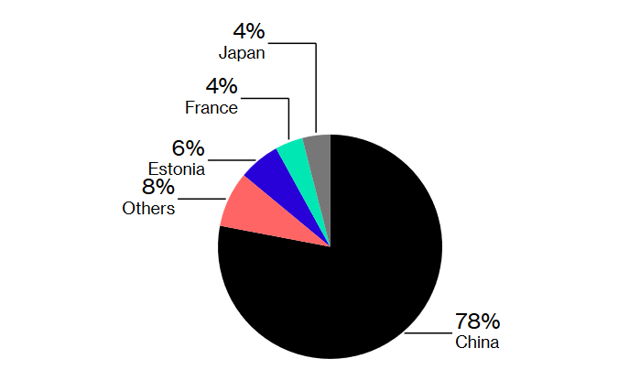 Source: Bloomberg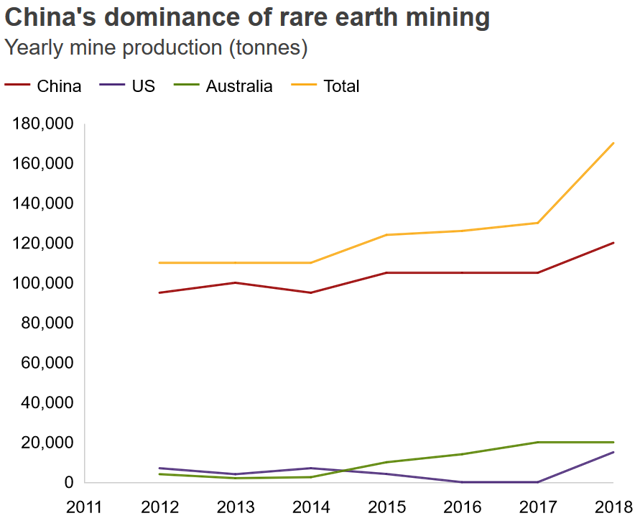 Source: BBC.com and US Geological Survey
Key industries that rely on the rare earths
Rare earths are used in the drives of computers, mobile phones, mp3 players and cameras. They are also used in hybrid electric motors, luxury electric car motors, wind turbines, aerospace, military applications, mag-lev trains, and other consumer products (TVs, washing machines, vacuum cleaners etc.).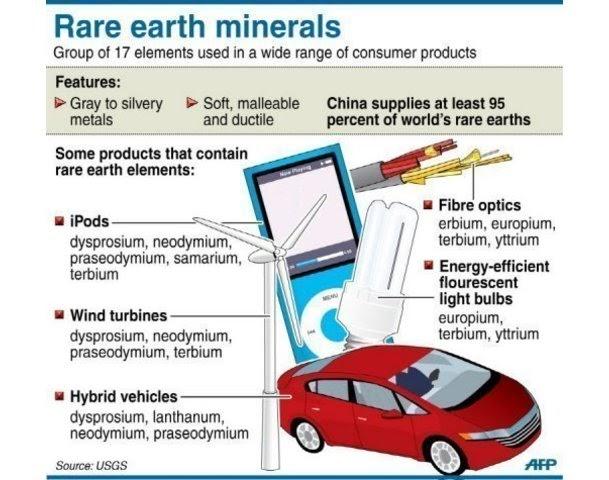 Source: US Geological Survey
Magnets are the key rare earth demand driver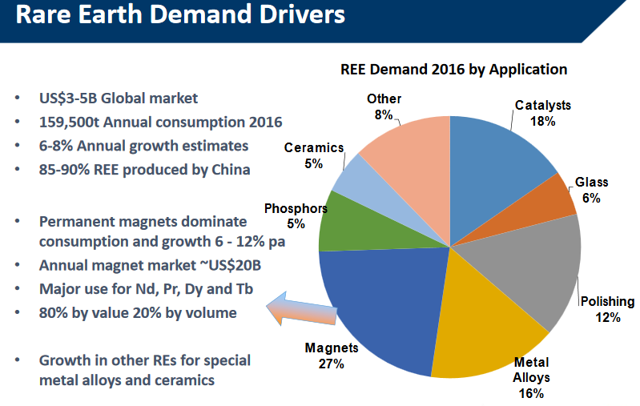 Source: Alkane Resources company presentation
Rare earths demand forecast by UBS to increase by 655% in a 100% EV world

Source: UBS Bolt teardown
The two key rare earths used for permanent magnets in EV motors are neodymium (Nd) and praseodymium (Pr). Even despite the trade war threatening supply, these two key 'magnet rare earths' will see surging demand from the EV boom. In fact, in a 100% EV world demand for the magnet rare earths is forecast by UBS to increase by 655%.
China neodymium (Nd) and praseodymium (Pr) forecast demand to 2025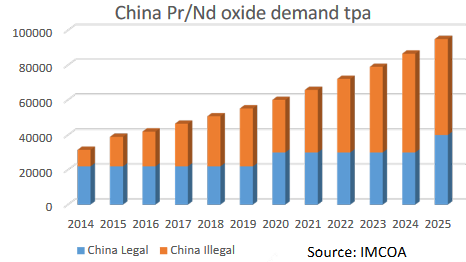 Source: Alkane Resources Ltd.
Talk of a China ban of rare earth exports sent neodymium prices soaring last week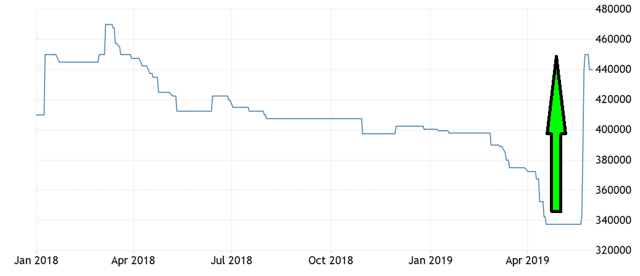 Source: Trading Economics
The original article identifies the producers, developers and explorers of rare earth companies that may well benefit from a China export ban to the U.S. or from surging EV demand and provides a description of their activities and also identifies a rare earth ETF that you may be interested in.
Risks
China may not ban rare earth exports, a black market may appear, or the World Trade Organization…[may implement some sort of penalty on China were it to contravene its] 2014 ruling that China can't put limits on rare earth exports…
Electric vehicle manufacturers may opt for cheaper lower performance induction electric motors, not requiring rare earths.
Due to the high price of rare earths new experimental magnets with less or no rare earths may be developed…
Rare earth projects require very high upfront capital expenditures which often lead to funding difficulties…
Fierce Chinese competition…[may cause] oversupply due to illegal Chinese or other miners dumping onto the market.
Japan has large undeveloped rare earth resources at Minamitori Island, that one day could possibly flood the market….
[If China were to] ban rare earth exports to the U.S. there would be a shock to supply, which has the potential to disrupt part of the U.S. high tech sector. Should this occur non- Chinese rare earth producers can be big winners, and near term producers may see a new found support to rush them into production.
…[Despite the above] investing in quality rare earth miners is a good long-term strategy, as rare earth demand is set to outstrip supply, especially for the magnet rare earths NdPr. For now my top stock pick for the sector continues to be…(continue reading here).
(Benefit from the work I've done, especially in the electric vehicle and EV metals sector, by reading "The Trend Investing Difference", "Subscriber Feedback On Trend Investing", or sign up here for Trend Investing for my best investing ideas, latest trends, exclusive CEO interviews, chat room access to me, and to other sophisticated investors.)
Related Articles from the munKNEE Vault:
1. Trade Hardball: China Threatens To Cut Off Supply Of Rare Earth Elements To U.S.
China does not have the means to match the U.S. in the total number, or amount, of tariffs but China can strike back in other ways. One critical way would be to cut off its export of rare earth elements to the U.S..
2. These Minerals Are Critical to U.S. Economic & National Security
What do cobalt, uranium, helium, titanium, and fluorspar have in common? According to the U.S. government, these are all minerals that are deemed critical to both the economic and national security of the country. The list of 35 minerals (listed below) includes those that are important for defense, economic, and industrial purposes – and it keys in especially on minerals that are not produced in substantial quantities domestically.
3. 4 Rare Earth Stocks Poised to Power Higher on U.S. China Tariff Dispute Uncertainty
Today we have identified four Canada-listed rare earth stocks poised to power higher on U.S. China tariff dispute uncertainty.
Editor's Note:
The above excerpts

from the original article by Matt Bohlsen 

have been edited ([ ]) and abridged (…) for the sake of clarity and brevity

.

The author's views and conclusions are unaltered and no personal comments have been included to maintain the integrity of the original article. Furthermore, the views, conclusions and any recommendations offered in this article are not to be construed as an endorsement of such by the editor. The author is receiving compensation for this article based on traffic to his original article so please visit his original posting on Seeking Alpha.  

Also

note that this complete paragraph must be included in any re-posting to avoid copyright infringement.
Want more such articles?

"Follow the munKNEE"
on

Facebook,

on

Twitter

or via our

FREE bi-weekly

Market Intelligence Report newsletter

(see sample here, sign up in top right hand corner of page).
Get engaged:
Have your say regarding the above article in the Comment section

at the bottom of the page.
Articles Wanted:
Original articles & links to other informative articles that deserve a wider read

. Provide in Comment section at the bottom of the page.