…Those concerned about the current low prices for gold and silver – prices that defy logic, defy supply,
defy demand and show no signs of a turnaround, yet, according to all the charts – are playing a fool's game. Instead, they should be doing everything possible to have and accumulate physical possession of them.  China, Russia, India, even central bankers are all amassing as much physical gold and silver as is possible.  Take a page from those who rule and do the same.  Accumulate whatever you can, while you still can.
The comments above and below are excerpts from an article by Michael Noonan (EdgeTraderPlus.com) which has been edited ([ ]) and abridged (…) to provide a faster and easier read.
Now to the charts:
Gold: Monthly Chart
…It is a guess on our part that the high volume in November was an attempt to run as many longs out of the paper market as possible while smart money was covering what they could to eliminate competition.  We could be wrong on that, which is okay because we are not advocating positions in the paper market from the long side.
Exactly what is going on is not clear, except for the potential for lower prices.  It is why it becomes essential to monitor the character of how the market responds to current negative conditions.  For sure, the market is not indicating strong reasons to be long the heavily manipulated paper futures market.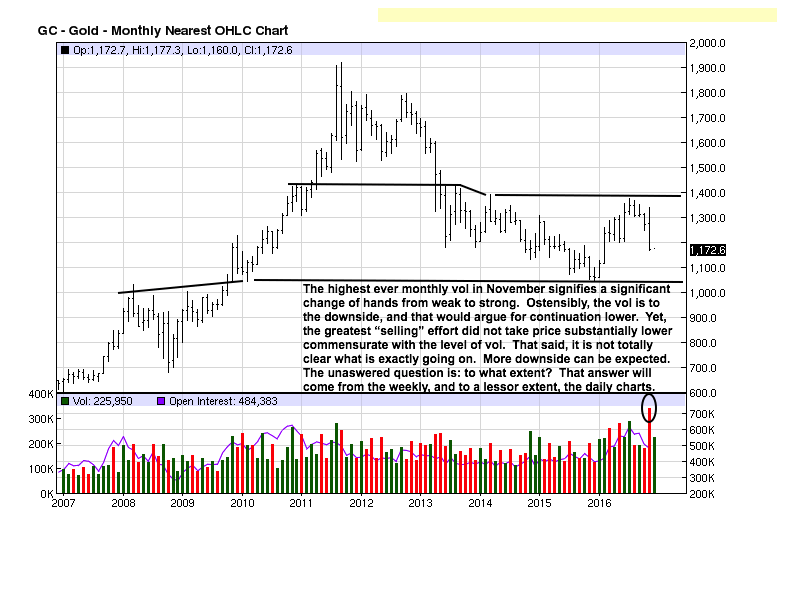 Gold: Weekly Chart
The weekly chart confirms the weakness seen in the monthly.  Last week there was an easing of the downward momentum as price closed only slightly lower from the prior week.  It does not negate the fact that last week was a lower high, lower low, and lower close.  We are just taking note that it will take more effort for sellers to press the market lower, or buyers will try to take advantage and mount a rally.  There is no assurance that will happen which is why we take a cautious approach to wait and see how the market develops, week by week.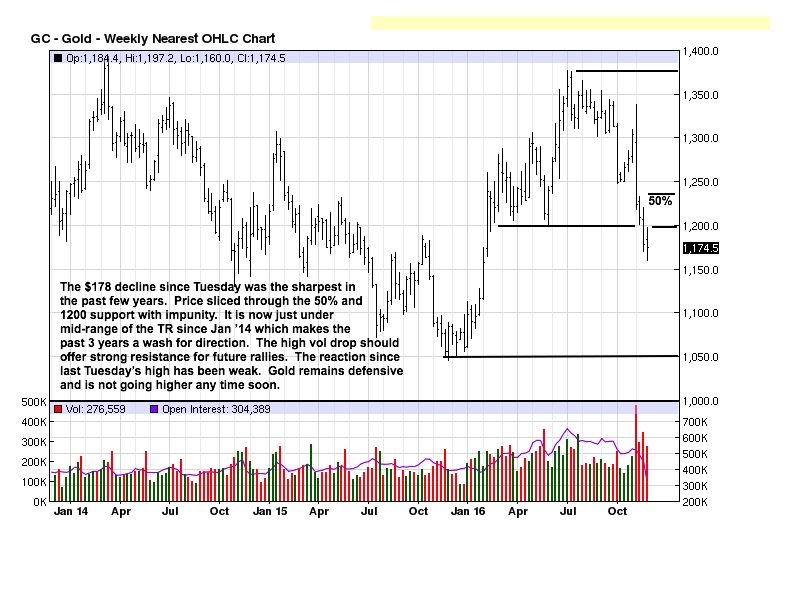 Gold: Daily Chart
Daily gold is and looks weak with no evidence that buyers could make even a feeble rally effort since price cascaded lower a few weeks ago.  There is no apparent strong base from past market activity to act as a basis for support and prompt a turnaround.  Absent that, the long side of the paper market has little to offer in potential reward amidst conditions where longs have been punished harshly.  Stay away.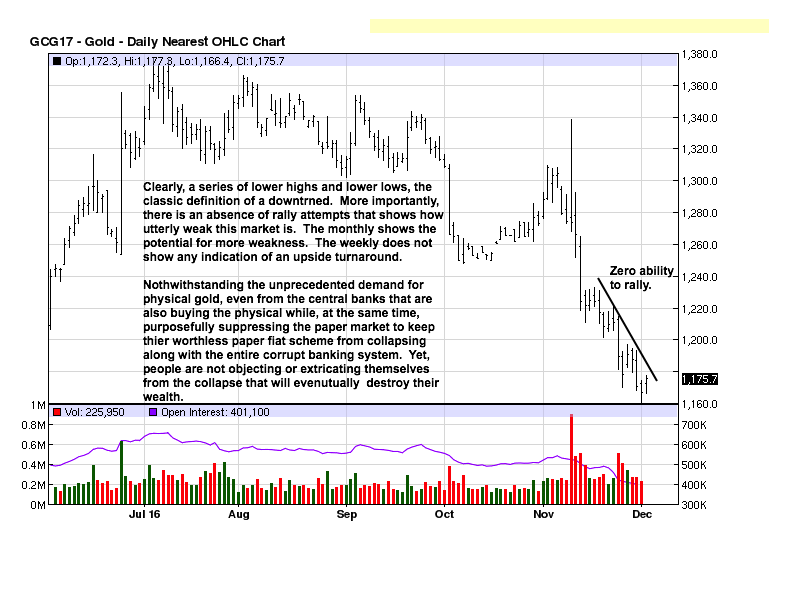 Silver: Monthly Chart
The chart comments cover what needs to be addressed.  The sideways activity does not indicate any change in either direction.  The lower range around 13.50 could be retested without worsening the chart structure.  The damage would be more psychological for those long, including the physical metal, which the globalists would welcome in their effort to make life miserable for those choosing precious metals instead of their worthless fiat.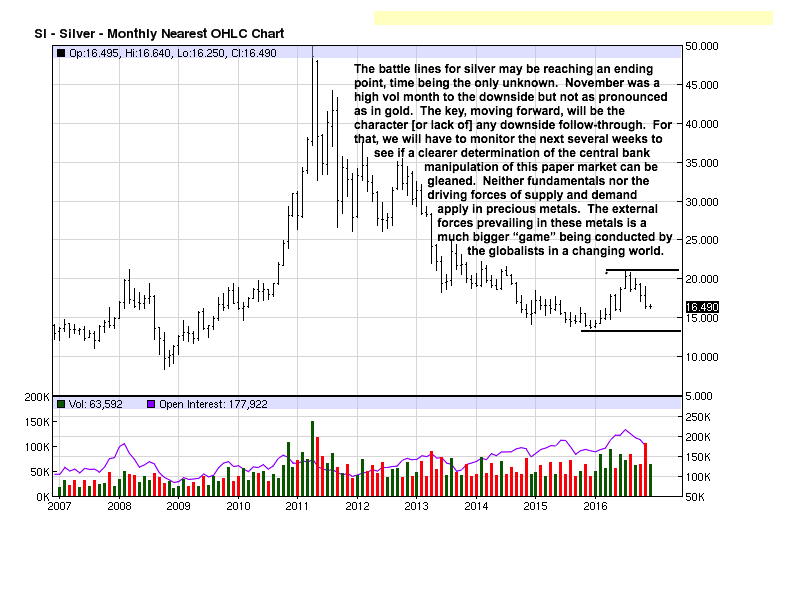 Silver: Weekly Chart
Of all the charts, weekly silver offers the slimmest glimmer of hope for a rally.  Price is in an oversold condition (always remembering oversold can become more oversold), while at the same time the downside momentum came to a halt by virtue of 2 weeks moving sideways and not sharply lower.  This is no reason for being long futures, rather, it is an observation to monitor the character of how the market continues to develop.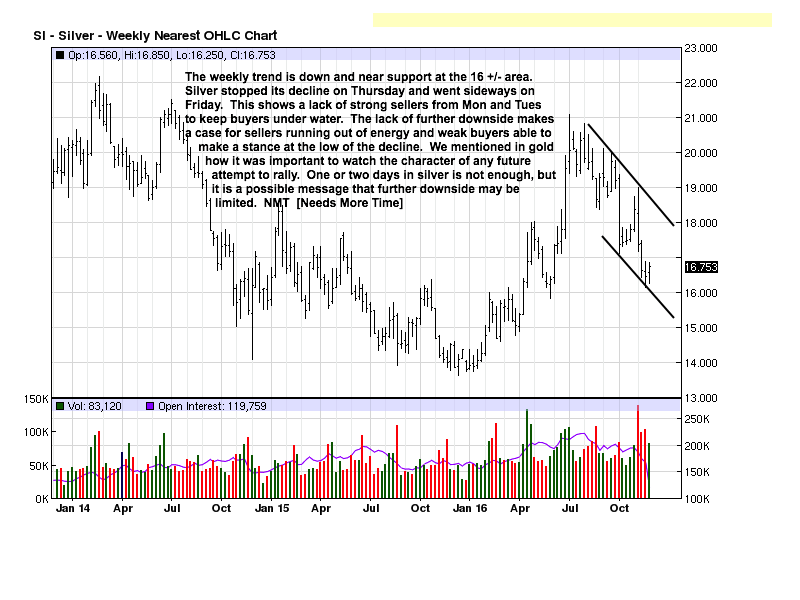 Price has been moving sideways since mid-November, much like it did throughout October, but the rally that ensued in November was short-lived.  This demonstrates why trying to trade from the long side has been the wrong way to trade.
Silver: Daily Chart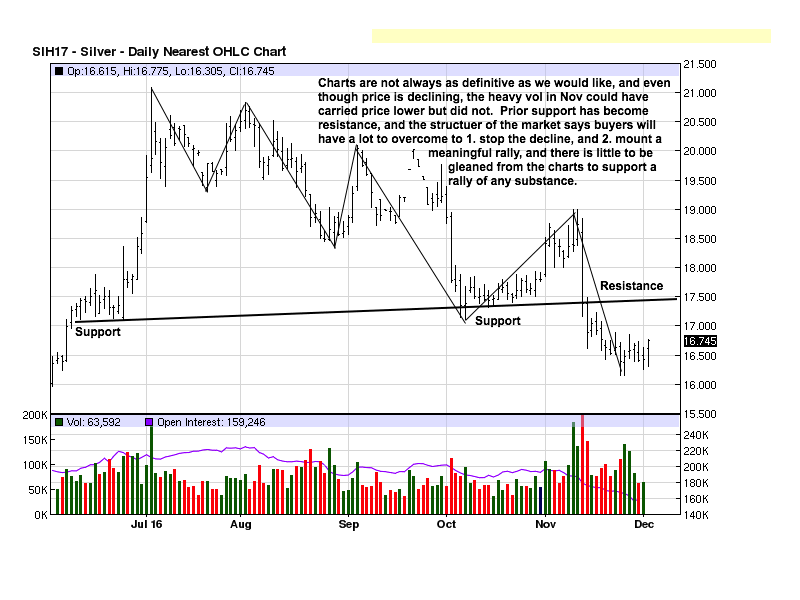 Buy the physical; avoid paper.  In fact, avoid any investment that is recognized only by holding a piece of paper as proof of owning something.  Physical gold and silver is the only asset that has no third-party counter-risk.
Disclosure: The above article has been edited ([ ]) and abridged (…) by the editorial team at munKNEE.com (Your Key to Making Money!) to provide a fast and easy read.
Recent Articles by Noonan from the munKNEE Vault:
1. Noonan's Last Analysis of the Gold & Silver Market
For as much as we favor – and expect – eventual higher prices for gold and silver, the charts do not indicate it will be any time soon. The following charts show you why.
"Follow the munKNEE" on Facebook, on Twitter or via our FREE bi-weekly Market Intelligence Report newsletter (see sample here , sign up in top right hand corner)