After the stock market's stellar returns in 2019, it's only natural that investors would fear a sub-par performance for stocks in 2019 but, as I'll argue in this report, stocks can – and most likely will – post another winning year in 2020 as long as….
The Forward PE Ratio
With the SPX in "nosebleed" territory right now, the narrative that many commentators are spinning is that a "bubble" or "melt-up" is underway, which will end in disaster in the coming weeks or months. One look at the linear rise in the SPX (below) provides an idea as to why so many investors fear the worst-case scenario for stocks.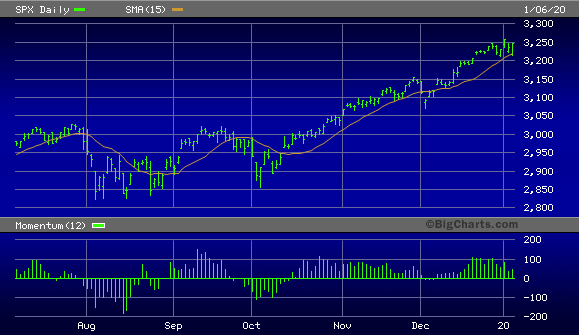 Source: BigCharts
A continued rise in the SPX at the rate of ascent which has prevailed since October would definitely be a concern. However, there are no compelling fundamental reasons right now to fear an imminent collapse. Based on some key metrics, in fact, the bull market in the S&P is still justified and unlikely to end anytime soon BUT one of the most important metrics that investors should be watching right now is the forward price-earnings (PE) ratio for SPX. Wall Street economic Ed Yardeni recently stated that investors should fear a serious correction in the stock market only if the forward PE ratio exceeds 20, a level it hasn't exceeded since 2002. [Such an indicator]… confirmed that a bear market had begun at that time about 18 years ago. As of this writing, though, the S&P 500 is trading at 18.3 times 12-month forward earnings and is still under that key level…
Interest Rates
When interest rates are consistently increasing, as they were when the SPX declined 20% back in Q4 2018, investors have every reason to fear a lurking bear and, when rates are low or falling, by contrast, no such fear is warranted…
With the effective Federal funds rate currently at 1.55%, investors have no incentive to be sellers as that rate is far below the prevailing average S&P 500 dividend yield as of January 6 was 1.76%.  The ultra-low Fed funds rate will therefore prevent another repeat of the 2018 sell-off from happening anytime soon.
Conclusion
To summarize, investors won't have much to worry about in the way of a stock market correction as long as the S&P 500 forward price-earnings ratio doesn't exceed 20…as a result of the SPX continuing to rally over the next few weeks.
For now, a bullish intermediate-term stance towards stocks is still warranted.
Editor's Note: 
The above excerpts

from the original article by Clif Droke 

have been edited ([ ]) and abridged (…) for the sake of clarity and brevity.

  The author's views and conclusions are unaltered and no personal comments have been included to maintain the integrity of the original article.  Furthermore, the views, conclusions and any recommendations offered in this article are not to be construed as an endorsement of such by the editor. A

lso

note that this complete paragraph must be included in any re-posting to avoid copyright infringement.