…It was announced on Friday that the Moscow Exchange would be resuming trading at least to some degree as of the market open on Monday, after having been shuttered on February 25 following the invasion of Ukraine.
@$$4$The return to trading is said to be gradual in nature, with the trading of OFZ bonds (coupon-bearing federal loan bonds that have been issued by the Russian government…to plug budget holes) to resume as of Monday. Trading of such bonds, however, will be faced with the fact that the United States has since placed restrictions on the trading of such debt as of March 1, significantly limiting international participation.
While the bonds will resume trading on Monday, the Central Bank stated that in order to "prevent excessive volatility and ensure a balanced liquidity position," they will have the Bank of Russia purchase federal government bonds. In other words, the Bank of Russia will be standing by to "buy the dip" and prevent the market from having a Black Monday-type event upon reopening.
In terms of the value that the Bank is willing to throw at stabilizing the bonds, it was simply stated that "purchases will be made in the amounts needed to prevent risks to financial stability." Once stability has occurred, they intend to then sell the portfolio of bonds purchased.
Further details on the resumption of trading of other aspects of the Moscow Exchange were not provided.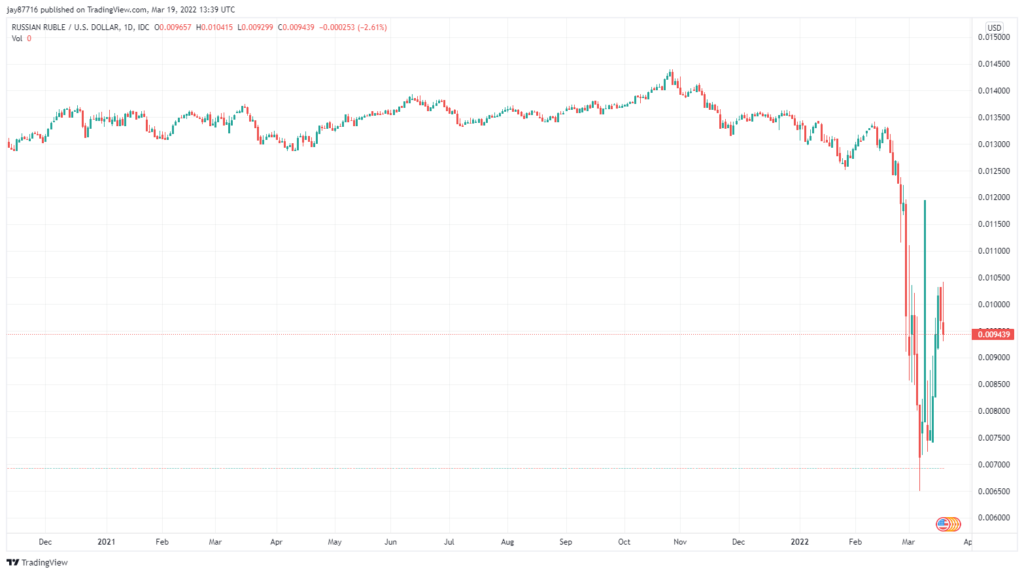 Within the same announcement, the Bank commented that they expect current inflation to return to their targets by 2024, however in the interim they saw demand for non-food goods skyrocket in late February, while now the trend is for citizens to purchase as much non-perishable food products as possible. Working to calm fears, the Bank stated that "These products are mostly manufactured in Russia using domestic raw materials. Russia has sufficient stocks of these products, and companies continue to manufacture them."
The Bank followed this up by stating that "inflation will exceed our previous estimates," for both 2022 and "most probably" 2023, while GDP is expected to decline. On Friday, the Bank of Russia also elected to keep the key rate at 20%.
T

he above version of the

original

 article by Jay Lutz (thedeepdive.ca) was

edited [ ] and abridged (…) to provide you with a

faster and easier read.

Also 

note that this complete paragraph must be included in any re-posting to avoid copyright infringement.
 

Please Donate Some MONEY to munKNEE.com – Thank You! 
I would appreciate it – immensely – if you would show your appreciation of my efforts with a donation so I will have the enthusiasm to continue doing so.
For the past 12 years I have been publishing  "a unique (here's why) financial site for sore eyes and inquisitive minds" called munKNEE.com at no cost to the millions (yes, millions!), like you, who have visited the site over those years.
Every week I surf the net on your behalf looking for the 10 most informative articles written by the best commentators/analysts out there which I then edit and abridge before posting to provide you with a faster, and easier read. That has amounted to about 6,500 articles, in total, over that 12-year period.
If you are willing to help me out please go HERE, enter your donation amount, click the box if you wish to make the amount a monthly donation, and then click on your choice of payment method. It is that "fast and easy".
I hope this request for money hasn't offended you and, should you choose not to donate, that you will still continue to "Follow the munKNEE!"
As a thank you I will send you a link to an unpublished gem of a book on wealth creation by Monty Pelerin entitled WEALTH IF YOU WANT IT.
 munKNEE.com has joined eResearch.com to provide you with individual company research articles and specific stock recommendations in addition to munKNEE's more general informative articles on the economy, the markets, and gold, silver and cannabis investing.

Check out eResearch. If you like what you see then…