Truck tonnage is a reasonable proxy for the overall economy, and stock prices tend to rise as the economy grows as the chart below so clearly illustrates.
…[Why? Because] the physical volume of goods carried by trucks…represents "70.2% of the tonnage carried by all modes of domestic freight transportation, including manufactured and retail goods," according to the American Trucking Association… #munKNEE/Money!
…August data registered a 3.2% drop from July, but it still shows a 4.1% year over year gain…and the 3-month moving average…uptrend…[as shown below] suggests the equity market may be a bit too cautious about the current health of the economy…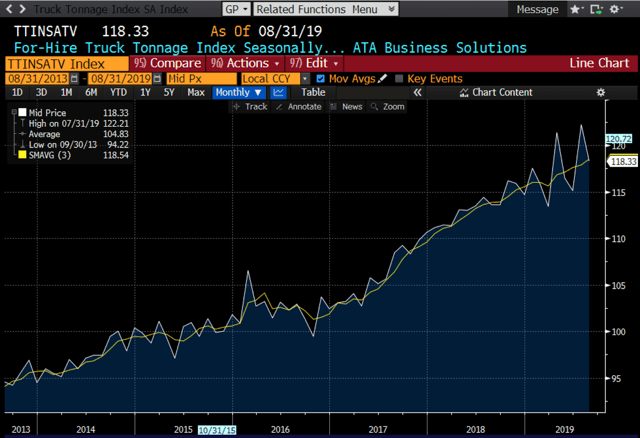 [The chart below] compares the 3-month moving average of the trucking data with the level of the S&P 500.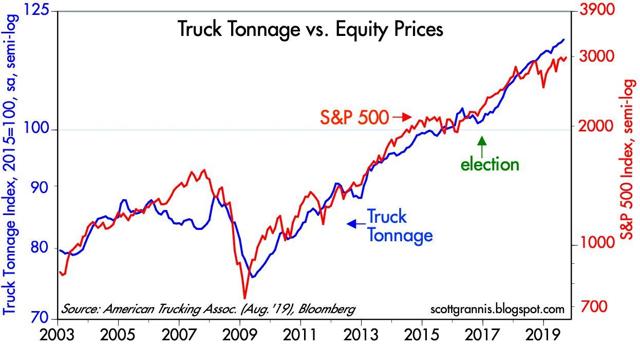 Editor's Note:
The above excerpts

are from the original article by Scott Grannis, and

have been re-formatted, color highlighted, edited ([ ])* and abridged (…) by Lorimer Wilson, editor of munKNEE.com – Your KEY To Making Money! – for the sake of clarity, and brevity

 

to provide a fast and easy read.

Scroll to very bottom of page & add your comments on this article. We want to share what you have to say!
*(The author's views and conclusions are unaltered and no personal comments have been included to maintain the integrity of the original article. Furthermore, the views, conclusions and any recommendations offered in this article are not to be construed as an endorsement of such by the editor.)