Jeremy Grantham, co-founder and chief investment strategist of Boston's GMO, believes U.S. stocks have become an epic bubble and will burst in a collapse rivalling the crashes of 1929 and 2000. In this interview, he explains why, discusses the futility of Federal Reserve policy, criticizes the state of American capitalism, and shares his thoughts on gold, Bitcoin, emerging markets and climate change. Here is a direct video link.
Here's the market action that followed the bursting of the three previous financial bubbles closest in scale to the present one.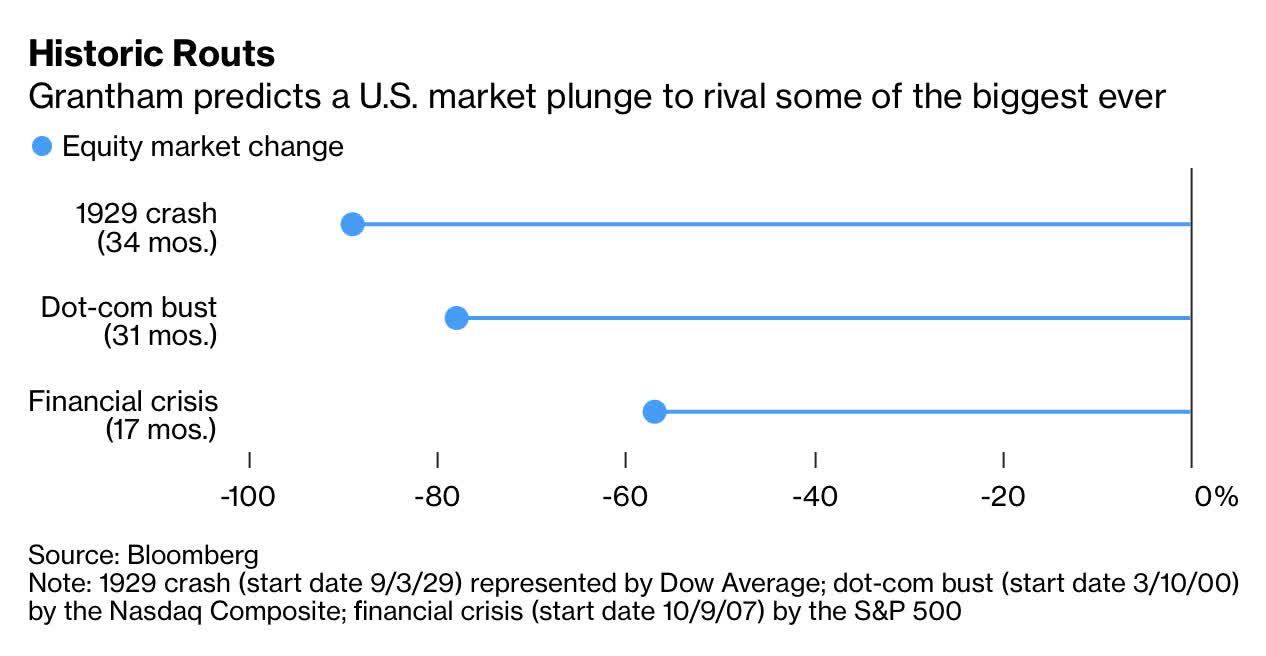 Editor's Note:  The original article by Ethan Rotberg
has been edited ([ ]) and abridged (…) above for the sake of clarity and brevity to ensure a fast and easy read.

  The authors' views and conclusions are unaltered and no personal comments have been included to maintain the integrity of the original article.  Furthermore, the views, conclusions and any recommendations offered in this article are not to be construed as an endorsement of such by the editor. A

lso 

note that this complete paragraph must be included in any re-posting to avoid copyright infringement.

A Few Last Words: 
Click the "Like" button at the top of the page if you found this article a worthwhile read as this will help us provide more articles of interest to you.
Comment below to share your opinion or perspective with other readers and possibly exchange views with them.
Register to receive our free Market Intelligence Report newsletter  (sample here) in the top right hand corner of this page.
Join us on Facebook to be automatically advised of the latest articles posted and to comment on any of them.
munKNEE should be in everybody's inbox and MONEY in everybody's wallet!
Related Articles from the munKNEE VaultT
1. Current High Margin Debt Suggests An Epic Stock Market Sell-Off
Margin debt spiked by 9.6% last November and another 7.8% in December, the two largest month-over-month increases on record and is now up 62% since March of 2020. High margin balances tend to precede epic stock market sell-offs.
munKNEE.com has joined eResearch.com to provide you with individual company research articles and specific stock recommendations in addition to munKNEE's more general informative articles on the economy, the markets, and gold, silver, psychedelic drug stock and cannabis investing.
Check out eResearch. If you like what you see then…