…I'm bulled up on gold…[I think it] could rally by 50%. [Here's why.]
An excerpt from an article by QuandaryFX (edited ([ ]) and abridged (…) by the editorial team at munKNEE.com – Your Key to Making Money! – to provide a fast and easy read.)
The Fundamentals
A couple of weeks ago, I wrote an article in which I argued that gold (NYSEARCA:GLD) could rally by 50%…[and since then it] has rallied a slight 2%. While this is nowhere near the 50% rise I'm calling for, I believe that we're off to a good start. You see, the market is adjusting to the new reality of higher interest rates…[and]
When Interest Rates Increase, The U.S. dollar falls
This is a pretty strong relationship in the United States economic history.
When the Federal Reserve keeps rates low for a long period of time, the economy tends to recover and flourish. As the economy flourishes, global investors shift capital to the United States to participate in the economic boom.
However, when rates are tightened business activity slows, housing activity slows and a whole host of economic indicators begin to turn sour. This leads to investors pulling capital from the United States markets. When capital leaves the market, dollars are sold and the dollar plunges. This is the period that we have just entered. Seven months ago, the Federal Reserve increased the discount rate for the first time in 7 years. Almost immediately, the dollar began to fall.
When the Dollar Falls, Gold Rises
I am simply astounded at the persistent denial of this basic fact. Gold is priced in dollars. When the dollar weakens, it takes more dollars to purchase the same amount of gold – therefore the price rises…The dollar remains one of the strongest catalysts for market action. Don't believe me? Here's some data.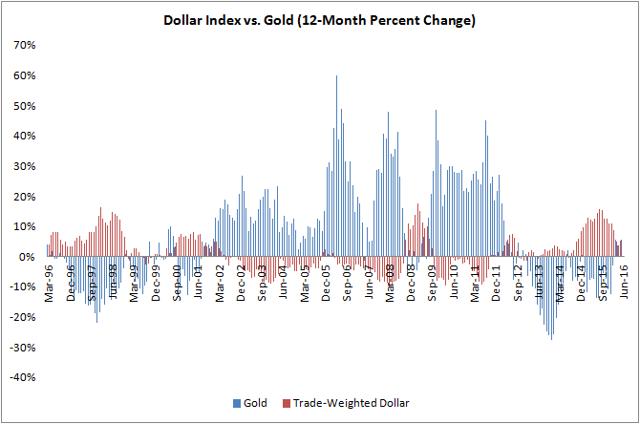 There is a lockstep relationship between these two variables. With very few exceptions, weakness in the dollar leads to strength in gold. This relationship is fairly cyclical. As you can see in the chart above, after the dollar has a period of strength followed by a period of weakness, gold tends to rally anywhere from 10-60% over the next several quarters.
Keep your eyes peeled on the dollar – it drives the strength of gold.
"Follow the munKNEE" on Facebook, on Twitter or via our FREE bi-weekly Market Intelligence Report newsletter (see sample here , sign up in top right hand corner)