Third-quarter reporting season is set to begin [and,] as a result, the troubles in Europe are
about to become background music as investors once again focus on individual company fundamentals and when it does, here are the three most important statistics we need to track. Words: 545
So says
Lou Basenese (www.WallStreetDaily.com)
in an article* posted on SeekingAlpha.com  which Lorimer Wilson, editor of
www.munKNEE.com (Your Key to Making Money!),
has further edited ([ ]), abridged (…) and reformatted below for the sake of clarity and brevity to ensure a fast and easy read. The author's views and conclusions are unaltered and no personal comments have been included to maintain the integrity of the original article. Please note that this paragraph must be included in any article re-posting to avoid copyright infringement.
Basenese goes on to say, in part:
Based on the chart below, we can expect the attention to shift in a matter of [days].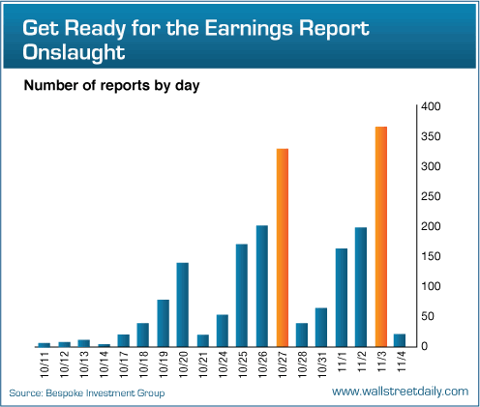 Here are the three most important statistics we need to track:
1. Earnings "Beat Rate"
It is a proven fact that stock prices ultimately follow earnings [because,] as long as companies are producing more and more profits, stock prices are likely to charge higher. As Benjamin Graham [put it], "In the short run, the market is a voting machine, but in the long run it is a weighing machine."
Who in the world is currently reading this article along with you? Click here to find out.
Instead of dissecting every last earnings report to discern the trend in corporate profits, though, all we have to do is monitor the earnings "beat rate" – the percentage of companies beating analysts' expectations for profits. A reading above 65% is particularly bullish and anything below 50% is bearish.
2. Revenue "Beat Rate"
With serious concerns swirling [about] that the U.S. economy might be entering another recession, earnings growth won't be enough. Investors want more because the earnings game can be rigged – by cutting costs, boosting productivity, etc. – to conceal a drop off in demand. Revenue figures can't be faked, however, and they represent the surest sign that demand for goods and services are increasing.
Here, too, we don't need to worry about reviewing every last company report. We just need to track the revenue "beat rate" – the percentage of companies beating analyst expectations for sales. Again, a reading above 65% is considered particularly bullish and anything below 50% is bearish.
3. Guidance Spread
Since the stock market is a forward-looking beast, past results don't matter as much as expectations for the future and that's where company guidance comes in. Companies aren't required to issue guidance – about 50% to 55% not to do so – but we can still track the guidance of…those that do] to determine whether or not they expect better times, worse times, or the status quo.
We can track the guidance spread, [i.e.,] the difference between the percentage of companies raising guidance and the percentage of companies lowering guidance. A positive spread indicates that more companies are optimistic about the future. And a negative spread indicates that more companies are pessimistic.
The guidance spread has ranged from 1% (2Q 2011) to 5.2% (4Q 2009) since the current bull market began so anything above 1% should be considered bullish.
Bottom line:
The more companies that can beat earnings expectations, beat revenue expectations and raise guidance, the more likely the stock market is to rally into the end of the year.
*http://seekingalpha.com/article/298850-3-statistics-that-will-move-the-markets-in-the-coming-weeks?ifp=0&source=email_macro_view